Related Articles
Interpreting The Sound and The Theory
George Lucas And His Magicians Are Honored In Hollywood
May 25, 1977: A Day Long Remembered
"THX 1138" D-Cinema & 35mm Engagements
"THX 1138" Escapes To DVD
By
William Kallay
Although most audiences know writer-director George Lucas as the creator of the "Star Wars" and "Indiana Jones" franchises, he was also the director of one of the starkest and most inventive films of the early 1970s, "THX 1138." Some people, who may have never seen the film, might be surprised by the bold vision Lucas and his collaborator, Walter Murch, put on the screen. The world that Robert Duvall's THX 1138 character inhabits is a far cry from the fantasy world of "Star Wars." Dark, surreal, scary, and often brilliant, this film was a masterful entry into the world of filmmaking for Lucas and Murch.

Warner Bros. has now released the film on a 2-disc DVD set called "THX 1138: The George Lucas Director's Cut." There is also a single disc version, but for this review, the 2-disc set is covered.

Beautifully restored, the film was cleaned up by Lowry Digital, who also did visual cleanup work on the "Star Wars" DVDs. The last time "THX" was available in a high-quality format was on LaserDisc. This rendition makes this film, shot for a little over $700,000, look like it was made for millions.

Disc 1 includes the new digital transfer of the film, commentary tracks from Lucas and Murch, added visual effects (to seemingly increase the production value of this low-budget flick), "Theatre Of Noise Experience," "Master Sessions With Walter Murch," "Branching Video Segments Showcasing Murch's Pioneering Work," multiple language tracks and a remixed 5.1 Dolby Digital soundtrack (the original film was mixed and presented in mono sound). The disc is "THX-Certified."

Even if you're possibly put off by the feature film, the commentary track is well worth listening to. Lucas engages viewers with fascinating commentary on how the film was really not a science-fiction film, but rather a look at society and government of the early 1970s. The film still holds up today as a parable on consumerism and our present government's ever watchful eye on society.

Murch describes the nature of the soundtrack, which completely envelopes us into a utopian ideal of a new world. For such a sparse film, both thematically and production-wise, Murch's sound montages are multilayered and add depth to the audible world of this film. Considering that many low budget films of the era had virtually no sound embellishment, this film's soundtrack really stood out. Too bad most audiences in 1971 didn't hear it, since the film, unfortunately, didn't do much business. Now the film can be experienced in 5.1 surround sound.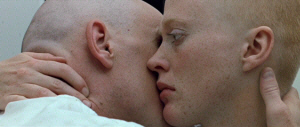 THX (Robert Duvall) holds LUH (Maggie Omie)

Disc 2 features bonus material. "A Legacy Of Filmmakers: The Early Years Of American Zoetrope" and "Artifact From The Future: The Making Of THX 1138," show viewers the foundation on which Lucas, Murch, Francis Ford Coppola and others virtually rebuilt the film industry. The story of American Zoetrope has been told before in print in such books as "Skywalking" and "Easy Riders, Raging Bulls," but this documentary comes straight from many of the people who were involved with the company in the early days. Also on this disc are "Electronic Labyrinth: THX 1138 4EB" (Lucas' USC student film on which the feature film is based), a rather dated, but fun documentary on the making of the film called "Bald," and theatrical trailers from the original release and present re-release.

"THX" was an extremely low-budget production. In an era of counterculture movies like "Easy Rider" (1969) and "Woodstock (1970), one might have assumed that this film would've had success at the box office, since audiences were embracing "counterculture" films and some studios decided it was lucrative for them to bankroll young filmmakers. However, "THX" didn't perform well in theatres. After the release of "Star Wars" in 1977, Warner Bros. re-released "THX" in theatres in an attempt to capitalize on Lucas' stardom, but the film still didn't do well. Perhaps audiences were turned off by the bleak atmosphere of the film. It was certainly not as fun as "American Graffiti" or "Star Wars," but it's a film worth watching. In 2004, the film received a re-release in theatres to promote the release of the DVD.
Donald Pleasance as SEN

Picture and sound quality are outstanding. The film was shot in Techniscope, a spherical widescreen process designed to produce a 2.35:1 aspect ratio on a low budget, and this is the best the film has looked for the home theatre market. The imagery, shot by by David Myers and Albert Kihn, is visually stunning. The film was shot in a controlled "documentary-style," in which long zoom lenses were used to convey a voyeuristic look. The cinematographers utilize the widescreen to break the frame into sections at points in the film, or the frame is used to isolate characters in some scenes with entirely white landscapes. It's arty, and it works.

The Lowry Digital transfer gives this film new life. It feels like it was made this past year. In a way, this transfer is superior to that of "Star Wars: Episode IV - A New Hope" on the recent DVD set of the original Trilogy.

Murch's sound design has been elevated to a new level of higher fidelity than previously available. The Dolby Digital remastered soundtrack breathes life into his original mono mix. The sound is clear and natural and doesn't feel like a remixed soundtrack of an older movie might feel. Years ago, David Lean's brilliant "Bridge On The River Kwai" (1957) had a brand-new sound effects mix added to it. The result was criticized by many who felt that the film's original mix was perfectly fine, and didn't need modernized surround sound with birds chirping all around you. The remastered soundtrack on "THX," on the other hand, sounds "right."

Lucas has been criticized for his latest films of being devoid of human emotion. He's even been noted for his simplistic approach to directing. "Faster. More intense" was apparently his motto he used with the actors on the set. But looking at "THX" and "American Graffiti" (1973), either the actors he's worked with were so good, or he had some kind of mental telepathy with them, because the performances in "THX," though with minimal dialogue, are excellent. Robert Duvall is perhaps one of the best actors of our time, and in this role, he's in command of his performance. Without overacting, he conveys to the audience that he's looking to escape this cold, sterile world in which he lives. We believe his yearn not only for escape, but for his love of LUH (Maggie McOmie). Also great are Donald Pleasance, who plays the conniving SEN 5241, and Don Pedro Colley, who plays the likable hologram, SRT. Lucas deserves credit for getting the most out of his actors, as well as making this low-budget film seem more expensive and grand than it really was.

"THX" has received some digital effects additions, but they're not as obvious and intrusive as they are on "A New Hope." The best part of the film, the car versus motorcycle chase, has a few tweaks, but again, they're not too distracting. It's a visceral scene to begin with. The new additions to this scene, which include some clever shots of THX's car zooming in and out of traffic, are a car buff's dream. It's simply "cool" to watch these souped-up cars racing to Lucas' pictorial editing and Murch's sound design.

As with the recent "Star Wars Trilogy" DVD release, "THX 1138" is a must-have for Lucas fans. Though quite a contrast to "Star Wars" and "American Graffiti," this first feature film stands on its own as a classic from a talented filmmaker.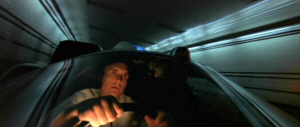 THX on the run

THX 1138
Warner Home Video
Catalog Number 11162
Region 1
16:9 Widescreen (2.35:1)
Dolby Digital 5.1
THX-Certified
DVD Release Date: September 14, 2004
$26.99 (2-Disc Version)
Rated R
Two DVD-9 Discs
1971
90 minutes
Color
Director: George Lucas
Stars: Robert Duvall, Donald Pleasance, Don Pedro Colley, Maggie McOmie, Ian Wolfe
---
Artwork © Warner Bros. Entertaiment All rights reserved.