Related Articles:
May 25, 1977: A Day Long Remembered
Meeting A Master Of The Matte-Harrison Ellenshaw
Raiding The Mind Of Richard Edlund
George Lucas And His Magicians Are Honored In Hollywood
Filmed In Panavision Digital-Larry Thorpe
Posted September 27, 2004
"Star Wars" Makes The Hyperspace Jump To DVD
By
William Kallay and Michael Coate
Say what you will about George Lucas' seemingly endless desire to fix what wasn't "correct" on the original "Star Wars Trilogy." Yes, he's changed a few things. He made Greedo shoot first, and now has performed some digital body replacement surgery on Darth Vader/Annakin Skywalker, but it's still exciting news to have these films now on DVD.

Seeing these films brought into the 21st Century in pristine digital picture and sound should be a treat to fans that now can enjoy these films again. The last time these films were available on a high quality home video format was in 1997 on LaserDisc. Since that time, the DVD format has become the choice of not only home theatre enthusiasts, but of the public at large.

The "Star Wars Trilogy" is comprised of the three original films Lucas made from 1977-1983 (with the 1997 and 2004 revisions), plus a disc with bonus material that includes trailers, featurettes and a very good 2 1/2 hour documentary called "Empire Of Dreams: The Story Of The Star Wars Trilogy." Each one of the feature film discs contains audio commentary, the "THX Optimizer," and audio and subtitle options. All of the movie discs are encoded in Dolby Digital 5.1 Surround EX at 448kbps. "Episode IV: A New Hope" contains audio commentary by writer/producer/director George Lucas, actress Carrie Fisher, sound designer Ben Burtt and visual effects supervisor Dennis Muren. "Episode V: The Empire Strikes Back" contains audio commentary by George Lucas, director Irvin Kershner, Carrie Fisher, Ben Burtt and Dennis Muren. "Episode VI: Return Of The Jedi" contains audio commentary by Lucas, Fisher, Burtt and Muren.

Much has been written about the impact the "Star Wars Trilogy" made on not only the film business, but on culture itself. But since this is a peek at the DVD set, we're going to focus on the discs themselves.

If one looks past the changes that Lucas commissioned, there is currently no better way, outside of a first-rate theatrical presentation, to see the "Trilogy." For the most part, the DVD versions of these films are superb. The visual quality of the films was stunning to begin with, but these new DVDs give the picture added detail not previously available for the home market. Most of the scenes look very good. But there are some things you will notice, especially if you've seen the films a number of times.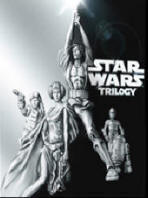 DVD Case
Color has been enhanced so much that die hard fans might think they're seeing a slightly different movie of "Star Wars," for instance. Fans might notice that the color of black, most notably Darth Vader's uniform, is black. Dark, perfect black. Also, characters and scenes elsewhere in the "Trilogy" seem to have a different color hue than in previous incarnations. R2-D2's tiny blue plates on his robot head appear to be bluer than on previous versions. Dark scenes, like those in the freezing chamber on Cloud City, appear darker from the original film of "The Empire Strikes Back." Some other scenes, like the interior of the Jawa Sand Crawler, are darker than ever before. These picture adjustments are a little bothersome, as these kinds of scenes are almost too dark to see what's happening on screen. You may think that your television isn't calibrated correctly. If you haven't fiddled around with the colors on your television too much, you're not seeing things.
It's possible that George Lucas wanted the DVDs to replicate how the original negatives were exposed. And perhaps for the first time, we're seeing what he originally intended. But then again, with Mr. Lucas' penchant for changes on his "Star Wars" films, maybe there's a little bit of revisionist history that's been applied to the discs. Either way, fans should be delighted with the majority of the reference quality picture. Detailed sharpness, clarity and definition are in almost every frame. Digital clean-up was performed by Lowry Digital.

Each of the film's Dolby Digital soundtracks progressively improve from "Star Wars" through "Jedi." Sound recording technology and playback improved as each film was made. Therefore, DVD owners of this disc set might notice a difference in audio quality as they go through each film. Going from "Star Wars" to "Empire" and "Empire" to "Jedi" might require lowering the volume on one's A/V receiver, or turning it up! With that said, each disc has an excellent soundtrack regardless of their age. Credit Ben Burtt's now-classic sound design and George Lucas' desire to have the best sound quality he could get at the time that these films were made.

One thing that can be said is that the soundtrack for "Episode IV: A New Hope" is a vast improvement over the 1997 Special Edition theatrical release. In that release, the sound was tinny and had an unusual amount of background tape hiss. Yet this soundtrack is well presented on DVD and perfectly suitable for home theatre. The sound is clean and detailed.

A lot of information can be gleaned from the audio commentaries on the movie discs. Even though many fans have been disappointed with the recent prequels, Lucas does have an incredible gift of storytelling. By listening to his vast knowledge on storytelling, viewers can get a glimpse of what he was trying to do with all of the "Star Wars" films. Much of it makes perfect sense to the "Star Wars" story line, even though the prequels didn't quite succeed in executing those ideas. Ben Burtt's contributions to the audio commentary tracks are worth mentioning. His stories of how he got many of the sound effects are insightful and at times amusing. Some of Burtt's anecdotes include using a neighbor's dog for a monstrous sound effect and his hiring of an old lady affectionately named "Grandma Vodka" to provide the voice of an Ewok. And Carrie Fisher is a hoot throughout the discs.

As if having the "Star Wars" movies on DVD wasn't enough, Lucasfilm commissioned a 2 1/2 hour documentary on the original trilogy. Directed by Edith Becker and Kevin Burns, and written by Ed Singer, the documentary is a well-paced look back on the films. George Lucas is highlighted throughout the film as a gifted, genius filmmaker who created one of the most indelible film franchises in history. Even if you're not a "Star Wars" fan, the documentary filmmakers have crafted an interesting, if not "juicy" story on the origin and execution of the series. We're treated to never-before-seen footage of the making of the films, portions of long-sought-after deleted scenes, vintage footage of the phenomenal cult following the original film had and some great audition footage featuring Kurt Russell and Terri Nunn (of the rock group, Berlin). The outtakes featuring actor Peter Mayhew (Chewbacca) and David Prowse (Darth Vader) reciting dialog are hilarious. It's also intriguing to see an interview with Special Photographic Effects Supervisor, John Dykstra, who allegedly feuded with Lucas during production. Also included on the Bonus Material disc are trailers from each of the films, including the original "Revenge of the Jedi" teaser, three well-done featurettes, a sneak peek at "Episode III," and a "Battlefront" game preview. The trailers are fun to see with their over-the-top narration and retro graphics. Does anybody remember Vader's virtually transparent head floating through space in the previews for "The Empire Strikes Back?" It's here.

Are the changes Lucas commissioned enough to deter buyers from this DVD box set? Should buyers hold out in case Mr. Lucas changes his mind and gives them the original "Trilogy" on DVD? No and no. But then again, this is about as critic-proof a DVD could ever be! Jump on your speeder bike and rush down to your nearest retailer and buy this set. If you can't stand the Special Edition treatment, fast forward through those parts. If they really bother you just in principle, at least consider buying the set for the bonus material. There you will find vintage "Star Wars" footage that should satisfy the craving of that inner Jedi in you. "Empire of Dreams" alone is worth the price of the set. This is a must-buy DVD set for anyone who stood in line to see the Rebels versus the Empire a long time ago in a theatre far, far away.
The Star Wars Trilogy
20th Century Fox Home Entertainment
Region 1
16:9 Widescreen (2.35:1)
Dolby Digital 5.1 (Surround EX)
THX-Certified
DVD Release Date: September 21, 2004
$69.98
PG
Four DVD-9 Discs
Episode IV: A New Hope
1977/1997/2004
125 minutes
Color
Director: George Lucas
Episode V: The Empire Strikes Back
1980/1997/2004
127 minutes
Color
Director: Irvin Kershner
Episode VI: Return Of The Jedi
1983/1997/2004
135 minutes
Color
Director: Richard Marquand
| | | | |
| --- | --- | --- | --- |
| | | | |
---
Artwork © Lucasfilm Ltd. & TM. All rights reserved.