Related Engagement List Articles:
The 70mm Engagements Of The Original "Star Wars"
Compiled By
Michael Coate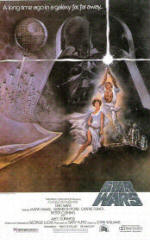 What follows is a listing of 70mm Six-Track Dolby Stereo engagements of "Star Wars" (known today as "Star Wars: Episode IV -- A New Hope"). Standard 35mm engagements, in which the film was also released, have not been included. For historical note, the newspaper advertising hype has been quoted for selected entries.

As one can glean from the list, 70-millimeter engagements were kept to a minimum during the initial wave of release. Despite frequent moviegoer memories to the contrary, it was during the subsequent months of release that most theatres (that ran the film in 70mm) received a 70mm.

For insight into the original release of "Star Wars," including a list of the original engagements, please see "May 25, 1977: A Day Long Remembered."
---
THE ORIGINAL FIRST-WAVE 70MM ENGAGEMENTS OF "STAR WARS" (Released May 25, 1977)
Hicksville, NY: [Mann] Twin South
Los Angeles (Hollywood), CA: [Mann] Chinese
Los Angeles (Westwood Village), CA: [GCC] Avco Center
New York (Manhattan), NY: [Loews] Astor Plaza
New York (Manhattan), NY: [Loews] Orpheum
Orange, CA: [Plitt] City Center
Paramus, NJ: [RKO Stanley-Warner] Triplex Paramus
San Francisco, CA: [UA] Coronet


70MM FIRST-RUN ENGAGEMENTS THAT STARTED AFTER INITIAL RELEASE
Los Angeles (Century City), CA: [Plitt] Century Plaza (Opened July 6, 1977)
"Enjoy The Full Effects As Presented In Magnificent 70mm And Dolby High-Fidelity Stereophonic Sound"

Newport Beach, CA: [Edwards] Newport (Opened July 6, 1977)
"Star Wars At Edwards Newport Cinema Now On The Largest Screen West Of New York...75 Feet Wide By 35 Feet Tall...2625 Square Feet...Presented In Full 70mm And Six Track Stereo...Dolby System"


ENGAGEMENTS THAT BEGAN IN 35MM AND UPGRADED TO 70MM
35mm release on May 25, 1977; 70mm began Aug. 3, 1977
Denver, CO: [Cooper Highland] Cooper
"Now In 70mm & Dolby Sound...Even More Spectacular And Exciting!"

35mm release on May 25, 1977; 70mm began Aug. 3, 1977
Salt Lake City, UT: [Plitt] Centre
"Now The Force Is With You In 70mm, 6 Track Dolby Stereophonic Sound"

35mm release on May 25, 1977; 70mm began Aug. 19, 1977
Seattle, WA: [UA] Cinema 150
"70mm - Dolby System [logo] Stereophonic Sound"

35mm release on May 25, 1977; 70mm began Sep. 14, 1977
Phoenix, AZ: [Plitt] Cine Capri
"The Year's Best Movie Is Now In 70mm"
"The Only Theatre In Arizona With 'Star Wars' In 70mm Dolby!"
"The Force Is With You At The Cine Capri In 70mm-Dolby"

35mm release on May 25, 1977; 70mm began Sep. 21, 1977
Boston, MA: [Sack] Charles
"Exclusive New England Engagement Of 'Star Wars'...Now In 70mm Dolby Stereo"

35mm release on June 8, 1977; 70mm began Oct. 21, 1977
Honolulu, HI: [Consolidated] Cinerama
"The Force Is With You At The Cinerama Theatre -- Now In 70mm And Full 6-Channel Dolby Stereophonic Sound!"

35mm release on May 25, 1977; 70mm began Oct. 21, 1977
Beaverton, OR: [Luxury] Westgate
"Now In 70mm & 6 Track Stereophonic Dolby Sound System"
"All New Print -- New Sound System"

35mm release on May 25, 1977; 70mm began Nov. 9, 1977
Southfield, MI: [Nicholas George] Americana
"See It Again! It's A New Experience In 70mm & 6 Track Stereo Dolby Sound"

35mm release on May 25, 1977; 70mm began Nov. 23, 1977:
San Jose, CA: [Syufy] Century 22
"Now See 'Star Wars' As It Should Be Seen...In 70mm [and] Full 6 Track Dolby System Stereophonic Sound"

35mm release on May 25, 1977; 70mm began Dec. 16, 1977
Washington, DC: [RKO Stanley-Warner] Uptown
"Now In Dolby Stereophonic And 70mm At The Uptown Theatre"
"You Have Never Seen Anything Until You've Seen...Star Wars In 70mm With Full 6 Track Magnetic Dolby Stereophonic Sound!"

35mm release on May 27, 1977; 70mm began Dec. 23, 1977
Creve Coeur, MO: [Wehrenberg] Creve Coeur
"On The Giant Screen In 70mm And Dolby Stereo"

35mm release on May 27, 1977; 70mm began Dec. 23, 1977
Dallas, TX: [GCC] Northpark I&II
"Now The Force Is With You In Dolby Sound And 70mm"

35mm release on May 27, 1977; 70mm began Dec. 23, 1977
Houston, TX: [GCC] Galleria
"Now In 70mm And Dolby Sound"
"Dolby System [logo] & Super Panavision 70"

35mm release on May 25, 1977; 70mm began Dec. 25, 1977
St. Louis Park, MN: [GCC] St. Louis Park
"Now In 70mm & 6 Track Stereo Sound"

35mm release on May 25, 1977; 70mm began Feb. 10, 1978
San Diego, CA: [Mann] Valley Circle
"Now In 70mm Stereophonic Sound"
"Dolby System [logo] & Super Panavision 70"


35MM-TO-70MM UPGRADE ENGAGEMENTS UPON MOVEOVER
Sep. 18, 1977:
Santa Barbara, CA: [Metropolitan] Granada
"The Force Moves To The Granada Theatre In 70mm 6 Track Dolby Stereophonic Sound"

Nov. 4, 1977:
Philadelphia, PA: [Sameric] Eric's Mark I
"Moves Over Today! In Order To Accommodate: 70mm Dolby System Stereophonic Sound [logo]"

Dec. 23, 1977:
Oak Brook, IL: [Plitt] Oakbrook
"Exclusive Area Showing Presented In 70mm And Dolby System Stereophonic Sound"

Dec. 23, 1977:
Shaker Heights, OH: [RKO Stanley-Warner] Colony
"Only Theatre In Northeast Ohio With 70mm Widescreen 6-Track Dolby Stereophonic Surround Sound"


70MM-TO-70MM MOVEOVER ENGAGEMENTS
June 24, 1977:
Los Angeles (Hollywood), CA: [Mann] Hollywood
[Moveover from the Chinese Theatre. "Star Wars" was contracted to play the Chinese for four weeks only (May 25 - June 23), with "Sorcerer" pre-booked to open June 24. Engagement of "Star Wars" returned to the Chinese on Aug. 3 (see next entry).]

Aug. 3, 1977:
Los Angeles (Hollywood), CA: [Mann] Chinese
"The Force Returns To The Chinese In 70mm-Dolby"

Dec. 14, 1977:
Denver, CO: [Cooper Highland] Continental
"Denver Demands It! Today...The Most Successful Motion Picture In History Moves To The Continental Theatre To Continue Its Record Breaking Engagement In 70mm & 6 Track Dolby Sound!"

Dec. 14, 1977:
Southfield, MI: [Butterfield] Northland

Dec. 16, 1977:
Levittown, NY: [Loews] Nassau Quad

Dec. 21, 1977:
San Francisco, CA: [Syufy] Cinema 21
"The Force Returns [to San Francisco] In 70mm & Dolby Sound"

Dec. 23, 1977:
Cedar Grove, NJ: [Colonial] Cinema 23
"We're Temporarily Closed For Renovation & Equipment Installation Until Friday Dec. 23 When We Begin The Exclusive N.J. Engagement Of 'Star Wars' Presented In 70mm Dolby Sound"

Dec. 23, 1977:
Lawrence, NY: [RKO] Twin


INTERNATIONAL 70MM ENGAGEMENTS
AUSTRALIA (Released Oct. 27, 1977)
Sydney: Hoyts

FRANCE (Released Oct. 20, 1977)
Paris: Gaumont Champs Elysees ("Version Originale")
Paris: Grand Rex ("Version Francaise")
Paris: Marignan Pathe ("Version Francaise")
French Title: "La Guerre Des Etoiles"

ITALY (Released Oct. 20, 1977)
Milan: Manzoni
Italian Title: "Guerre Stellari"

MEXICO (Released Dec. 1977)
Mexico City: Hollywood
Spanish Title: "La Guerra De Las Galaxias"

SPAIN (Released Nov. 7, 1977)
Madrid: Roxy
Spanish Title: "La Guerra De Las Galaxias"

UNITED KINGDOM (Released Dec. 26, 1977)
London: Dominion
London: Odeon Leicester Square

WEST GERMANY (Released Feb. 9, 1978)
West Berlin: Royal-Palast
German Title: "Kriege Der Sterne"

[To account for international 70mm engagements in a more comprehensive fashion, additional research is required]


1978 U.S. RE-ISSUE/EXTENDED FIRST-RUN (Opened July 21, 1978)
El Cajon, CA: [UA] Parkway Plaza
Los Angeles (Century City), CA: [Plitt] Century Plaza*
New York (Manhattan), NY: [Loews] Astor Plaza*
Orange: [Plitt] City Center**
Philadelphia, PA: [Budco] Midtown
San Francisco: [Thomas] Warfield (opened Sep. 1, 1978)

*continuation of original run
**return engagement


1979 U.S. RE-ISSUE (Opened Aug. 15, 1979)
New York (Manhattan), NY: [Loews] Astor Plaza
Paramus, NJ: [RKO] Paramus
San Francisco, CA: [Thomas] Warfield


1981 U.S. RE-ISSUE (Opened Apr. 10, 1981)
Boston, MA: [Sack] Charles
Los Angeles (Westwood Village), CA: [GCC] Avco Center
New York (Manhattan), NY: [B.S. Moss] Criterion Center
Washington, DC: [Washington Circle] Uptown


1982 U.S. RE-ISSUE (Opened Aug. 13, 1982)
Los Angeles (Hollywood), CA: [SRO] Paramount
New York (Manhattan), NY: [RKO Century] RKO National Twin
Paramus, NJ: [RKO Century] RKO Route 17 Twin
Washington, DC: [Washington Circle] Uptown
Lakewood, CA: [Pacific] Lakewood Center (M/O; began Sep. 3)


1982 70MM "STAR WARS"/"EMPIRE" DOUBLE FEATURE (Opened Oct. 1, 1982)
Montreal, PQ, Canada: [United] Imperial
Toronto, ON, Canada: [Famous Players] University
Vancouver, BC, Canada: [Famous Players] Stanley
"Together For The First Time! The Force Is With You In The Biggest 70mm Entertainment Spectacle We Have Ever Presented!"


1983 70MM "STAR WARS"/"EMPIRE" DOUBLE FEATURE (Opened July 29, 1983)
New York (Manhattan), NY: [RKO Century] RKO Warner Twin
Paramus, NJ: [RKO Century] RKO Route 17 Twin
Syosset/Woodbury, NY: [UA] Syosset
Totowa, NJ: [UA] Cinema 46 Triplex
"Together! For The First Time, The Moviegoing Experience Of A Lifetime!"


1984 70MM "STAR WARS"/"EMPIRE"/"JEDI" TRIPLE FEATURE (Screened Nov. 17-18, 1984)
Toronto, ON, Canada: Cinesphere (United Way Benefit)


1985 70MM "STAR WARS"/"EMPIRE"/"JEDI" TRIPLE FEATURE (Screened Mar. 28, 1985)
Chicago, IL: [Plitt] Carnegie
Dallas, TX: [GCC] Northpark I&II
Denver, CO: [Commonwealth] Continental
Los Angeles (Hollywood), CA: [UA] Egyptian
Los Angeles (Westwood Village), CA: [GCC] Avco Center
New York (Manhattan), NY: [RKO Century] RKO Warner Twin
San Francisco, CA: [UA] Coronet
Seattle, WA: [UA] Cinema 150
Toronto, ON, Canada: [Famous Players] Uptown
"For The First Time In America, The Star Wars Trilogy"


[A handful of additional 70mm screenings have taken place in the subsequent years, typically for charity and/or gala new theatre openings.]
---
SPECIAL THANKS/PROJECT CONTRIBUTORS
Miguel Carrara
Peter Fraser
Rain Greene
Thomas Hauerslev
William Kallay
Bill Kretzel
Mark Lensenmayer
Jose Gonzalez Mancera
John Sharp