THE SCREENING ROOM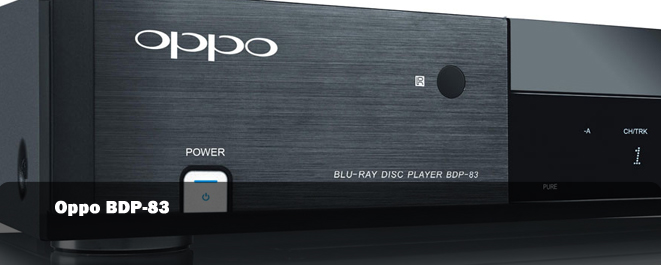 PLAYER REVIEW
By Bill Kallay
A little company located in Northern California, Oppo, has the press smitten with its DVD players. From out of nowhere, Oppo (pronounced oh-po) managed to gain traction in the highly competitive DVD player market. The result of their online-only sales has reviewers raving over its products. Their DVD players have the quality picture and sound of higher end products from much bigger companies.

Now that the war between Blu-ray and HD-DVD is over, it seemed fitting that Oppo would release its own Blu-ray player. The BDP-83 ($499) is a jack-of-all-trades player that plays not only Blu-ray discs, but it also plays DVD, CD, CD-R, SACD, DVD-Audio discs, photo discs, USB files and more. Oppo spent a great deal of time researching and developing the BDP-83. You know what? It was worth the wait.

SPEND SOME BUT NOT A LOT

While some members of the press go Lady Ga Ga over the latest $100,000 speaker or $10,000 universal disc player, most of us either can't afford such embellishments or don't want to spend that kind of money. I'm a poor slob, so I don't see any reason to spend thousands on equipment that will be obsolete in five years. I want something that will last for a while and do a great job doing it.

So for some, the BDP-83 may sound too expensive for a universal player. A new Blu-ray player that will also play DVDs and CDs cost less. But very few of those players are fast as the BDP-83, or as good. Considering how much this machine does well, and how many extras Oppo throws into the box they ship you, this player is a bargain hunter's dream.

FAST SHIPMENT, FANCY BOX AND FANCY GOODIES

Oppo's reputation for customer service is impeccable. For the low price customers pay for their products, the company makes every effort to keep customers happy. The company ships your order promptly. I received a demo unit almost as soon as I requested one. Oppo's service even extends to us cranky reviewers. Job well done!

The BPD-83 ships in a thick box. Inside, the unit is carefully surrounded by grey foam and a canvas Oppo bag for whatever your shopping needs require. For a moment, I thought I had bought (borrowed) a high-end Blu-ray player. I didn't expect this much attention to packaging detail.

Inside are more goodies. Oppo supplies an HDMI cable, RCA cables, a slick remote that is an improvement over the remote for the 970H, a Spears and Munsil Blu-ray calibration disc, an AIX audio disc, and batteries for the remote.

The player is carefully packaged inside the Oppo canvas bag. Lifting the BDP-83 from the box, I was surprised to discover how heavy it is. Nothing back breaking, but enough girth to give the unit a substantial grounding in an entertainment center. The surrounding metal body is deep and wide.

THE BDP-83 UP CLOSE AND PERSONAL

The BDP-83 upon first glance is a beautiful machine. The front plate features brushed metal and a high end digital front readout. The power button has a solid feel to it and glows blue. The open/eject button is also solid to the touch. Pressing the eject button, the tray pops out instantly. Pressing lightly on the tray, I was pleased with how solid it is. Most DVD players, including the 970H, had flimsy trays. The BDP-83 doesn't.

Looking at the unit sitting in my television center, I couldn't help how well it fits in with the rest of my gear. I might get in trouble for saying this, but it looks damned nice in the presence of my Denon receiver and Sony Playstation 3. Oppo did its homework in making sure the BDP-83 stands on its own, but also not to stick out like a sore thumb.

The back of the Oppo features an array of hook-ups to keep any home theater guy/gal happy. HDMI, analog and digital jacks are spread nicely across the back. In hooking up my equipment, it was easy to find exactly where I needed to plug in. Every jack on the back is also solid as the player. There are also two USB ports.

The remote for the BDP-83 is quite an improvement over the 970H. I only use that remote as an example compared to the Sony PS3 remote and this new one. Buttons are better organized and easier to track down on the BDP-83 than on the 970H. It's more in line with how the PS3 remote, which I love, operates.

SET UP AND FEATURES

They say a jack of all trades is a master of nothing, or something like that. I believe that Oppo has proven those guys wrong, because this machine is very impressive in how it operates.

It starts up instantly and quietly. My PS3 is louder with its fan, but the Oppo is nearly silent. It also runs much cooler than the PS3, which is heaven sent in my office.

A bright and beautiful menu comes up on the TV screen. My demo unit had already been tweaked, so I had to go into the menus to calibrate it to my tastes. This was exceedingly easy. The menus are bright and colorful and it's very easy to just dive in. There is a feature that allows novice users to quickly calibrate the BDP-83, as well. I only wish my Denon products were this easy to use.

There are numerous submenus that users can delve into. I won't go into all the details here, but just know that the BDP-83 is very friendly in getting it to work for you.

BREAK IT DOWN

Now that you've reached this point in my review, it's time to choose a path. Since the Oppo BDP-83 is such an extensive player, I'm breaking this review down into two parts for its audio and video capabilities.

If you're not into an extensive review, you may want to read my much shorter and concise review

here

.

The Oppo BDP-83 is exceptional in almost everything it does. The player's speed, high quality picture and sound and reliability will please anyone who buys it. Get the details here to find out more about this wonderful player.



OPPO BDP-83 AUDIO REVIEW





OPPO BDP-83 VIDEO REVIEW



OPPO BDP-83 "SPECIAL EDITION" REVIEW

Special thanks to Jason Liao

Photos: © 2009 Oppo Digital. All rights reserved.

REVIEW EQUIPMENT
Speakers: Vandersteen Model 2 Signature II
HDTV: Panasonic Viera 50-inch
Amplification: Denon 2808CI receiver
Blu-ray/DVD: Sony Playstation 3
CD/SACD: Sony C222ES
Digital-to-analog converter (DAC): Musical Fidelity V-DAC (computer WAV files only)
Cables: Monster Cable and hand soldered speaker cable, bi-wired
About | Site Index | Contact | Terms & Conditions | Links
Custom Search