THE SCREENING ROOM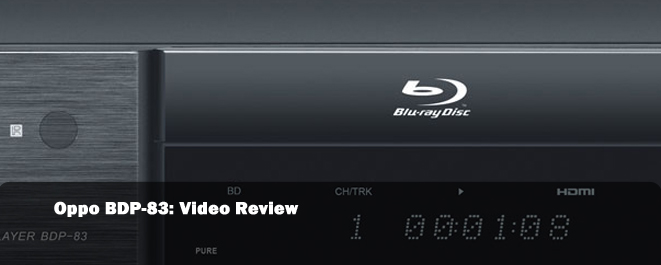 PLAYER REVIEW
By Bill Kallay
Normally I'm wary of glowing reviews about products. Being a journalist and occasional equipment reviewer, I've become skeptical of high praise. I've bought products that earned lots of stars, bars and kudos, only to come away disappointed in its performance or reliability. I've also learned that high price tags and tons of press don't necessarily add up to a great product.

That changed for me, somewhat, when I heard about Oppo. From out of nowhere, this little company impressed the press and made headlines for its DVD players. They were doing something that some of the major DVD player makers weren't doing much of lately; making a reliable product everybody seems to love.

OPPO 970H AND THE NEW BDP-83

Three years ago, my dad was looking for a DVD player for his new home theater. On a hunch, I suggested that he buy the Oppo 970H. It was winning raves. Despite my skepticism, I thought he should give this little Oppo company a chance. One, it wasn't my money. Two, it didn't cost a lot for a universal player such as this. He ordered one and called me about two days later.

"Son, the Oppo's here."

"Already? Did you pay for express delivery?"

"Nope. And it came nicely packaged!"

I raced over to his house, being the gear nut that I am, and hooked it up. Immediately, I was impressed with the picture. It was superior to my Sony DVD player. And the goodies included an HDMI cable and all the cables he needed. Oh, and the box was indeed nice.

He's had the 970H for three years now, and with moderate use, it's been a workhorse. Based on my own impressions of the Oppo, I was eager to see how its new BDP-83 would handle high definition.

MY TIME WITH PS3 AND OPPO BDP-83

I've had a Sony Playstation 3 for about two years now and I love it. It reads Blu-ray discs quickly, sounds incredible on most movies, and has been very reliable. Even though other manufacturers have released Blu-ray players, the PS3 is still considered tops. That is, until Oppo came out with the BDP-83.

If I already didn't have the PS3 and was looking for a new Blu-ray player, the Oppo BDP-83 would top my list. For $499, this player gives most people what they need and more. Though it won't play video games, it does almost everything else you ask it to do.

Since the PS3 is top dog right now in regards to speed and high definition picture quality, it's safe to compare it with the Oppo. Both run around the same price range (depending on which PS3 model you buy). Both are beautiful designs and will look fine in a home theater. Each unit is covered with black surfaces with silver embellishment. A tiny blue light indicates that the Oppo is on, while a green light indicates the PS3 is on. Each features the ability to download updates via an Ethernet connection, though out-of-the-box, the PS3 can do it wirelessly. The Oppo has an option to add an external unit to give it wireless connectivity.

The PS3 and BDP-83 load Blu-ray discs incredibly fast with minimal boot up time. In the early days of Blu-ray, most players took incredible time to load menus. I don't have any experience with the newer players, so my reference is based on the PS3. All I know is that the Oppo was no slouch in matching, and perhaps beating by a hair, the PS3's load times. When loading discs into the Oppo or PS3, each machine feels solid.

Each player has a number of connections. Both can accept USB drives or external hard drives. Around back, the players have an HDMI jack. Here's where they differ on options. The PS3, if you want to connect RCA cables from it to a receiver/prepro, requires a Sony proprietary cable. This is annoying, especially since my PS3 cost a lot in the first place. The Oppo is ready to go out of the box. It has traditional analog stereo jacks, plus an analog set of for multichannel audio. It also has a coaxial and S/PDIF (optical) jack on the back.

The PS3 doesn't come with a remote (at least mine didn't), but the Oppo does. They even throw in a pair of batteries, an HDMI cable, RCA cables and that nice canvas bag. My PS3 required me to take a trip back to the store to get their proprietary analog cable and remote. And on top of that, I had to spend (at the time) $100 for an HDMI cable. Honestly, I wasn't too pleased with how Sony operated with adding on so many extra costs.

The players are pretty easy to set up via high definition menus. Sony has been at the forefront, in my mind, of making it easy to set up its products. I've been impressed with its PS3 menus and ability to change things mostly on the fly. The Oppo is no different. I found its user interface very friendly, and I might say, nice looking. The menus are done with tasteful graphics.

SOME THINGS THE PS3 DOESN'T DO FOR YOU

One can't help but to be impressed with how Oppo treats its product and customers. I love my PS3 and I've been mostly loyal with Sony's higher end products. But Sony has a tendency to charge a lot for less. That's what endears Oppo to my heart. They don't act like a big corporation. They act like the local store that aims to please.

Here's what I'm talking about. Within the box the BDP-83 came in, there is a Spears & Munsil test disc, and an AIX Records audiophile disc. I don't know about the AIX Records disc, but I understand that the Spears & Munsil disc retails for about $30. You get it for free with the BDP-83. This is an impressive Blu-ray calibration disc that takes owners step-by-step on how to set up a monitor correctly. This saves a great deal of time and money on hiring a professional. Think of it as a do-it-yourself disc. I set up my monitor very quickly this way. I have a pretty good eye in setting it up and my manual adjustments nearly matched the Spears & Munsil disc.

Another thing I loved about the BDP-83 over the PS3 was its cool running. Even with air conditioning blasting in my office, the PS3 runs so hot, it makes the room very humid. This is a blessing in winter, but it's very uncomfortable in summer. The PS3 has a fan, but it doesn't seem to cool down the unit much. The Oppo, though, runs fairly cool You don't even notice a temperature change with the Oppo.

Noise from the PS3 isn't much of an issue when movies are played on my system. Sitting idle, the unit still puts out sound. The BDP-83 is much more quiet.

The PS3 can do a lot of things, but it won't play SACDs or CDs very well. The sound is very filtered. Both formats sound very similar to each other on the PS3, and they're not supposed to. The Oppo, however, does a fine and very respectable job with all the music discs I put into it. For more on the audio side of the BDP-83, please read

here

.

SOME THINGS THE OPPO DOESN'T DO FOR YOU

It can't play video games. The remote isn't Bluetooth enabled like the PS3 remote, so the Oppo remote must be within range of the BDP-83 to send its commands.

PICTURE QUALITY

The BDP-83 produces a stunning picture, mattering on the base material, that equals the PS3. I did an A/B comparison between the two players, using the same Blu-ray disc. I used "Baraka," a spectacular film that was shot in 65mm. It was restored using 8K resolution right off the original negative. The result is a Blu-ray that sets the standard for the format. Switching the same Monster Cable HDMI cable between the PS3 and BDP-83, I was hard pressed to find any difference in the picture's sharpness, color and impact on my eyes. Matching the PS3 in picture quality is high praise indeed for the Oppo.

The BDP-83 uses Anchor Bay's VRS video technology to render high and standard definition pictures. The result, depending on the source, is excellent picture quality. I found most of my Blu-ray discs to look very natural and easy to watch. My only complaint would've come from the way the Blu-ray discs were remastered or "digitally restored" with too much image clean up, for example. The Oppo stayed out of the way and let the discs look the way they were mastered.

DVDs looked very good, again depending on the source material. As good as DVD can be, they're still no match for Blu-ray. But I found watching DVDs to be a pleasure on the BDP-83. The latest "Simpsons" season 12 looked very good, as did "Coraline."

While watching discs, I didn't find any issues with "jaggies" or stuttering in the picture. The BDP-83 presents nearly every disc with its best effort.

AUDIO QUALITY

One of the aspects I enjoy about Blu-ray is the option of listening to a high definition soundtrack. Both Dolby TrueHD and DTS-HD Master Audio sound pretty good to excellent on most modern films. I tend to prefer DTS-HD and uncompressed PCM on Blu-ray and the PS3 always played them with authority. I've had no complaints with the PS3 regarding movie audio.

The Oppo, to my ears, sounds nearly identical to the PS3 in movie sound. In CD or SACD playback, the Oppo simply runs the PS3 out of town.

I played "Baraka," "The Last Waltz," and "The Police: Certifiable" on Blu-ray with the Oppo. I didn't need to try out action flicks because I'm familiar with their sound on the PS3. I wanted to see how the Oppo handled intricate music on Blu-ray. "Baraka" uses a DTS-HD track for its main audio feature. "The Last Waltz" uses an uncompressed PCM audio feature. "The Police: Certifiable" uses a Dolby TrueHD audio option.

"Baraka" has a very powerful, deep and yet rich audio soundtrack. The score uses various chants and occasional sound effects to get its message across.

"The Last Waltz" has a dynamic soundtrack that was recorded on analog equipment, giving the sound a rich and warm feel.

"The Police: Certifiable" was probably recorded digitally and has some rough spots on it with Sting's vocals sounding a bit "hot" at times, though overall it's a great recording.

On the PS3, movie audio has a somewhat more spread out soundstage. Everything sounds very clear through the PS3.

The BDP-83 tends, to my ears, to bring in the soundstage a bit, focusing more in the center. Outside of those slight differences, each player renders movie sound and concert sound very well. The "Baraka" soundtrack still kicks me through my wall on the Oppo. The vocals and passionate performance of The Band render loud and clear on the Oppo. The awesome performance by The Police makes me want them to go on tour again and release a new album that I could listen to on the Oppo.

The BDP-83 didn't add its own sound signature to any disc I played through it. Vocals, whether they were from movies or concert videos, played through superbly. This player is simply flawless on movie sound.

A BIT OF A GRIPE, BUT ONLY A BIT

I found the performance of most features on the BDP-83 to be nothing less than perfect. I did have a Blu-ray, "The Nightmare Before Christmas," freeze up on me. But I think it may have been a fluke. Everything else performed as expected.

The Oppo's remote is an improvement over the 970H's remote, which took me a bit of time to get used to. The BDP-83 is solid and has a lot of options. Yet I found one aspect of performance I didn't care for. When fast forwarding, I had to go through a number of button presses to get it where I wanted it. In other words, on the PS3 remote, it has an option of 1.5x, 10x, and higher speed. I can access that funny part in a movie my daughter wants me to repeat much quicker on the PS3. With the Oppo, I felt I couldn't get the speed right. Other than that, all the other functions on the remote are great.

OPPO HOW DO I LOVE THEE?

I figured that Oppo would release a Blu-ray player that would stun the magazine critics of the world. I also felt that they'd produce a player that would best the PS3 in some ways. If it's not faster on loading Blu-ray discs than the PS3, it comes awfully close in matching it. It runs a lot cooler and quieter and has much better sound on CD and SACD. It's reliable. It produces a high definition and standard definition picture that ranks right up there with the PS3.

After living with the BDP-83 for a while, I can honestly say that it exceeded my expectations. Like a proud coach, I stand on the sidelines jumping and cheering for Oppo. They went up again a tough and much bigger competitor in the Sony Playstation 3. That's a scary match up that no one has really taken on. Yet Oppo did and has been fearless. They produced a player that scores some major points to win this match. Meet the new champion of Blu-ray players, the Oppo BDP-83.



OPPO BDP-83 REVIEW MAIN PAGE





OPPO BDP-83 AUDIO REVIEW



Bill Kallay

Special thanks to Jason Liao

Photos: © 2009 Oppo Digital. All rights reserved.
REVIEW EQUIPMENT
Speakers: Vandersteen Model 2 Signature II
HDTV: Panasonic Viera 50-inch
Amplification: Denon 2808CI receiver
Blu-ray/DVD: Sony Playstation 3
CD/SACD: Sony C222ES
Digital-to-analog converter (DAC): Musical Fidelity V-DAC (computer WAV files only)
Cables: Monster Cable and hand soldered speaker cable, bi-wired
About | Site Index | Contact | Terms & Conditions | Links
Custom Search