THE SCREENING ROOM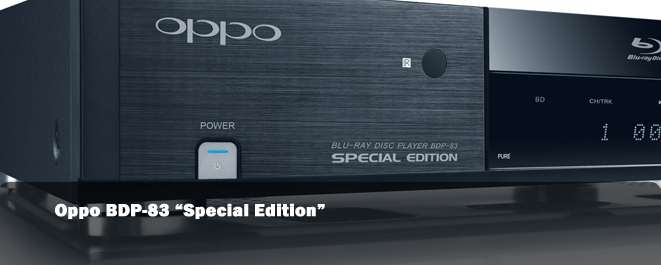 PLAYER REVIEW
By Bill Kallay
Who knew that in just a few short months, Oppo Digital would make a hot rod out of their great Blu-ray player, the BDP-83? I reviewed the BDP-83 a short time ago and was very impressed by it. "Universal players" like the Oppo, which can play a number of disc formats on home video and audio, normally shortchange the quality somewhere. But the BDP-83 didn't skimp. I was sad to send it back to Oppo after the review period.

Now I'm even sadder that my extended time with the new "Special Edition" has come to an end. The SE has the same amount of playback capability as it's slightly older brethren. It plays Blu-ray discs with zest. It's easy and fun to use. But underneath the hood of this player are some supercharged components. If the BDP-83 was a car, Oppo would've essentially taken a respectable BMW 328i and turned it into an M-series rocket.

The BDP-83 is available for $499. The "Special Edition" ($899) has all those attributes, but turns itself into a 2-channel music player that will surprise you with its awesome sound quality.

But isn't this site mostly devoted to movies? Who cares about 2-channel music when you've got 7.1 channel surround sound? If you really want to impress your friends, pop in "Transformers" on Blu-ray. Later on, pop in a smooth sounding SACD. Watch their jaws drop while listening to the new Oppo BDP-83 "Special Edition."

SAME BUT VERY DIFFERENT

The "Special Edition" looks exactly the same on the outside as its predecessor. The player is handsomely constructed. When pulling it out of the box, it weighs enough that you won't mistake this being a lightweight player. Oppo packages it with a very good remote, an HDMI cable, various other A/V cables, an instruction manual, an audio demo disc and the Spear & Munsil Blu-ray calibration disc. Everything is packed very nicely inside foam inserts with a canvas tote bag surrounding the player.

Plugging the "Special Edition" into the television and Denon receiver via HDMI cables, the pristine Oppo splash screen logo comes on and I felt right at home. There is an option in the player's menus to change the picture and sound quality, but I left that intact as my plasma screen is already calibrated.

I popped in a few standard Blu-ray and DVDs discs to check the picture quality. Unless the disc has a bad transfer, almost everything about the Oppo picture is stunning. The discs load very quickly and the Oppo correctly plays the proper aspect ratio on the 16:9 screen.

So what's so special about this new player anyway? Oppo has upgraded the audio side in a major and very positive way. They took out the decent Cirrus-Logic DAC (digital-to-analog converter), installed a better and more powerful power supply, and upgraded the audio boards. What does this mean to the average home theater person? It can mean a significant improvement over the sound you may already getting.

NEW DACS

In this age of digital audio, it might be a shock to praise analog sound. This is where the "Special Edition" shines. The beauty of having this player in your home theater is that you can play your Blu-rays and DVDs via HDMI if you want, but you can play them and very high quality music discs via it's upgraded analog output.

On the original BDP-83, I was shocked with how good it sounded on CDs and SACDs via the analog output. It's a very good music player that would immediately please most listeners. Even my wife, who hates anything to do with electronics, especially audio, remarked how good the BDP-83 sounded. But the Cirrus-Logic DACs gave the player a certain signature sound quality. The soundstage was focused and tight, but it didn't sound as wide as I was accustomed to. The clarity of many good recordings was improved on this unit, as well. But the sound, as good as it was, didn't quite capture me for extended periods of time.

Here's where the "Special Edition" caught me. Using it's upgraded analog section and output in both 2-channel and multichannel, I was immediately taken with its better sound quality. The upgrades make this "Special Edition" a considerably better audio player than the BDP-83.

What did Oppo do to make this new player sound so good? Simple. It went back to lab and figured out that a better power supply and better DACs can make a significant difference in audio quality. This is something good specialty high-end audio manufacturers do. Oppo upgraded the 2-channel analog section with ESS Technology's ES9016 DACs, four per channel. On the multichannel side, it installed the ESS Technology ES9006 DAC. I'm no engineer, but it seems to me that the addition of the additional DACs on each channel can squeeze out some heavy duty horsepower. This audio horsepower, when done well, can bring out sound quality on CDs and SACDs that you may have not been aware of. It can also smooth out jitter.

MOVIE SOUND

I should point out that the "Special Edition" does wonders for well-mixed soundtracks. Via HDMI, movies sound perfectly fine. Respected audio equipment designer, Charles Hansen of Ayre, is quick to point out that HDMI is horrendous with high jitter. I suppose that most people who think Dolby Digital sounds great wouldn't care if their Blu-rays have higher jitter than a bad CD player. And as picky as I am with audio quality, HDMI on movie sound is fine for me on my budget. Want to get a hold on sonic jitter? Use the Oppo's analog output.

I tried the 7.1 analog outs to see how the ESS Technology ES9006 DAC sounded. At first, I was surprised. The volume on the analog outputs of the player was considerably lower than the HDMI output of the player. In my case, using a Denon receiver, the matched levels of the HDMI and analog output didn't sound the same. Going into the Denon's deep menu system, it was necessary for me to raise the analog dBs a little higher than the HDMI dB level to compensate for the difference. Also turning up the volume on the Oppo helped.

The strength in the Oppo's use of the ESS Technology DACs in multichannel audio can be heard on music Blu-rays and DVDs. Playing my two favorites, "The Police: Certified - Live in Buenos Aires" Blu-ray and "James Taylor: Live At the Beacon Theatre" DVD, I found that the analog output presentation on both was smoother sounding compared to using HDMI. "The Police" Blu-ray uses a Dolby TrueHD soundtrack. Though the recording sometimes gets distorted, the overall presentation is very good. The Oppo's DACs handled the loud rock of the band and softer songs very well.

The James Taylor DVD now looks horrible (the original tapes need to be remastered for Blu-ray) because it's a DVD from the early days of the format. But the PCM 2.0 sound is still excellent. Even if you're not into Taylor's folksy music and demeanor, there's no getting around his considerable musical talent. This is one of those rare DVDs I can sit down and play in the background because his performance is so good. The Oppo plays it sweetly.

Blu-ray and DVD movies sounded excellent (depending on the soundtrack) with smoother overall sound.

MUSIC

When it comes to music playback, I'm old school. Not quite back to using LPs (though I'll occasionally pull out my old turntable), I believe music sounds best in two-channel. I've tried listening to multichannel remixes of SACDs and frankly, they sound overly processed and unnatural to me. Well recorded and mixed two-channel music is far more relaxed and natural to listen to. A good stereo recording will give you all the depth and sound staging you need. And occasionally, a good stereo recording can even throw out a phantom surround effect behind you or to the outer reaches of your stereo pair of speakers.

I used my copy of Elton John's "Tumbleweed Connection" to gauge the quality of an SACD soon after I plugged in the Oppo. Even on my dad's old Pioneer turntable and mediocre Bose speakers back in the day, this album always sounded pretty darned good. Now that I have upgraded electronics and far, far, far better speakers, it's interesting to see how old Reggie sounds. "The Special Edition" stays out of the way of the recording quality. The opening guitar and drums on "The Ballad of a Well Known Gun" rips through the speakers with a lively kick. Most of this underrated album is soft, country tinged rock. One of my favorites is "Love Song," which ends with the sounds of waves and children playing. The Oppo simply plays it, letting the recording breath. There is depth and a free flowing sense of ease in how the Oppo plays this SACD and others. Compared to my trusty dusty Sony CD/SACD, the music sounds more alive and clean on the Oppo.

No review that I do of a player is complete without putting in a crummy sounding CD from the '80s or '90s. For a laugh, I put in Midnight Oil's "Blue Sky Mining." This CD has always sounded weak to my ears. I love the music but not the sound. The "Special Edition" actually seems to pull nearly all it can off this CD. I won't lie and say that the player makes Midnight Oil suddenly sound like they were recorded by an audiophile label. But the disc does sound a hint better than I've ever heard it. The Oppo, like it's BDP-83 predecessor, won't make poor CDs or SACDs sound better by boosting its volume, or creating a sound that isn't on the recording in the first place. It will do a respectable job in trying to rescue what's there.

The new ESS Technology DACs, audio boards and upgraded power supplies have no doubt raised the sound quality of the BDP-83. At the time of this review, I had a Wadia 170iTransport hooked up. The Wadia takes the digital files directly from your iPod and bypasses the iPod's DACs, sending pure digital audio to an outboard DAC. I used the DAC inside my Denon. Switching back-and-forth between the Wadia and the Oppo, I could not immediately tell which was which. They sounded almost identical.

When doing audio comparisons, it can be difficult to discern one piece of equipment over the other, especially when they're so close in quality. Switching to the Wadia, then back to the Oppo, I thought I might've heard one sounding a bit clearer than the other. After going back, they actually sounded alike. If that sounds wishy-washy, it's not meant to. It's like looking at a photograph by two different cameras with high quality lenses. Both produce exceptional pictures and look almost exactly the same. After awhile, your eyes blur a bit and you can't tell which is which. Only you can decide which is a better buy.

WHAT'S THE FUSS ABOUT?


Why spend almost $900 on a dedicated player when you've got choices of wireless audio, USB, and iPod-based sound? Your music library is already on some kind of hard drive or flash format. You can access your music easily without having to get up, find a CD, put it into a player, find a couple of songs you like, then have to get up again to change the disc. What a hassle! I love the Wadia set-up. But there are times when I want to sit down and listen to an SACD. There are times when I want to watch a concert video. The Wadia can't play SACD and it can't play Blu-ray discs. The "Special Edition" can and much more.

Why not have the best of everything? Like an reliable car that's great for running around town in, computer audio is perfectly listenable most of the time. Yet every once in awhile, it's nice to drive the speedster. The Oppo BDP-83 Special Edition is a mixture of practicality and super performance. And at $899, it's a pure bargain.

Special thanks to Jason Liao

Photos: © 2010 Oppo Digital. All rights reserved.

Oppo BDP-83 Review
REVIEW EQUIPMENT
Speakers: Vandersteen Model 2 Signature II
HDTV: Panasonic Viera 50-inch
Amplification: Denon 2808CI receiver
Blu-ray/DVD: Sony Playstation 3
CD/SACD: Sony C222ES
Digital-to-analog converter (DAC): Denon/Burr-Brown
Cables: Monster Cable and hand soldered speaker cable, bi-wired
About | Site Index | Contact | Terms & Conditions | Links
Custom Search