Mary Poppins Nearly Jolly DVD
By
William Kallay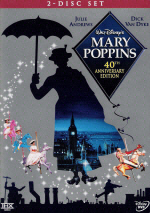 So many words have been written about Walt Disney's film version of "Mary Poppins," that it seems almost silly to say that this film is "practically perfect in every way." Yet, it's almost a given to write those words. Walt certainly produced a number of classic films, including "Snow White And The Seven Dwarfs" (1937) and "Cinderella" (1950), but it was with "Mary Poppins" that he produced a film that combined his studio's talented roster of artists with a wonderful story in the most fantastic way. For its 40th Anniversary, Buena Vista Home Entertainment has gone back to the original film, and into its studio archives, to produce a new 2-disc DVD set.
"Mary Poppins" represented a pinnacle of Disney's strengths as a master storyteller and showman. This film was a truly a labor of love not only for Walt, but seemingly, to everyone who worked on this film. Everyone was at the top of his or her game when "Poppins" was produced, and it shows.
The film has been available in various video formats for a number of years. It has been one of those titles that's a consistent seller in stores and can probably be seen on nearly "everyone's" video collection shelf in some videotape, LaserDisc or DVD format. Back in 1998, during the early days of DVD, the studio released a barebones edition of the film. In 2000, it was released on DVD as a part of Disney's "Gold Classic Collection." Supplements were few, but there was a good documentary on the making of "Poppins."
If this film has been available to consumers for years, what is the point of buying this new edition? Simply put, because it's almost the best and most thorough way to experience this film and its supplemental features outside of the movie theatre. I'll clarify the word "almost" later on. Despite its flaws, there are so many features on this 2-disc set that it can take quite a few hours to sort through.
Disc 1 contains a restored version of the film, an audio commentary track, "Poppins Pop-Up Facts," Disney's "Song Selection" (where you can directly access your favorite Poppins songs in the movie), a 5.1-channel Dolby Digital mix, a new 5.1 Disney Enhanced Home Theater Mix, the "original" 2.0 theatrical mix, English 2.0 enhanced mix, French 5.1 mix and a Spanish 5.1 mix. Also included are, ahem, the "Sneak Peeks." The disc is "THX-Certified."
The best aspect of Disc 1 (besides watching the film itself) is the audio commentary track. None other than Dame Julie Andrews, Dick Van Dyke, Karen Dotrice, Richard Sherman, Robert Sherman, Irwin Kostal and Walt Disney offer their memories of the classic on this track. This is truly a meeting of talented minds reminiscing about the making, and their feelings, about "Mary Poppins." We get a sense that all of the pistons were firing precisely at the same time when this film was in production. Watching the film, it's hard to disagree with that notion. Additional credit is given to people (other than Walt Disney) on the making of "Poppins," including director Robert Stevenson, writer/co-producer Bill Walsh, visual effects magician Peter Ellenshaw and choreographers Mark Breaux and Dee Dee Woods.
Often, and deservedly so, Walt was given credit for bringing many projects to life. He was a master storyteller and leader of his studio and its divisions. But it's great to hear that he acknowledges his staff contributions on the commentary track.
"I respect my talent. I work very close with them. I'm not one that feels confident that I have the answers. I like to look at it as a group of talents working together for an end result. And I think my
artists respect the type of operation I have, because they've been with me for years, and there have been many offers for them to leave, but they kind of like the 'plant,' because they can work with other people. It's a nice atmosphere," remarks Walt. It's heartening to hear praise from others on the commentary track, as well.
Disc 2 contains a plethora of bonus material. There is a pleasant reunion with Andrews, Van Dyke and Robert Sherman who reminisce about the brilliant (my emphasis) music in the film. Sherman continues his stories about the score in "A Musical Journey With Richard Sherman." Under the "Backstage Disney" section of the disc, there is an excellent behind-the-scenes documentary called "Supercalifragilisticexpialidocious: The Making Of Mary Poppins." "Movie Magic" is a kid-friendly look at the visual effects. In "Deconstruction Of A Scene," viewers can watch how the "Jolly Holiday" and "Step In Time" sequences were put together. There's a make-up test of Dick Van Dyke's transformation from a young man into Mr. Dawes, Sr. "The Gala World Premiere" is a re-construction of film and audio of the premiere and after-party. A parade of stars from the era are present at the premiere, including Roddy McDowall, Suzanne Pleshette, P.L. Travers, Walt and Lillian Disney, and of course, the stars of the film. For those Disney fans, it's a great trip back in time to listen to Walt talk about Audio-Animatronics, to see some Disneyland Ambassadors from an earlier era, and get a laugh out of seeing some of the early Disney theme park costumed characters parading down Hollywood Blvd. Also of interest is "The Party" held in the Grauman's Chinese Theatre after the premiere was over. Everybody interviewed raves about the film. Please note that there is a disclaimer at the head of this section regarding the footage: "The footage is dark due to the limitations of 16mm film [on which this section was shot] in 1964." The footage looks great and should not deter viewers from seeing this section.
The list goes on with a deleted song, "Chimpanzoo" matched with storyboards, a Set-Top Game called "I Love To Laugh," "Publicity" and "Mary Poppins Still Art Galleries." At the end of the disc menu is a newly animated short film called "The Cat That Looked At A King" by P.L. Travers.
The picture is framed at 1.66:1 (though it was shot with a recommended projection ratio of 1.75:1 while being "protected" for the 1.66:1 aspect ratio), and the sound has been remastered. Overall, picture and sound quality is very good, but there are some quibbles, some minor, and some that are downright infuriating.
The film was originally presented in magnetic stereophonic sound in 1964. With that soundtrack, as I recall from a 1999 theatrical screening in Hollywood at the El Capitan Theatre presented in Dolby Stereo, all of the dialogue and sound effects were in mono. Once the music and songs kicked in, they were in stereo. It was still, despite the monophonic dialogue and sound effects elements, a pleasant and warm sounding presentation. For the home theatre crowd, the film has received a more emphasized soundtrack, with dialogue and sound effects receiving a multichannel boost. It appears that both the dialogue and sound effects have been sweetened. There are bass effects where there didn't seem to be any before. For example, as Michael Banks (Matthew Garber) is shot through the chimney prior to the "March Over The Rooftops" scene, there's more bass action to the "thump" sound effect of him coming out of the smokestack. This is of minor note, as the soundtrack is well-presented and has a spacious quality to it.
As much as it pains me to say, it's the picture quality of the feature film that has me perplexed and even a little angry. The picture quality is clearer in overall resolution than in previous video editions. The majority of the film is fine and most people probably won't notice some of the changes. But what might seem like an improvement in picture quality is marred by a dark, toned-down hue to the entire film. Once such example that really stands out is the "The Rooftops Of London" (Chapter 18) sequence. This scene illustrates that (a) Mary Poppins and Bert are showing Jane and Michael Banks there's a whole big, beautiful world outside of their London home to experience and (b) we can see Peter Ellenshaw's masterful matte painting. Viewers should clearly be able to see the subtle transition of the sun going down over London as the lights from the city begin to fade up. This is one of Peter Ellenshaw's most stunning matte effects and it's almost completely unseen here on this DVD. What are Jane (Karen Dotrice) and Michael reacting to with such happy smiles of wonder: the pitch blackness of London?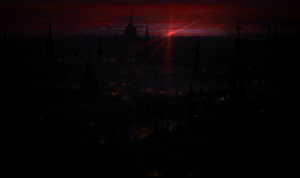 "London" as seen on the current DVD
Disney has, over the past few years, done a stunning job on their DVDs, from the remastering of most of their classic animated features, down to the recent "Walt Disney Treasures" series. There have been some DVDs that were less-than-perfect, however, like the transfer of "Pocahontas" (1995) and the overly cleaned-up look on "Snow White." Those were exceptions. But for a DVD set with so many fine supplemental features, it's stunning to think that the transfer and restoration (i.e. more than likely digitally restored) of the feature film part of this DVD set is marred by adjustments to the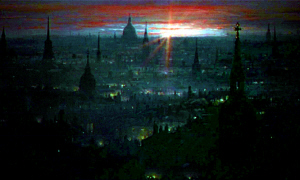 "London" as it should appear
color and brightness of the original film. Were some of the members of the "Mary Poppins" crew, including Peter Ellenshaw, Bill Justice and Ollie Johnston, consulted for their expertise on the how it should look? It's doubtful.
With respect to the folks who put this DVD together, the overall package is great and highly recommended. Yet the folks who made this classic film seem to have been short changed. Some of their fine visual effects work simply cannot be seen! I assure you that I looked at this disc on two calibrated televisions and my computer's DVD player, and it still looked the same. Compared to the previous version of the DVD, which has a decent transfer, the 2004 DVD is too dark.
I've been a fan of "Mary Poppins" since childhood and have seen it a number of times to know that the most recent DVD doesn't represent how the film should look. Peter Ellenshaw's work and Ollie Johnston's animation, for instance, have a distinct style of their own. But when it gets muddled, it takes on a new feeling for the audience. A poor presentation can leave audiences with a bad impression of the film. It's not to say that this version of "Mary Poppins" is presented in such a way that it could deter people from discovering this disc. On the contrary, the film is still enjoyable and the supplements are well-worth the price. It's the fact that some of this presentation is not correct. The people who worked on Walt's labor of love deserve a better way of seeing this film, without too many "modern" enhancements to embellish things that aren't supposed to be there.
---
Now, as for "Mary Poppins," it's simply one of Walt's greatest films. These days, films seem to put visual effects before story. In the case of "Poppins," the story and characters came first, with the excellent visual effects and animation blending in seamlessly to make the story work wonders for the audience.
Writers Bill Walsh and Don DaGradi fashioned a screenplay that was far and above most Disney live-action films of the time. Taking cues from the P.L. Travers books, they wrote an exceptional screenplay. On the surface, the film appears to be a children's story. But it turns out to be a story about George (David Tomlinson) and Winifred Banks' lack of a relationship with their children. It is George that we focus on in the latter half of the film, and while the film isn't a tear-jerker, it's hard to not get a lump in one's throat when he comes home to his children with the handmade kite he fixed for Jane and Michael.
Everyone in the cast is perfect in their roles. Julie Andrews, in her first film role, plays Mary Poppins with perfection. She may seem like a fun nanny who sings cheery songs to the children and Mr. Banks, but there's an intelligent and strong person behind that sunny disposition, and the audience is all the better for it. Dick Van Dyke (Bert) is delightful as the all-around chimney sweep/musician/artist. His cockney accent leaves a little to be desired, especially when it occasionally drops into an American accent, but Van Dyke's enthusiasm for the role makes one forget the flaws. Glynis Johns is splendid as Mrs. Banks, offering a counterbalance to the stuffy Mr. Banks. And the children, Jane and Michael, are perfectly cast. In some films with child actors, they can be annoyingly cute, or just plain annoying. In this film, they're pleasant and fun to watch because they're likable kids. They're realistic and charming.
The visual effects and animation are worthy of praise. So what if there have been 40 years of innovations in those fields. The compositing of Julie Andrews and Dick Van Dyke in the "Jolly Holiday" sequence with the animated backgrounds, for instance, is worthy of study by those who aspire to do visual effects. In fact, it could be said that many professional visual effects artists working today still look at "Mary Poppins" in awe. And going though the supplemental "Deconstruction Of A Scene," it might be interesting for viewers to see that many of the same techniques of placing actors in front of a solid color background are still used widely today. The production design is stagy in a positive way. And Ellenshaw's mattes are a work of art.
Last, and certainly not least, is the score by the Sherman Brothers. It can be rare that songwriters will write one song that people will remember for years. With the Sherman Brothers, they've done so many. Their music in "Mary Poppins" began a long string of hits, including "A Spoonful Of Sugar," "Jolly Holiday," "Chim Chim Cher-ee," "Supercalifragilisticexpialidocious," and "Feed The Birds (Tuppence A Bag)." They continued on with hits outside of this film, including "It's A Small World (After All)" and "Winnie The Pooh." Every song in this film is wonderful.
Perhaps the only flaw in "Mary Poppins" is the length. There isn't a single bad scene in the film, but it does seem to drag a little bit. Like many premiere films of the early 1960s, particularily roadshows, the film had a long running time. But unlike overloaded and overblown children's fables for the screen like "Doctor Dolittle" (1967) and "Chitty Chitty Bang Bang" (1968), and even Disney's own "Bedknobs And Broomsticks" (1971), "Mary Poppins" holds one's interest until the very satisfying, yet bittersweet ending.
This is a seminal film in the history of Walt Disney's career, and for the most part, this DVD disc-set delivers the goods for audiences at home. Despite the visual qualms I might have with it, I think most people will enjoy this new edition of "Mary Poppins" on DVD.
---
"I've never agreed completely with the critics. But this time, all the critics seemed to agree on 'Mary Poppins,' and this once I didn't want to disagree with the critics." Walt Disney
Mary Poppins
Walt Disney Home Entertainment
Catalog Number 31167
Region 1
16:9 Widescreen (1.66:1)
Dolby Digital 5.1
Dolby Digital 5.1 (Disney Enhanced Home Theater Mix)
THX-Certified
DVD Release Date: December 14, 2004
$29.99
G
Two DVD-9 Discs
1964
139 minutes
Color
Director: Robert Stevenson
Cast: Julie Andrews, Dick Van Dyke, David Tomlinson, Glynis Johns, Karen Dotrice & Matthew Garber
---
Special Thanks to Amelia McPartlon and Jeff Kaplan
Artwork & Photos © The Walt Disney Company. All rights reserved