Related Articles:
Magically Pristine "Cinderella" DVD
By
William Kallay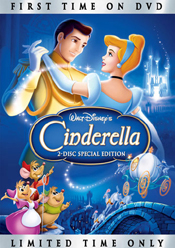 Hot on "Bambi's" hoofs, Walt Disney's 1950 classic, "Cinderella" has finally arrived on DVD. This year has seen "Bambi," and now "Cinderella," receiving deluxe treatment in picture & sound enhancement, and bonus material from the Disney vaults. The new edition of Charles Perrault's classic, as seen through the eyes of Disney's artists, has had an extreme makeover like the other recent animated titles recently released by the studio.

"Cinderella" was salvation for the Disney Studio's fortunes. Battered by foreign box office during World War II, the studio had not produced an animated feature since "Bambi" in 1942. Most of the studio's efforts were focused on making propaganda and training films in cooperation with the United States government, as well as shorts featuring the studio's talent like Mickey Mouse and Donald Duck, and anthology films like "Make Mine Music" (1946). By 1950, Disney was ready to unveil "Cinderella" onto the public, and audiences loved it. The film was a hit and has seen success in various re-releases since then. It has been released on VHS and Laser Disc in the past, first in 1988 and then in 1995. The latest home video release of the film is now available on a 2-disc DVD set.

Disc 1 contains the feature film, "A Dream Is A Wish Your Heart Makes" music video featuring various Disney Channel stars, "Making Of 'A Dream Is A Wish Your Heart Makes,'" "Everybody Can Be A Princess" music video, and a real stretch of a video segment, "Cinderella Stories" Presented by ESPN Classic. Nothing like princesses and ESPN, but the segments are fun to see. The film features a new 5.1 Disney Enhanced Home Theater Mix, a mono mix, and foreign language tracks. Also featured are the usual "Sneak Peeks."

Disc 2 contains an almost endless array of bonus features which are well-worth the price of this DVD set. Since there are many, it's best to focus on the highlights. Deleted scenes featuring the original version of "The Work Song" and "Dancing On A Cloud" have been reconstructed using sketches. The core of this disc is in the "Backstage Disney" section, where viewers will find ten separate features. A personal favorite is "From Walt Disney's Table: A Tribute To Disney's Nine Old Men." Present day animation icons, including Don Hahn and Brad Bird, talk with other animation pros and host Joe Siegel ("Good Morning America") to discuss Walt Disney's "Nine Old Men," a group of his finest animators. If you're a Disney animation buff, this all too short segment gives you a glimpse into not only into the Nine Old Men themselves, but the influence that those early Disney artists had on Disney and Pixar animators. And when I say "too short," it's meant as a compliment. It could've been nice to listen to these animators talk for longer.

The producers of the bonus material have also included tributes to artist Mary Blair, who is probably best known for her work on the designs of the It's A Small World attraction. Navigating further into the disc will bring viewers "From Rags To Riches: The Making Of 'Cinderella,'" "The Cinderella That Almost Was," storyboard comparisons, still galleries, original trailers, the original Laugh-O-Gram short of the story (1922), a "Mickey Mouse Club" segment, and songs from the film and television segments. Also on the disc are games that can be played on a PC and "House Of Royalty," a segment featuring actress Alyson Stoner from Disney Channel's "Mike's Super Short Show."

The picture is worthy of a home theatre set-up. It's clear and bright, and as long as most people view it in 1.33:1, and not stretched or cropped to fill their 16:9 display, it can be a very enjoyable experience. The images are dazzling and the soundtrack is pleasant to listen to. The Dolby Digital "Disney Enhanced" mix is subtle. The sound mixers have balanced the original mono tracks tastefully across the screen channels with minimal surround action, and that's the way a good mix ought to be on an old film such as this. For purists, a monophonic track is available.

The film was restored by Lowry Digital Images, which is now owned by DTS Images. Lowry has digitally cleaned and fixed a number of classic films in recent years, including the original "Star Wars" films, Indiana Jones trilogy, and a number of Disney's animated features. The work is extraordinary to see, especially in animation. When "Snow White And The Seven Dwarfs" was released on DVD in 2000, there was jubilation amongst many who bought the DVD. It just looked so good.

But I have reservations about how much digital "restoration" was done on "Cinderella." This is used just as an example. Other notable Disney features have been digitally restored like "Snow White," and "Bambi." With respect to Mr. Lowry and Dave Bossert, who have done wonderful work in restoring many Disney films and shorts, this is merely an observation.

It may be a simplistic observation, especially with all of the time, technology, money and work that went into the digital version of "Cinderella," but the film now looks like it went through Photoshop, frame-by-frame. The film feels and sounds almost like it was made yesterday. Perhaps that's great for the little children of today's digital age, but not for those of us who originally saw it in a theatre.

According to a source at Disney, to go unnamed, "Cinderella" was digitally restored, not only to archive the film, but to make it look presentable for today's audiences. We're talking about a film that was made 55-years ago.

"Cinderella" no longer feels like a film made by human hands, but more like a film made on a computer. That's not a bad thing. Witness what Pixar has done. But this film wasn't made in an era of computer animation. It was made with an artist's brush strokes and analog technology. It was a different beast, if you will. This newfound revelation of "here's what we can do with digital technology" is harmful in that the original artist's work is altered. What is also changed is the audience's perception of the movie. Certainly, the story, the wonderful characters and great songs are still there. The great animation is there. But the whole impact of the movie now feels somewhat sterile. As far as how this new version of the classic looks, it now looks almost identical to the dreadful made-for-DVD sequel, "Cinderella II: Dreams Come True" (2002). Perhaps Disney did this on purpose to brace home video customers for the arrival of "Cinderella III."

Certain films, in my opinion, should reflect the time they were made, and they should reflect the technology they were made with. There doesn't seem to be much sense in the adage that "if they had this kind of technology back then, they'd use it!" Well, they didn't. I can't imagine the animators at Disney during the late-1940s saying they'd use computers to make animated films. I can't imagine them thinking of doing elaborate Multiplane Camera shots of "Cinderella" on a workstation. None of this was at their disposal back then. Try as they could to get rid of dirt and scratches on cels, some snuck in and could be seen for generations to come. No single audience member ever complained about those pesky bits of dust and flotsam floating around the opening shots of "Pinocchio" (1940).

Some of the classics benefit from being ultra-clear in picture. "Sleeping Beauty" (1959), which was shot in Technirama, was already sharp and clear due to the large negative and anamorphic lenses used to make that film. The film, by nature, was meant to look sharp, so any enhancement done on that film was unnecessary. What's troubling is that these same digital techniques have been applied to the upcoming "Lady And The Tramp" DVD, due in February 2006. That film was shot with the early CinemaScope lenses, which were undoubtedly soft. They had cast their own distinct look upon films of the era. Perfect, no, but when shown from a brand-new print, they looked good and presentable.

Where has Disney's animation, just as an example, looked excellent and sharp for DVD, but also retained the look and feel of the original film? The Walt Disney Treasures series has been a perfect example. A case in point would be on the Silly Symphonies set. These DVDs are so much more true to the source cartoons than many of the recent feature-length animated classics are. Film grain is present on these shorts, but it's acceptable. The sound still retains that old-time "high fidelity" that Disney used. Yet it feels like you're watching a film rather than a sterilized movie made for DVD. Why couldn't "Cinderella" have gotten that same treatment?

Lowry Digital Images has done a tremendous job in making some older films shine. Great examples of this can be seen in "Sunset Blvd" (1950), "The Empire Strikes Back" (1980) and the Indiana Jones trilogy (1981, 1984 and 1989.) Those films, with few exceptions, looked natural as the day they were shown in theatres. But why are certain titles, in particular the vaunted Disney classics, overly clean?

This isn't to say what Disney and Lowry have done is terrible. In fact, it's admirable that they've taken restoration very seriously. But how much is too much?

One of the problems with DVD culture is that there is an expectation that every vintage film should look like today's movies with today's crisp film stock. The soundtrack should be ablaze in 5.1 surround sound. But not all films fall into this category. Some films should look grainy by their nature or reflect the flaws in the film stock they were shot on. Imagine documentaries made by the Maysles Bros. ("Gimme Shelter" – 1970) de-grained as "Cinderella" has been. How about a full-fledged multichannel remix of Woody Allen's entire film catalog? The films would certainly feel different. It's kind of like putting 18-inch rims on a Model T. Sure, it looks kind of cool at first, but it just ain't right.

And how about the film? One of the reasons why "Cinderella" has been so successful and consistently popular with audiences is the film hits on all cylinders. Disney and his staff were masters of the visual storytelling medium. Only they could combine a very human heroine in Cinderella with cute little animals and cartoonish stepsisters, all singing, and get away with it.

"Cinderella" is truly an audience film. Get a crowd of children and adults to see this film, there is almost a guarantee that they'll be cheering and clapping at the end. There isn't a better moment in the film that gets the audience on the edge of its seat than the scene in which the mice try to save Cinderella. Pure suspense! The scenes that take place in the cracks and behind walls where we see things from a mouse's point-of-view are priceless, too.

All of the characters in "Cinderella," as done by Disney, are enjoyable. Cinderella (Ilene Woods) is a better heroine than Snow White was. Where as Snow White was a little too cutesy and somewhat sarcastic when it came to the Dwarfs, Cinderella is more real and approachable. One feels her pain and despair when her wicked stepsisters rip her dress to shreds. We're also relieved when she reveals to the Grand Duke that she's got the other glass slipper.

Lady Tremaine (Elanor Audley) is truly wicked and delightful to watch. Perhaps not as scary as the Wicked Queen or Stromboli, Lady Tremaine is nonetheless commanding of her screen time. Anastasia (Lucille Bliss) and Drizella (Rhonda Williams) are funny in their roles, but perhaps not as memorable as those of the mice, Jaq and Gus (played by Disney Studio soundman, James MacDonald), and Lucifer the cat (June Foray). The funniest scenes in the film are a result of the side antics of these characters. One particular favorite, and it seems to be a favorite of those folks featured on the bonus disc, is Lucifer's scene in the kitchen as he tries to find Gus under some cups. His jubilation of thinking he's found Gus is hilarious and shows what a funny animator Ward Kimball was.

The music and score are truly memorable. Songs like "A Dream Is A Wish Your Heart Makes" and "The Work Song" are still heard in Disney theme parks, and can almost be recited by anyone today. This was real song writing, and the score lends itself perfectly to each and every scene in the film without being overbearing or repetitive.

"Cinderella" is a true masterpiece in the Disney film line up. By all means, seek out this disc and buy it, simply because "Cinderella" is a wonderful film, and the bonus features outweigh any reservation this author might have about the "restoration." And it is a matter of visual preference.

Cinderella
Walt Disney Home Entertainment
Catalog Number 35024
Region 1
1.33:1
Dolby Digital 5.1 (Disney Enhanced Home Theater Mix)
Dolby Digital 1.0
DVD Release Date: December 4, 2005
$29.99
G
Two DVD-9 Discs
1950
77 minutes
Color
Directors: Wilfred Jackson, Hamilton Luske, Clyde Geronimi
Cast: Claire Du Brey, Don Barclay, Eleanor Audley, Ilene Woods, James MacDonald, Luis Van Rooten, Rhoda Williams, Verna Felton

---
Special Thanks to Amelia McPartlon
IMAGES: © Buena Vista Home Entertainment, Inc. All rights reserved