Related Articles:
"Mary Poppins" Re-Premiere Photo Gallery
Meeting A Master Of The Matte -- Harrison Ellenshaw
Ellenshaw Under Glass
A Book Review
By
William Kallay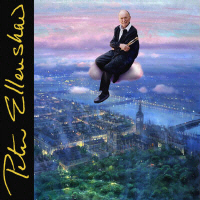 Artist Peter Ellenshaw, based on his recent book, "Ellenshaw Under Glass," has certainly proven that you can accomplish much in a lifetime, and also live it to its fullest. He has written a fascinating memoir of his life as an artist, visual effects genius, friend of Walt Disney and most importantly, a family man.
The images that Ellenshaw has painted are memorable. Who hasn't seen Mary Poppins sitting on a cloud high above London? Who hasn't seen the masts of ships sitting in a harbor in Jules Verne's nautical world in "20,000 Leagues Under The Sea"? And who, upon seeing his artwork in person, hasn't marveled at the painterly skill upon a canvas? He's truly an artist in greatest respect, and peering through his memories, one can come out with a greater appreciation of this gentleman's accomplishments in art and film.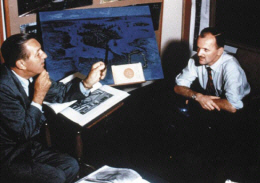 Walt Disney and Peter Ellenshaw
Published by Camphor Tree Press, a small company that has printed a group of great books on other Disney icons, "Ellenshaw Under Glass" came out in late 2003. Through a number of pictures, illustrations and rich text, Ellenshaw leads readers on a journey from his days as a boy growing up in England, early work in the British film industry, a stint as an RAF flyer in the Second World War, then a move to Hollywood to work for Walt Disney, and finally a return to his first love, painting.
Ellenshaw is perhaps best known as a matte painter. This is a process in which an artist creates on glass a photo-realistic environment to augment live-action footage. For example, imagine a scene of a London alleyway with shops. A set is built on a soundstage, but only the bottom portions of the shops are built. Above it, a person could easily see the lights and catwalks normally associated with a soundstage. An artist like Ellenshaw fills in the details by painting additional stories to the shops, cityscapes, and so on. This can be all done without building huge sets. He has also created the illusion of large Roman cities ("Spartacus," 1960), the Himalayas ("The Black Narcissus," 1947), and the intricate ice caves of "In Search Of The Castaways" (1962). Ellenshaw is a master of the matte technique, and his work can be seen in numerous Disney and some non-Disney films over the years.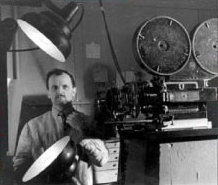 Ellenshaw at work
His art has been featured in exhibitions for years. And I'm not talking about showcases of his mattes. He's also done a number of paintings on canvas which are highlighted in this book. I seem to recall seeing one of his paintings in an art gallery my parents took me to when I was about 11 or 12 years-old. Standing from a distance in one of the showrooms, I immediately recognized Ellenshaw's work. It looked like a giant photograph, but upon looking at the painting up close, I could see the art and craft of a painter. I don't recall which painting it was; perhaps it was a seascape that Ellenshaw has painted many times before, but it stuck in my mind. Now how does a kid know about an artist? How can a kid appreciate an artist? It was due to my facination with science-fiction films of the late-1970s and early-1980s. Disney was promoting their space epic, "The Black Hole," and Ellenshaw was their featured star. At the time of "The Black Hole" release in 1979, Disney had already been promoting Ellenshaw in the media. I learned that he had done some fantastic matte paintings in "Mary Poppins" (1964) and "20,000 Leagues Under The Sea" (1954), just to name a few films. What an introduction to his artistry.

"Ellenshaw Under Glass" gives readers an inside look at more of his art. The book comes in three versions: a "standard" hard cover version ($65.00) and two "deluxe boxed versions." One version ($150.00) has a plexiglass cover with Ellenshaw "hovering" in the clouds from the famous "Mary Poppins" opening shot, and the other version is the same ($200.00), but it has been signed by Ellenshaw himself.
In handling this book, you will notice that it's very well crafted. The plexiglass cover gives it a different look and feel from almost any book I've read. It's unique. Opening it up, Ellenshaw's photo disappears and you're then presented with the London cityscape from "Mary Poppins." Each page is carefully illustrated with photos from Ellenshaw's life. We're taken into his art, including early self-portraits, landscapes and, of course, his work in film. This isn't merely a coffee table book with a bunch of beautiful pictures. It's also a nicely constructed story of Ellenshaw's life, as told by him. There are poignant stories on how he met his wife, Bobbie, and raising his children, Harrison Ellenshaw, an accomplished visual effects artist, and Lynda Thompson, a highly regarded visual effects producer in films.
Ellenshaw's accounts are fascinating, especially if you're a fan of Walt Disney. The artist painted the Disneyland park overview that helped Walt sell the idea of "theme park" to investors. This painting is unique in that, in normal light, you see the park during the day. But when the lights go out, the painting comes alive with night lighting from the park (through the use of blacklight paint).
Ellenshaw takes time to point out his working and personal relationship with Walt. They struck up a friendship in the 1950s and remained friends until Walt's death in 1966. Ellenshaw wasn't a mere employee, but a creative equal.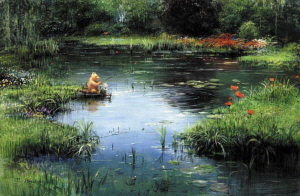 Pooh And Piglet Fishing In Monet's Garden
The artist also takes us into the world of visual effects. One of Ellenshaw's greatest accomplishments (along with many talented artists at the Disney Studios) was on the film, "Darby O'Gill And The Little People" (1959). Ellenshaw supervised the effects in the film, made long before the days of CGI and computerized advancements featured in contemporary productions. Those effects still are remarkable to see. Using an age-old technique called forced perspective, the effects artisans created the illusion of Darby (Albert Sharpe) mingling with hundreds of tiny leprechauns and it is all realistic.
And how about those pretty pictures? There are a lot of them and each one is beautifully reproduced in this book. Readers will discover matte painting gems like "The Sword And The Rose" (1951), shots from "20,000 Leagues Under The Sea," photos of Ellenshaw at work, a two-page reproduction of his matte used in "Spartacus," and numerous personal pictures of his family and friends.

"Ellenshaw Under Glass" is a must for fans of visual effects, matte painting and Walt Disney. The book is written in a very personable manner, and one does not need to be a painter or visual effects artist to understand Ellenshaw's descriptions of how the magic is made. This book is a valuable addition to your bookshelf.
"Ellenshaw Under Glass"
by Peter Ellenshaw with Bruce Gordon and David Mumford
Hardcover (with plexiglass): 334 pages
Publisher: Camphor Tree Press
2003
$200.00 (Deluxe Boxed [Signed]), $150.00 (Deluxe Boxed), $65.00 (Standard Hardcover)
---
Special Thanks To Harrison Ellenshaw
Special Related Links: www.ellenshaw.com, www.ellenshawbook.com, www.collectorseditions.com
Artwork © Disney Enterprises. All rights reserved.
Photos from "Ellenshaw Under Glass" © Peter Ellenshaw. All rights reserved.