Related Articles:
"Aladdin" Animator Eric Goldberg
"Mary Poppins" Re-Premiere Photo Gallery
Posted October 17, 2004
Updated November 9, 2004
"Aladdin" Trivia Question
October Selection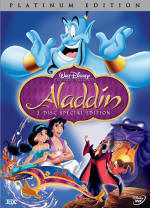 The winner of the "Aladdin" Platinum Edition DVD is Jean DeWald of Apple Valley, California! Congratulations Jean, and thanks for entering.
The October trivia question was:
Which celebrity did the Genie NOT impersonate in the movie?
A) Jack Nicolson B) Groucho Marx C) Bela Lugosi D) Rodney Dangerfield
---
Artwork © The Walt Disney Company. All rights reserved