William Kallay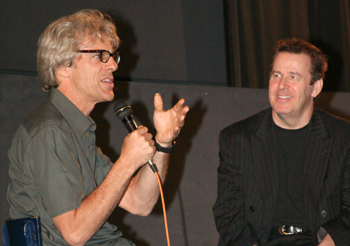 Copeland's Great Composition
It cannot be comprehended how much The Police once dominated the music landscape. Within five studio albums that began with 1978's "Outlandos d'Amour," and concluded with the brilliant "Synchronicity" in 1983, the band dominated both popular and album oriented radio. Sting's strong and often brilliant flair for on-stage presence and songwriting ability made him the ultimate lead singer. Andy Summers' quiet demeanor, yet strong guitar playing, created a subtle foundation for the band. And Stewart Copeland's perfect drumming still resonates in songs like "One World" and "Wrapped Around Your Finger." This was a near-perfect trio of musicians who took their music seriously and consistently improved upon it, and fans were ever grateful.
The band went their separate ways in 1986, though the writing was on the wall before that. The band had hit the pinnacle of success while "Synchronicity" was eliciting hit single after hit single and the band was touring to sold-out shows. Rumors started that the band hated each other, consistently fought and would never be seen in public together again. According to Stewart Copeland, at a recent screening of his documentary, "Everyone Stares: The Police Inside Out," most of those things were myths. The band didn't hate each other, though they did have some pretty good scuffles, and they have appeared in public. In 1986, before a jubilant crowd in Atlanta, GA, during the Amnesty International concert, they played a set. When Sting got married to Trudie Styler, the band was the wedding band! And in 2003, the band played in front of music industry players at the Rock And Roll Hall Of Fame Induction Ceremony in New York City. They were inducted that year, and an emotionally charged Copeland even beat a sizable hole in his drum set. Copeland says he and his mates (or comically referred to as "The Tea Bags") still talk and send FedEx packages to each other.
It's been years since the majority of Police fans have seen the band perform publicly but Copeland has given them a reason to celebrate. "Everyone Stares: The Police Inside Out" is perhaps the best gift a Police fan can get. It's raw, very much of its time (a good thing) and a time capsule that has been opened for them to peer into. The film has been shown at Sundance, at the ArcLight Cinemas in Hollywood, and now recently at the American Cinematheque's Egyptian Theatre in Hollywood.
Copeland was on-hand with journalist and producer, Martin Lewis, to discuss the film. Going back to his original Super 8mm films, Copeland has assembled footage that captures an exciting time in rock history. The film shown on the big Egyptian screen in all of its grainy, Super 8 glory, gives fans an onstage and backstage look at the band. Contrary to what the press and sometimes MTV may have shown, the band mates are mostly seen as happy, and often playful. Perhaps because Copeland had the camera off during arguments, we don't get much dread of the band's imminent dissolution until late into the film. Even that is kept to a minimum and one leaves the theatre, oddly enough, with a good feeling.
What the audience does see, and in many humorous moments, are three young guys with talent to boot playing some great music. It's funny to see today that the band was touring the U.S. in a tour bus and staying in local motels. The Police were working their asses off by touring the States, often playing in dives just to get exposure. But because the band had charisma and the chops to both write and perform, it didn't take much time for the band to explode onto the charts. All of this eventual success is captured by Copeland's ever-present camera.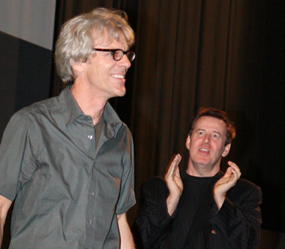 Stewart Copeland and Martin Lewis
Copeland ran down the Egyptian's aisle when Lewis introduced him. Very energetic and grateful that so many fans nearly filled the theatre to capacity, he immediately dispelled the myths. He mentioned that what he captured on film, for the most part, is basically how the band was off and on-stage. Off-stage, Sting, Summers and Copeland were all smiles and loved to joke around with each other. On-stage, the trio performed as tightly as any band could.
The drummer was enthusiastic about the film being selected and shown at Sundance. It appears to have had success, as the film has been shown in a theatrical environment and is being shown this month on Showtime. A DVD is scheduled for release on September 12. Asked why it took so long to see his "home movies," he replied that technology helped him bring it alive again. He spent his own money to transfer the Super 8 footage to digital hard drives, then proceeded to edit in Apple's Final Cut Pro. Much of the Police music, though, he had to use loops of various Police songs he created for this soundtrack. Using the original cuts from the studio albums would've been extremely expensive.
It was apparent in watching Copeland that he's excited about the film. Once the film was done, he sent a copy overnight to Sting at his castle in England. Apparently, Sting doesn't like to see himself anymore on film. Copeland remarked that "back in the day," there wasn't a moment when Sting wouldn't stop in front of a mirror! Finally, Copeland took a copy over to Sting's home (or mansion) in Malibu. Asked how Sting reacted to the final film, Sting replied, "Yeah, yeah, great."
As a major Police fan myself, I can attest that it was a thrill to listen to Copeland speak about those days of yore. He's an energetic person who seems to appreciate that his band, The Police, has made an indelible impact on music and fans. The interesting thing about him is that he doesn't seem to be one to consistently lean on past glory. Many musicians and bands haven't been able to move past their glory days, and continue to rehash their old act. Rather, Copeland embraces his past with pride, but has done successfully with his other bands, Animal Logic and Oysterhead, as well as having been a film and television composer.
"Everyone Stares: The Police Inside Out" is Copeland's affectionate homage to the band he formed long ago. Yet seeing this film, especially with the presence of its creator in the same theatre, is a trip back in time that is as fresh and inviting as when I first heard the "Synchronicity" album on my old Sanyo turntable way back in 1983.
Yo!
"URGH! A Music War" Screens
After a brief intermission, the audience was taken back to 1981 via the film, "URGH! A Music War." This rarely seen film isn't available on DVD, so seeing it on screen was a revelation. The film was directed by Derek Burbidge, who directed many of the The Police's early music videos. It was produced by Michael White ("Monty Python And The Holy Grail"), with "creative consulting" by Ian Copeland and Miles Copeland III. The film highlights performances by a number of bands including The Police, UB40, The Go-Go's, XTC, Joan Jett and the Blackhearts, and the Surf Punks, just to name a few. The film was shot in a number of locations around the world, then edited together into a feature.
If you listen to stations in the Los Angeles area that still play rock music, it's mostly the old and very tired sets of The Rolling Stones from their heyday in the late-1960s to late-1970s, Aerosmith, Styx, Boston, Tom Petty and the Heartbreakers and the millionth play of Nirvana's "Smells Like Teen Spirit." On the other end of the digital radio dial, between the hip hop, oldies and "soft rock," is a station called KROQ. This was a station that pioneered new bands on a regular basis back in the 1980s, offering a fresh alternative to so-called classic rock. It used to break then-new bands like The Police and Go-Go's. Now it has succumbed to consistently playing its own Top 40 of The Killers and Gnarls Barkely. In other words, music isn't fresh anymore. And it's rare for any stations to play music from the early 1980s mini-revolution. That's a good thing, because we don't have to hear the same songs over-and-over again. But it's a bad thing because we can't hear some really great music. "Urgh! A Music War" fixes that.
The film is a time capsule of an exciting, raw era in music. On the heals of punk rock, and before Boy George & Culture Club, Wham! and Duran Duran entered the scene, there was a series of bands that were talented and had incredible theatricality. The selection of bands in this film is eclectic, sometimes odd, but you get a sense of how exciting music was at this point in time. The Go-Go's weren't as refined as they are today, but their energetic and fun songs got the audience to dance along with their beat. Their raw energy and stage presence was truly attractive. It's hard to believe that before lead singer Belinda Carlisle went Top 40, she sang songs with attitude that could be placed between hard core punk and pop. It was music that was instantly recognizable, accessible, yet had an edge.
This was also a time when female rock singers made in-roads into the music scene. It was short-lived, but singers like Pat Benatar (not in this film), Blondie (not in this film), Joan Jett and of course, the Go-Go's, showed that they could rock with the boys. Joan Jett, who is perhaps most famous for "I Love Rock & Roll," plays with vigor "Bad Reputation." The Cramps features Julien Griensnatch and Poison Ivy Rorschach.
Hard core punk is featured here, along with lighter new wave. Highlights of the film include seeing bands like the Dead Kennedys, Wall Of Voodoo, Steel Pulse and Devo. True to form, Devo's performance in San Diego highlights the fun of watching this band on-stage. It's hard to believe that lead singer, Mark Mothersbaugh, has composed music for "The Rugrats!" I suppose not only do rockers grow up, but their musical talent transcends genres. And speaking about musicians who have moved from the stage to movies, Oingo Boingo fans could rejoice in seeing that band perform with Danny Elfman at the helm.
The film isn't available on DVD yet. Which is too bad. Good or bad, the film does feature some excellent performances. As with many concert films, there are performances that can drag. Admittedly, there are a number of bands that I'm not familiar with. I was in junior high school when these performances were captured, and I wasn't in with the guys who wore The Cramps or Oingo Boingo T-shirts. But I knew The Police and was a fan of their music. Their sets bookend "Urgh!" And that's a fitting beginning and end to this film and the era in which it was made.
IMAGES: Photos of Stewart Copeland © 2006 William Kallay. All rights reserved. "Everyone Stares: The Police Inside Out" © 2006 Universal Music Group. All rights reserved. "Urgh! A Music War" © 1981 Lorimar Distribution International, Inc. All rights reserved.