By
William Kallay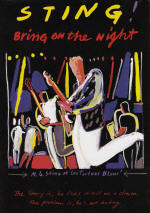 Rock icon, musician and tantric sex expert, Sting, has almost always been a brilliant artist, but also an egotist and arrogant fellow. His days with The Police were marked with constant arguments with drummer Stewart Copeland. Sting, after the breakup of the band in the late-1980s, took it upon himself to show the world how much damage was being done to the Amazon rain forests. Then by the 1990s, he became self-aware and religious, mixing sometimes excellent songs with sermon-like tunes. Sting seemed like an arrogant, yet brilliant singer and musician almost anybody could enjoy.

I was a fan of The Police. I still consider the band to be my favorite, despite an enormous passage of time since the release of their last official album in 1983. Damn, they were so good. In five albums, they produced a catalog of songs (most of them written and owned by Sting) that have become classics. "Roxanne" is perhaps one of the most recognizable songs in pop music, though it's been heavily overplayed for eons. "Tea In The Sahara" is a nice little eerie song that's moody and brilliant lyrically. "Don't Stand So Close To Me" starts with a hum and ends with a bang. From the album "Outlandos d'Amour" (1978) to "Synchronicity" (1983), the group went from a very good punk/reggae-influenced band, to a tight trio that made one of the best albums of the 1980s.

So it was indeed sad for any Police fan to hear of their separation by 1986, when they released "Every Breath You Take: The Singles." The Police were over. But the writing had been on the wall when Sting released his solo album in 1985 called "Dream Of The Blue Turtles." It was a departure from The Police, no doubt. Gone, it seemed, was the edginess and spark that kept that band thrilling to listen to. This solo album had jazz tunes, reggae and haunting songs like "Children's Crusade." But where was the rock-and-roll? One tune, "Fortress Around Your Heart," is perhaps the most "Police-like" song on this album, but the rest of it signaled the turning point for Sting as a musician. No longer was he a rocker. He grew up and his music became mellow.

In the fall of 1985, Samuel Goldwyn Films released a documentary on Sting forming and touring with his new band. The film, directed by acclaimed documentary and feature filmmaker, Michael Apted, took its name from a signature Police song, "Bring On The Night." The film was not particularly successful and didn't last long in theatres. For a number of years, the only way to see the film was on VHS tape. The sound wasn't very good, nor was the picture. Perhaps that's why I never cared for the film. I found it boring, self-aware, ego-driven and slow. Sting, in his true form at the time of the film, comes off as arrogant, but that, I guess, is part of his "mystique." But he's very arrogant in this film. His music and his "brilliance" just don't stink, and luckily for him, his music's so good, that I didn't mind.

The film didn't take speed until nearly the end, when Sting sings "Message In A Bottle," and that's when the end credits appear. The rest of the movie is interspersed with interviews with Sting and his new band mates, a number of rehearsal scenes in a chateau in France, and the birth of one of Sting's children with Trudy Styler. This film is Sting's ode to himself, and frankly, it's boring as hell.

Here we are 20 years (!) after the theatrical release of "Bring On The Night," and the film has finally made it onto DVD in a spectacular visual and sound package. Though the film is still very boring at times, the film does have its moments of musical bliss if you're a fan of Sting's earlier solo music.

The best parts of the movie, clearly, are the concert scenes filmed in Paris. Sting is one of the best acts to see live, and this film shows his ability to capture an audience. He sings a number of tunes from "Dream Of The Blue Turtles," including "If You Love Somebody Set Them Free" and "We Work The Black Seam Together," plus "Roxanne." Other songs include such gems as "Low Life" and "Another Day."

Concert films, generally, are pretty tough to watch, unless you're a die-hard fan of a certain act. Just like listening to a recording of a live concert, it's just not the same as being there. The same goes here, but Apted's direction is solid and his camera is focused on Sting's performance, along with the band that included Bradford Marsalis, Omar Hakim, Darryl Jones, Kenny Kirkland, and backing vocalists, Dolette McDonald and Janice Pendarvis.

This film would've worked splendidly as a 45-minute documentary, rather than a long, drawn-out mixture of rehearsals, interviews and concert footage. The whole affair takes too long to get to the good "stuff." With that said, the concert footage is entertaining in parts. "I Burn For You" is one of Sting's most haunting love songs, and it's spectacularly sung here. And listening to Sting sing "Message In A Bottle" live is a must for any rock fan to see in his or her lifetime. It's mesmerizing here on DVD.

The DVD transfer is excellent, and probably the best this film has looked in years. I did not see it theatrically, so my first impression was on tape. Fortunately, DVD does the film some justice. On a standard analog Sony WEGA, the picture is outstanding. Put this film on a larger screen television, film grain is seen throughout, and that's not a bad thing. It's a 1980s documentary, for heaven's sake!
The sound is well-presented. The film was, yes, you guessed it if you're a regular visitor to FSTD, shown theatrically in 70mm Six-Track Dolby Stereo. The good ol' original analog soundtrack is presented in Dolby Digital or DTS 5.1 Surround, and both sound very good. The DTS track has kick and more depth to it than the Dolby Digital version. The only drawback on this DVD is about the sound on the music videos of "Bring On The Night," "If You Love Somebody Set Them Free," and "Russians." They're presented in minimal 192Kbps resolution, sound that is slightly higher in resolution than a typical MP3 tune. Definitely not high fidelity.

But push those minor quibbles aside, this is a great picture and sound demonstration disc for your home theatre. And especially if you're a Sting fan, there's no reason why you can't enjoy bits and pieces of the documentary, just not the whole film. It captured Sting going from head Policeman to solo artist, and for a time, his solo artistry was wonderful, arrogance and all.

Sting: Bring On The Night
A & M Records / Universal Music & Video Distribution, Corp.
Catalog Number B0004327-09
Region 1
16:9 Widescreen (1.85:1)
Dolby Digital 5.1
DTS 5.1
Stereo 2.0
DVD Release Date: March 29, 2005
$19.95
DVD-9
1985
97 minutes
Color
Director: Michael Apted
Starring: Sting
---
Artwork © A & M Records. All rights reserved.