Related Articles:
"The Phantom Menace" DLP Engagements
"Attack Of The Clones" DLP Engagements
"Sith Satisfies My Inner Star Wars Child"

Posted May 7, 2005
Updated August 10, 2005
The Digital Cinema Engagements Of "Revenge Of The Sith"
Compiled By
Michael Coate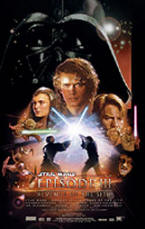 The latest chapter in the "Star Wars" saga, "Revenge Of The Sith" is screening in a Digital Cinema presentation at the theatres included in the list below. The list is a work-in-progress. Therefore, due to the tentative nature of the information, we encourage you to confirm presentation format with the management or projectionist staff of any theatre in which you have an interest. Please check back periodically as we will be updating the list as new information becomes available. (And don't hesitate to contact us if you have any useful details or if you believe any information is incorrect.)
---
UNITED STATES (Released May 19, except where noted)

ALABAMA
Hoover: Rave Patton Creek 15 (2K)

ARIZONA
Peoria: Harkins Arrowhead Fountains 18

ARKANSAS
Rogers: Malco Towne Cinema 12

CALIFORNIA
Carlsbad: UltraStar La Costa 6
Chula Vista: UltraStar Chula Vista 10
Daly City: Century 20
El Centro: UltraStar Imperial Valley 14
Emeryville: AMC Bay Street 16
Glendale: Mann Glendale Marketplace 4
Irvine: Regal Irvine Spectrum 21
Long Beach: Regal Long Beach Stadium 26 (2K)
Los Angeles (Baldwin Hills): Loews Cineplex Magic Johnson Crenshaw Plaza
Los Angeles (Hollywood): Pacific ArcLight Hollywood
Los Angeles (Hollywood): Pacific Cinerama Dome (2K)
Los Angeles (Park La Brea): Pacific The Grove Stadium 14
Los Angeles (Sherman Oaks): Pacific Galleria Stadium 16
Los Angeles (Universal City): Loews Cineplex Universal Studios CityWalk
Los Angeles (Westwood Village): Mann National (June 15, moveover from Village)
Los Angeles (Westwood Village): Mann Village (2K)
Poway: UltraStar Poway Creekside Plaza 10
Riverbank: Galaxy Riverbank 12 (2K) (July 1)
San Diego (Del Mar): UltraStar Del Mar Highlands 8
San Diego (Mira Mesa): Regal Mira Mesa Stadium 18
San Diego (Mission Valley): AMC Mission Valley 20
San Francisco: Loews Cineplex Metreon
San Jose: Century 22 (2K)
Santa Monica: AMC Santa Monica 7

COLORADO
Denver: Regal Denver Pavilions Stadium 15

CONNECTICUT
Hartford: Crown Palace 17 & Odyssey
Trumbull: Crown Marquis 16

FLORIDA
Daytona Beach: R/C Ocean Walk Movies
Lake Buena Vista: AMC Pleasure Island 24
Pinellas Park: Regal Park Place Stadium 16
West Melbourne: CinemaWorld 16

IDAHO
Meridian: Hallett Majestic (2K)

ILLINOIS
Chicago: AMC River East 21
Elk Grove Village: Classic Elk Grove (2K)
Schaumburg: Loews Cineplex Streets of Woodfield
Skokie: Crown Village Crossing 18

MARYLAND
Annapolis: Crown Annapolis Mall 11

MASSACHUSETTS
Boston: Loews Cineplex Boston Common
Randolph: National Amusements Showcase Cinemas Randolph

MICHIGAN
Birch Run: Emagine Cinema Hollywood
Canton: Emagine Canton
Novi: Emagine Novi 18
Southfield: Loews Cineplex Star Southfield 20

MINNESOTA
Eden Prairie: AMC Eden Prairie Mall 18

NEVADA
Las Vegas: Century 16 Santa Fe Station (2K)
Las Vegas: Century Orleans 18 (2K)

NEW JERSEY
Edgewater: National Amusements Edgewater Multiplex
Elizabeth: Loews Cineplex Jersey Gardens

NEW YORK
Gates: CineMark Tinseltown USA (2K)
New York (Brooklyn): ADM Pavilion (2K)
New York (Manhattan): AMC Empire 25
New York (Manhattan): Clearview Ziegfeld (2K)
New York (Manhattan): Loews Cineplex 34th Street
New York (Manhattan): Loews Cineplex Kips Bay
New York (Manhattan): Loews Cineplex Lincoln Square 12
New York (Manhattan): Regal Union Square Stadium 14

OHIO
Springdale: National Amusements Springdale 18 Cinema de Lux
Valley View: CineMark at Valley View (2K)

PENNSYLVANIA
Hanover: R/C Hanover Movies 16

SOUTH CAROLINA
Greenville: Greenville Camelot (2K)

TENNESSEE
Knoxville: Regal Pinnacle Stadium 18 (2K) (June 24)
Memphis: Malco Cordova
Memphis: Malco Paradiso

TEXAS
Austin: Galaxy Highland 10 (2K)
Plano: CineMark at Legacy (2K)

VIRGINIA
Merrifield: National Amusements Lee Highway Multiplex

WASHINGTON
Monroe: Galaxy 12 (2K)
Sunnyside: Hallett Grand Cinemas Yakima Valley (2K)
Vancouver: Cinetopia (2K) (July 29)


CANADA (May 19)

ONTARIO
Cambridge: Cambridge Galaxy
Oakville: AMC Winston Churchill 24
Vaughan: Famous Players Colossus Woodbridge
Waterloo: Galaxy 10 at Conestoga Mall (2K)

QUEBEC
Montreal: Famous Players Paramount Montreal


INTERNATIONAL

AUSTRALIA (May 19)
Moore Park: Hoyts Fox Studios

AUSTRIA (May 19) ("Star Wars Episode III Die Rache Der Sith")
Vienna: UCI Kinowelt Millennium City

BELGIUM (May 18)
Antwerp: Kinepolis Metropolis Antwerpen (2K)
Braine L'Alleud: Kinepolis Imagibraine
Brussels: Kinepolis Brussels (2K)
Gent: Kinepolis Gent (2K)
Hasselt: Kinepolis Hasselt
Kortrijk: Kinepolis Kortrijk (2K)
Leuven: Kinepolis Leuven
Liege: Kinepolis Liege (2K)
Liege: Palace Liege
Mechelen: Utopia Utopolis Mechelen (2K)
Turnhout: Utopia Utopolis Turnhout (2K)

BRAZIL (May 19) ("Star Wars Episódio III A Vingança Dos Sith")
Rio de Janeiro: UCI New York City Center
Sao Paulo: UCI Shopping Jardim Sul

CHINA (May 19)
???

CZECH REPUBLIC (May 19) ("Star Wars Epizoda III Pomsta Sithu")
Prague: Palace Slovansky Dum

DENMARK (May 19) ("Star Wars Episode III Sith-Fyrsternes Haevn")
Aarhus: Nordisk Bio City (2K)
Copenhagen: Nordisk Imperial (2K)
Copenhagen: Nordisk Palads (2K)

FRANCE (May 18) ("Star Wars Episode III La Revanche Des Sith")
Cannes: Palais (2K) (May 15 world premiere screening only)
Grenoble: Grenoble Nef Chavant
Lomme: Kinepolis Lomme (2K)
Paris: Europalaces Gaumont Champs-Elysees Marignon (2K)

GERMANY (May 19) ("Star Wars Episode III Die Rache Der Sith")
Berlin: Musical (2K) (May 17 Germany premiere screening only)
Berlin: UCI Kinowelt Zoo Palast
Cologne: Cinedom Koln
Dresden: UFA Kristallpalast Dresden (2K)
Dusseldorf: UCI Kinowelt Dusseldorf (2K)
Herne: Filmwelt Herne (2K)
Luedenscheid: Park-Theater (2K)
Moenchengladbach: Comet-Cine-Center (2K)
Nuremberg: Cinecitta (2K)
Stuttgart: Gloria (2K)

HONG KONG (May 19)
Broadway Cyberport

HUNGARY (May 19) ("Star Wars III. Resz A Sith-Ek Bosszuja")
Budapest: Palace MOM Park

INDIA (May 20)
Chennai: Sathyam (2K)

ITALY (May 20) ("Star Wars Episodio III La Vendetta Dei Sith")
Cagliari: CineWorld Cagliari (2K)
Melzo Milan: Arcadia (2K)
Silea: CineCity Silea (2K)
Treviso: Cinema Miltisala Manzoni
Trieste: CineCity Trieste (2K)
Udine: CineCity Pradamano-Udine (2K)

JAPAN (July 9, engagements unconfirmed)
Aichi: Tokyu 109 Cinemas Nagoya (2K)
Fukuoka: Riverwalk Kitakyusyu (2K)
Gento Yokohama: Tokyu 109 Cinemas MM (2K)
Gunma: Tokyu 109 Cinemas Takasaki (2K)
Hiroshima: T-Joy Higashi Hiroshima (2K)
Hiroshima: T-Joy Hiroshima Wald 11 (2K)
Kagoshima: T-Joy Kagoshima Mitte 10 (2K)
Koto-ku: Tokyu 109 Cinemas Kiba (2K)
Kurume: T-Joy Kurume (2K)
Kyoto: Movix Kyoto (2K)
Kyoto: Toho Cinema Nijyo (2K)
Matsauzaka-gun: Tokyu 109 Cinemas Meiwa (2K)
Mie: Tokyu 109 Cinemas Yokaichi (2K)
Niigata: T-Joy Niigata Bandai (2K)
Ohita Pref.: T-Joy Park Place Oita (2K)
Osaka: Toho Navio (2K)
Osaka: Tokyu 109 Cinemas Minoo (2K)
Tokyo: Shochiku Marunouchi Piccadilly (2K)
Tokyo: Toho Nichigeki (2K)
Tokyo: Tokyo International Forum (June 18 demonstration screening only)
Tomiya: Tokyu 109 Cinemas Tomiya (2K)

LUXEMBOURG (May 18) ("Star Wars Episode III La Revanche Des Sith")
Luxembourg: Utopia Utopolis Luxembourg

MEXICO (May 19) ("Star Wars Episodio III La Venganza De Los Sith")
San Lucas Tepetlacalco: Cinemex Mundo 'E'

NETHERLANDS (May 19)
Almere: Utopia Utopolis Almere (2K)
Arnhem: EuroCinema
Ede: CineMec
Enschede: Cinex Alhambra (2K)
Heerhugowaard: EuroCinema (2K)
Leeuwarden: Tivoli

NORWAY (May 19) ("Star Wars Episode III Sithene Tar Hevn")
Bergen: Bergen Kino (2K)
Trondheim: Trondheim Kino

PORTUGAL (May 19) ("Star Wars Episódio III A Vingança Dos Sith")
Lisbon: Cinemas Millenium

SINGAPORE (May 19)
Eng Wah Jubilee (2K)
Eng Wah Suntec (2K)
Eng Wah Toa Payoh (2K)
Eng Wah West Mall (2K)

SOUTH KOREA (May 26)
Ansan: Meganex Ansan 12 (2K)
Busan: Primus Haewoondae (2K)
Changwon: Lotte Ilsan 14 (2K)
Seoul: Meganex Megabox (2K)

SPAIN (May 19) ("Star Wars Episodio III La Venganza De Los Sith")
Barcelona: UCI Cinesa Diagonal
Paterna: Kinepolis Valencia
Pozuelo: Kinepolis Madrid
Pulianas: Kinepolis Granada

SWITZERLAND (May 19) ("Star Wars Episode III Die Rache Der Sith")
Buelach: MaM Kino ABC (2K)
Zurich: Cinemax AG Abaton A (2K)
Zurich: Metropol (2K)

TAIWAN (May 21)
Taipei: Ambassador Breeze Center

UNITED KINGDOM (May 19)
Bath: Odeon Kingsmead Leisure Centre (2K)
London: Odeon Leicester Square (2K)
London: Ritzy (2K)
Manchester: UCI The Filmworks
Swindon: Cine UK Greenbridge (2K)


Source: industry contacts, theatre company websites, newspaper advertisements, www.dcinematoday.com, www.imdb.com, www.theforce.net, www.starwars.com.


What is Digital Cinema? See:
www.christiedigital.com
www.dcinematoday.com
www.dlp.com
www.technicolor.com
---
IMAGE
Copyright 2005 Lucasfilm Ltd.