Related Articles:
"Oklahoma!" Not So OK DVD
By
William Kallay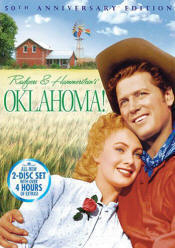 I was never a fan of "Oklahoma!" Maybe it stemmed from the memories of seeing the stage version in junior high. Young teenagers warbling the songs from the great American musical didn't resonate with me. Or maybe it was the fact that my drama teacher, that same year, required my class to watch the VHS version of it. This was around 1981, the early days of video, and the panned-and-scanned version looked and sounded awful. Bear in mind that I didn't quite know back then what pan-and-scan was, but all I knew was that those mysterious "camera" moves from one side of the frame to other didn't look good. The movie felt mechanical.

As for the musical itself, it felt stagy, too cute and old. The songs were okay, but Journey's "Escape" album seemed to me to have a whole lot of better music. What the mind of a junior high kid thinks in the early-1980s.

In 1990, the Fairfax Cinema in Hollywood held a 70mm film festival. On tap was a 70mm print of "Oklahoma!" For some strange reason, I decided to see it. I knew I disliked the video version immensely and the musical even more. But I thought I should see this film. Once seated in my comfy seat, a gentleman came out to introduce the film. He said it was being shown in its Todd-AO, 70mm, 30 frames-per-second version. The audience cheered and then the film began. When the camera rolls through the corn field, then the film cuts to Gordon MacRae riding his horse, I was a convert to the love for "Oklahoma!" The audience let out a collective "oohh." The horse looked three-dimensional. This experience of seeing the film in its proper form was a revelation. The film was now alive.

It's been some time since "Oklahoma!" graced the big screen. With the exception of occasional screenings during 70mm revivals, the film has been on VHS, LaserDisc and DVD for some time now. In celebration of the 50th anniversary of this film, 20th Century Fox Home Entertainment has re-released it in a 2-disc DVD set. This is cause for celebration, and cause for alarm.

Disc 1 contains the CinemaScope version of the film, audio commentary by Ted Chapin and Hugh Fordin, a "Singalong" Karaoke and a theatrical trailer.

Disc 2 contains an unusually poor transfer of the Todd-AO version of the film, audio commentary by Shirley Jones and Nick Redman, a "CinemaScope vs. Todd-AO" documentary featuring both Martin Hart (www.widescreenmuseum.com) and Dr. Richard Vetter (co-developer of Dimension-150), "The March Of Todd-AO" and "The Miracle Of Todd-AO" shorts, stage clips from a 1954 broadcast, "Singalong" Karaoke, photo galleries, a teaser and standard trailer for the film. Also included are an English stereo track and Spanish subtitles.

After 50 years of movie exhibition gradually going down hill into the 21st century, DVDs have improved the way people can watch movies at home. No more VHS and crummy picture quality to view, no sir. Many times, DVDs actually look better than the way most people see films at a nearby megaplex. So it's with great trepidation to write a DVD review on a film that should look spectacular both on the big screen and at home. Somewhere along the line of producing this DVD, the image quality became really messed up. This is not the way this film looks, even if it's shrunken down for the home video format.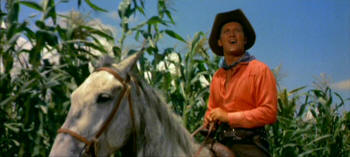 A blurry and muted still from the Todd-AO version on DVD of "Oklahoma!" [Enlarge]

CinemaScope version
The Todd-AO version of "Oklahoma!" is truly a spectacular film to see on the big screen in 70mm. And even when the LaserDisc version was released in the 1990s, it looked very good in that format. Yet this new DVD does not show the film in its proper context. Where the film is sharp as a tack, this DVD is blurry and out-of-focus. The colors are extremely muted and murky. People purchasing this disc, who might not quite know what Todd-AO was, will probably wonder why Todd-AO was so special. They might think that the CinemaScope version is superior, and they'd be correct if the DVDs are used as reference. This transfer looks like the VHS version put on the market in the 1980s. The only difference here is that the film's original aspect ratio is intact.

There is film grain, which might seem like an odd complaint from this author. Some grain is not objectionable to these eyes. But on this disc, it's very prominent and there is bobbing and weaving to the image. There is word that the original negative is in bad shape, and that there isn't a good 70mm print ready for telecine. With all of the technology that is available to clean film and make the images rock steady for DVD, "Oklahoma!" could've received some help with modern day processing. The film, in Todd-AO, is extremely bright, sharp, solid and stable when projected properly from a good print. The DVD should reflect its original image quality. Digital enhancement, if the only available elements were in poor shape, could've been a benefit for this film. Here is a case where John Lowry's digital "restoration" techniques could've helped.

Another unusual decision in putting this 2-disc set out was placing the CinemaScope version on Disc 1. If the Todd-AO version was transferred correctly, it should've been showcased first (which, now that I think about it, may explain why it was on Disc 2). It is, after all, the film version that went out into roadshow release back in 1955. The CinemaScope version was released later for the majority of theatres not equipped with Todd-AO. (The film was shot simultaneously in Todd-AO and CinemaScope. This was done to cover the finances of the film's investors if the Todd-AO version failed at the box office, and because the 65mm Todd-AO original's non-standard 30 frames-per second frame rate could not, at the time, be converted to the conventional 24 frames-per-second for 35mm prints.)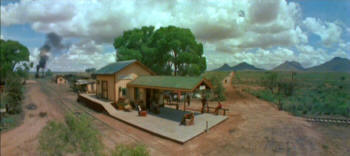 2005 DVD (Todd-AO version) [Enlarge]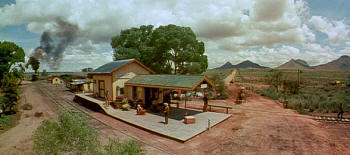 1994 LaserDisc (Todd-AO version)
The film's sound quality is quite good, even though the soundtrack has been compressed into Dolby Digital 5.0. You're not getting the full range of the magnetic soundtrack is capable of; but it is presentable here.

On the positive side, the supplements on the DVD set are entertaining and informative. On Disc 2, "The March Of Todd-AO" is a pleasant trip down the rollercoaster tracks, ski slopes and roads around San Francisco of the mid-1950s. Full of gimmicky shots, this short, and "The Miracle Of Todd-AO," prove that virtual reality was alive and well before that advent of video games and IMAX. Of course, Cinerama pretty much had proven that audiences would go to the theatre in droves to fly over America. But Todd-AO, through these shorts and "Oklahoma!," wasn't as stagy and stiff as "This Is Cinerama" was. The shorts are fun to watch, especially seeing '50s-era fighter jets take off and land on carriers.

"CinemaScope vs. Todd-AO" is an interesting segment on the differences of the two formats. These differences are well explained by Martin Hart and Dr. Richard Vetter. From Hart, we get an enthusiastic and clear explanation of what Todd-AO was capable of. From Dr. Vetter, we get some descriptions of frame rates and how they affected the image quality. There are some very good digital illustrations of Cinerama and Todd-AO at work, as well as David Strohmaier's "Smile Box" technique to show how Todd-AO films might have looked like on a curved screen.

The feature film, in Todd-AO with a great print, is a joy. Though the film nowadays might be seen as cute and a little stagy, it nevertheless reflects a time of innocent fun. From Curly and Laurey's romance, to Ado Annie and Ali Hakim's playful scenes, this film is charming.

The production is large scale, even though most of the scenes take place in simple settings like Aunt Eller's house. Fred Zinnemann, ever an accomplished and controlled director, lets the characters from the musical take center stage. He doesn't allow his directorial style override what Rodgers & Hammerstein put into words and music.

As for the Rodgers & Hammerstein musical, it's perhaps their easiest to watch on screen. Certainly, "The King And I" (1956) and "South Pacific" (1958) have numerous songs and musical numbers that are engrained in viewers' minds. One of my personal favorite sequences is from "The King And I" in which Yul Brenner sweeps Deborah Kerr across the palace floor in "Shall We Dance?" Those films, as well as the musicals themselves, always felt weighted down by numerous subplots (young lovers meeting each other in secret) and heavy-handed direction. But "Oklahoma!" is easy on the eyes and ears.

Hopefully Fox will recall these DVDs and re-transfer this film. I have read some emails from a few representatives from both Fox and the Rodgers & Hammerstein Organization (whose names won't be disclosed here). Here's a quote from one of the emails:

"Sadly, in this day of high definition programming and movies, the current Todd-AO print of 'Oklahoma!' does not stand up to scrutiny of what we think a large format film should look like. It simply isn't as sharp or as detailed as we remember it being. And it certainly doesn't compare to today's high definition programming."

In a word, "HUH?"

After seeing this film twice in 70mm on very large screens, and on the beautiful LaserDisc version, I can say that this person is unfortunately way off-base. This is not how this film is supposed to look.

It's really a shame that this disc was released in this condition because it's a film deserving of an excellent presentation. The staff at FSTD encourages our readers to write both Fox Home Entertainment and the Rodgers & Hammerstein Organization and express your thoughts about this DVD. Please be respectful in your email. Despite the inferior quality of the Todd-AO version on DVD, Fox does release a number of high quality titles on a regular basis and should be complimented on their work otherwise.

Rodgers & Hammerstein

http://www.rnh.com/org

Fox Home Entertainment

http://www.foxhome.com

Oklahoma!
20th Century Fox Home Entertainment
Region 1
2.55:1 & 2.20:1
Dolby Digital 5.0
Dolby Digital 2.0
DVD Release Date: November 15, 2005
$26.98
G
Two DVD-9 Discs
1955
145 minutes
Color
Director: Fred Zinnemann
Cast: Gordon MacRae, Shirley Jones, Gene Nelson, Charlotte Greenwood, Eddie Albert, James Whitmore, Rod Steiger and Gloria Grahame

---
Special Thanks to 20th Century Fox Home Entertainment
IMAGES: © 20th Century Fox Home Entertainment, LLC and the Estate of Richard Rodgers and Estate of Oscar Hammerstein II. All rights reserved