"The Little Mermaid" Splashes At El Capitan
The Aquatic Classic Comes Back To The Big Screen
By
William & Alexandria Kallay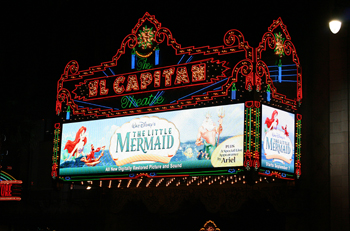 "The Little Mermaid" was a fantastic return to the Disney Studio's glory days. After a long dry spell in feature animation with occasional hits like "The Rescuers" (1977) and disappointing titles like "Oliver & Company" (1988), Disney invested in talent to bring a headstrong yet adorable mermaid to the screen. In creating great characters, presenting wonderful and memorable songs and dynamic storytelling, the team behind "The Little Mermaid" created a timeless classic and, as a result, revived Disney's storied animation department when the film was released in 1989.
How lucky audiences are in Los Angeles to see this film as it was meant to be seen on the big screen. The film has undergone a "digital" restoration and will run at the El Capitan Theatre September 7-24, 2006. A re-premiere was held on September 7 with producer Don Hahn performing the moderation duties.
Hahn is truly one of the neatest people in the film business. He's funny yet passionate about the legacy that Disney has created in animation. He's produced his own set of remarkable films including "Beauty And The Beast" (1991), "The Lion King" (1994) and recently, a short film directed by Roger Allers and executive produced by Roy E. Disney called "The Little Match Girl." Hahn introduced the panel which featured Alan Menken (composer), Glen Keane (animator), Sherry Stoner (Ariel, live action model), Jodi Benson (Ariel, voice), directors John Musker & Ron Clements.
The panel discussion was a treat for any Disney animation fan. Truth be told, the nearly full house was enthusiastic about not only seeing the film, but also the panel on stage. There was an almost party-like atmosphere with little-to-adult "girls" dressing in Ariel dresses and Little Mermaid shirts. Each time one of the panelists was introduced, there was a hearty round of applause and hoots! And that doesn't even mention the throng of kids and adults trying to get a picture of themselves with Ariel in the lobby. (And as a request to those adults who feel it's alright to cut in front of little girls waiting in line for a long time, please take your rudeness elsewhere. Not only was my daughter waiting patiently to see Ariel, but so were a few other little girls under the age of 10. It's pretty sad when two adult men don't bother to see who's waiting around them in line!)
Meanwhile, back to the nice things about the screening.
Hahn led a discussion about almost everything that these talented folks did for the film. Nearly everyone mentioned the contribution that the late Howard Ashman gave to "The Little Mermaid." One of the film's signature tunes, "Under The Sea" was actually done in reggae as an excuse to bring a contemporary song to the score. It was memorable when it came out in 1989 and is now a Disney song classic.
Various short clips of behind-the-scenes were shown, as well as some pictures. Sherry Stoner can be seen wearing a cape and leotard walking on a plain stage as reference for the animators. There was a clip of Jodi Benson singing with Howard Ashman coaching her on. And there was a neat "class picture" of the animators in front of the fabled Animation Building on the Burbank studio lot, which was taken shortly before the animation department was moved off the lot to a warehouse in nearby Glendale.
In the audience that night were Roy Disney and Roger Allers. Mr. Disney is perhaps the most significant reason why Disney's animation was kept alive then revived. He championed many of the innovations that Disney became famous for, such as using computers to help animators. But more importantly, he sold the Michael Eisner/Frank Wells/Jeffrey Katzenberg regime on the fact that animation was a legacy worth keeping for the company. Though there have been some poor animated films made and management turnover since the 1980s, Mr. Disney deserves applause for his devotion to his uncle Walt's original vision.
Allers has been a long time staple at Disney, having been involved with the stories of "Beauty And The Beast" and "Aladdin." He's recently directed for Sony the film "Open Season."
Mr. Disney and Allers, along with producer Don Hahn, made a short film based on Hans Christian Anderson's story, "The Little Match Girl." This short is being shown right after "The Little Mermaid." It's been done in traditional "2-D" animation and shows how wonderful that type of animation can be. Pixar is the benchmark for today's "3-D" computer animation, but when seeing the richness of Allers' film, it makes me miss stories told (seemingly) from an artist's paintbrush. This film is very short and simple, but it tells its story very movingly.
"The Little Mermaid" is so much better on the big screen with an audience. The film has been a hugely successful video, and rightly so, but like many of the Disney classics, is much better in a theatre. Many of the characters illicit much more comedy and emotion when seen on a big screen, and not on a television screen. Also, songs and gags work better when seen with people.
As for the digital restoration, it looked very good while retaining the grain that was inherent in the original film. If there were minor quibbles about the restored film, the digital soundtrack wasn't as full and clear as the original 70mm Six Track Dolby Stereo mix, nor was the picture anymore solid and sharp. The original sound mix had much more dynamic bass and the songs and dialogue had more "punch." But that's the geeky technical side of me speaking. Just go see this film!
"The Little Mermaid" 2-Disc Platinum Edition DVD will be released October 3, 2006.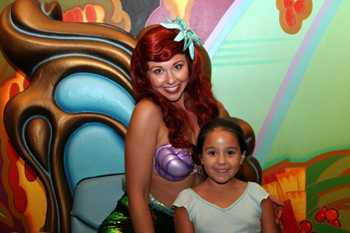 Ariel poses with Alexandria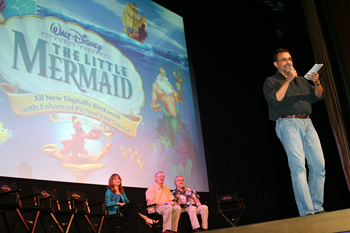 Don Hahn (Producer, "The Little Match Girl") introduces the panel including Jodi Benson, John Musker and Ron Clements (left-to-right)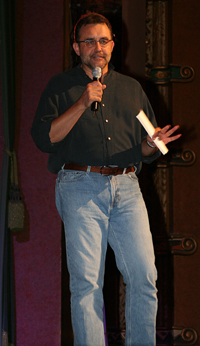 Hahn is very tall, but he's also one of the nicest guys in show business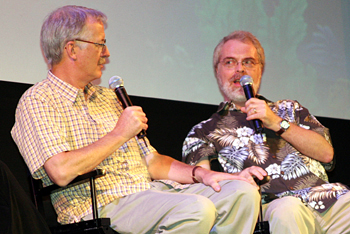 Co-directors John Musker and Ron Clements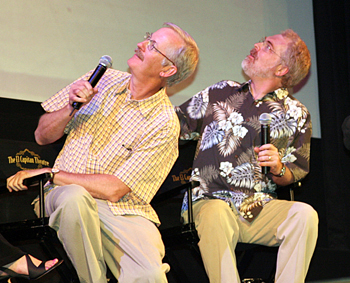 Musker and Clements take a look at a picture from "The Little Mermaid" — This team also directed "Aladdin" (1992), "Hercules" (1997) and the underrated "Treasure Planet" (2002) — Their enthusiasm and love for animation is reminiscent of another famous pair of Disney animators, Frank Thomas & Ollie Johnston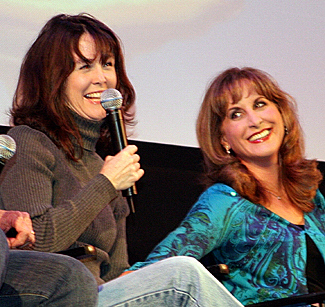 Sherry Stoner and Jodi Benson helped bring Ariel to life — Stoner was the live action reference model for the animators, and Benson was the voice of Ariel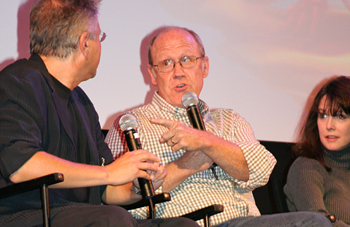 Glen Keane (center) talks to Alan Menken while Sherry Stoner looks on — Keane was the supervising animator of Ariel — He is directing the upcoming Disney film, "Rapunzel," which is scheduled for release in 2009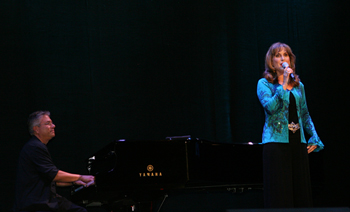 Alan Menken plays in tune with Jodi Benson in a rare public performance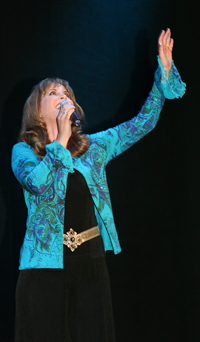 Benson amazed the audience with her rendition of "Part Of Your World"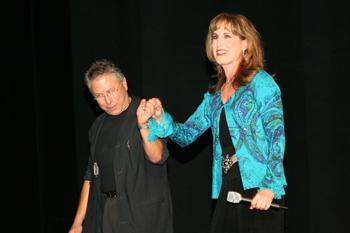 Menken escorts the lovely Benson off stage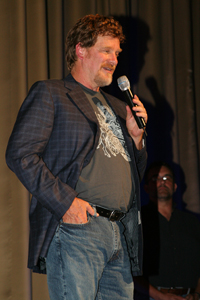 Director Roger Allers talks about his short film, "The Little Match Girl"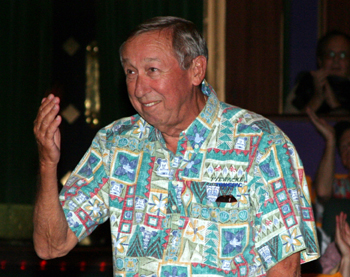 Roy E. Disney receives a round of applause for his genuine support of Disney animation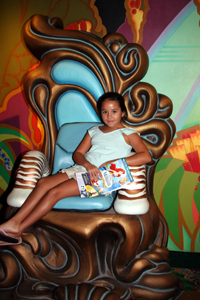 Alexandria couldn't resist a chance to sit on Ariel's chair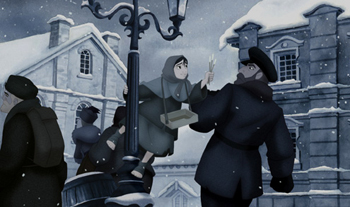 "The Little Match Girl"
Special thanks to Mac McLean, Michelle Alexander and Alexandria Kallay
---
All photos © 2006 William & Alexandria Kallay. All rights reserved.
Images of Disney characters are © Walt Disney Enterprises. All rights reserved.