"The Little Mermaid" Splashes Onto DVD
By
William Kallay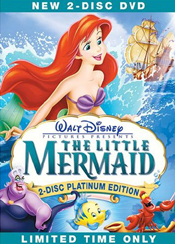 Almost every classic Disney animated movie character has a wish. Snow White wished for a prince to sweep her away. Pinocchio wished to be a real boy. Cinderella wished to go to the ball. And how about Ariel? She wished to be human and meet a prince. Typical '80s princess! Okay, I'm kidding, but how times had changed when "The Little Mermaid" graced movie theatre screens in 1989.
"The Little Mermaid" is now available on DVD in a 2-disc set. The film was released on DVD in a barebones edition in 1999, and previously in VHS and LaserDisc editions. Walt Disney Home Video has gone in and "digitally restored" the classic and added lots of extras on Disc 2.

Disc 1 contains the feature film in widescreen (1.78:1) with a new 5.1 Disney Enhanced Home Theater Mix, French and Spanish language 5.1 mixes, an audio commentary track with Ron Clements, John Musker and Alan Menken, Disney Song selection and a music video of "Kiss The Girl" by actress/singer Ashley Tisdale. This disc also includes a Disc 2 preview and sneak peek at "The Little Mermaid III."

Disc 2 continues Disney's impressive track record for diving into the storied archives for footage, vintage interviews and fresh perspectives on the film. Deleted scenes include "Fathoms Below" alternate version, "Backstage With Sebastian," "Poor Unfortunate Souls" alternate version, "Sebastian Lost In The Castle," "Advice From Sebastian," "Fight With Ursula" alternate version, and "Silence Is Golden" song demo, which is an audio track only. Games & Activities on the disc include a really neat section on the never built theme park ride based on "The Little Mermaid." This is in the "Under The Sea Adventure: A Virtual Ride" section and includes two additional supplements. Rounding out this section of the disc is a kid-friendly "DisneyPedia: Life Under The Sea" video. As if those sections weren't enough to get your fins flapping, the "Backstage Disney" section has a number of behind-the-scenes supplements which will show you how special this film was for Disney Animation. And finally, the DVD includes Roger Allers' beautifully animated version of Hans Christian Anderson's "The Little Matchgirl," art galleries, an early presentation reel and an original theatrical trailer.
The second disc is filled with lots of extras, so it's best to highlight some very worthy ones. What may cause surprise in some of the most ardent Disney fans is a virtual version of a theme park attraction that was never built. "Under The Sea Adventure: A Virtual Ride" really stands out as unique. For some time after "The Little Mermaid" was released, there were rumors that a ride would be built based on the film. Before the Internet became big and widespread with chat rooms and blogs, the idea of a Little Mermaid ride had fans salivating. It was just one of those rumors that seemed to linger around. Unfortunately, the ride was never built. This is indeed sad since Disneyland in California, for example, hasn't had a major new attraction in the years since Indiana Jones And The Temple Of The Forbidden Eye opened in 1995. A Little Mermaid attraction would've been a perfect addition to Fantasyland. Alas, theme park visitors and Disney fans will have to do with this virtual computer animated version. The ride would've been wonderful and very inventive, with a splash of old school Disney dark ride storytelling and state-of-the-art technology. The ride would've been scary for little children, in my opinion, but it would've been no more scary than Snow White's Scary Adventures. And if there's any proof that The Little Mermaid ride would've been a hit, my daughter has "ridden" the virtual ride numerous times. I suppose for now, Disneyland guests will have to marvel at the Ariel photo spot and Triton's Gardens until Disney decides, if ever, to build the ride.
Another surprise to find on the bonus disc is in "The Little Mermaid" Art Galleries section. Did you know that Walt Disney almost made a version of the film back in the 1940s? As Sebastian would say in a high pitched voice, "Yes!" Artist Kay Neilsen drew some early concepts. The story back then was more in tune with the original Hans Christian Anderson story, where the ending was more bleak. It goes to show you how daring the Disney Studios were at the time.
In "Treasures Untold: The Making Of The Little Mermaid," we meet a few of the principal figures who made the film. This section, divided into six separate shorts, may surprise a few people who are into Disney lore. None other than Jeffrey Katzenberg, Roy E. Disney and Peter Schneider are featured in a clip called "Renaissance Men." They were key figures in bringing this film to the screen, and after many years of being at Disney, they each went their separate ways. Time, though, seems to heal wounds of the past, so it's a pleasure to see and hear them reflect on the film. Roy E. Disney implored Jeffrey Katzenberg, Michael Eisner and Frank Wells (who had taken the leadership ring at the studio in 1984) to keep animation alive at Disney. And thankfully, it was.

When the studio gave the go ahead to make "The Little Mermaid," it was after a lengthy dry spell in Disney animation. "The Fox And The Hound" (1981), the short "Mickey's Christmas Carol" (1983), the epic "The Black Cauldron" (1985), and "The Great Mouse Detective" (1986) had kept the animation division alive, but mainly on life support. The magic and charm of the studio's ability to make animation great just wasn't there. What brought the studio back into the limelight, ironically, was the light musical "Oliver & Company" in 1988. The film wasn't at all on the level of previous Disney animated features, with its dry animation and unmemorable musical numbers. But it performed well enough to put Disney animation back into the public's mind.
At the time of "The Little Mermaid" being in production, the animation unit had been moved off the Disney lot into a warehouse in nearby Glendale, CA. Morale among the animators was understandably low. Yet directors Ron Clements and John Musker and the animation staff were passionate for a little film about a headstrong mermaid. As a result, here we have a classic animated tale that was enjoyed by many.
The image quality of the film on DVD is excellent, maintaining the film's original soft and grainy appearance in many scenes. This is not a distraction, especially since the film was made in the days before digital animation techniques. Many of the film's scenes take place underwater and in darkness, so the transfer does this film's look justice. What does seem different is that the colors have been given an extra boost. They have a little more pop to them than I remember, but this is a compliment to the film's rich palette.
The soundtrack, true to most of Disney's sonic efforts, is nearly flawless. The "Disney Enhanced" 5.1 mix is very dynamic and spatial, creating a nice soundstage. Because of the compression of the original soundtrack into Dolby Digital sound, the impact of the bass and overall richness of the analog (i.e. 70mm Six-Track Dolby Stereo) sound mix isn't as powerful as I remembered. But that's said in reference to having heard this soundtrack in Six-Track Dolby Stereo. This DVD presentation is excellent, though I'd love to hear it in uncompressed audio on a Blu-ray disc! The English 5.1 mix plays at 448kbps, while the international language tracks play at 320kbps.
From the opening scenes of the film, you know it's going to be good. The film begins with the wonderful opening song, "Fathoms Below" and gets the audience right into the story and its characters very quickly. This is a rare film where nearly every character is likable and serves the story well. In too many animated movies, too many characters are involved in the story and they have no reason to be there. In this film, however, all of them have purpose.
Ariel is one of the best creations to come from Disney's animation department. She's appealing in her sweetness, her strong mind and her spirit. The audience can almost completely empathize with her desire to be independent. Not that her life under the sea is bad. Who wouldn't want to live in a kingdom of luxury? But as the story points out, that's never been Ariel's wish. She wants to be human. It would be easy to say that "The Little Mermaid" is a girl story, but there probably has been one time or another that both boys and girls have had to stand up to their parents for what they wanted in life.
Actress Jodi Benson is Ariel. Her voice is simply wonderful when she sings and speaks. One of my favorite scenes is "Part Of Your World." In one scene through Menken and Ashman's beautiful music, the audience learns of Ariel's desire to be human. This is one of the best songs made for a Disney animation film, right up there with "When You Wish Upon A Star." It's that good. What makes it more special is the combination of Benson's passion for the character of Ariel, as well as Glen Keane's animation. Keane combined the childlike appeal of round shapes (her eyes), with a face of the "girl next door." Ariel is instantly recognizable and feels right at home in Disney's long line of characters.
Before Disney and other animation studios touted major movie stars over "voice talent," "The Little Mermaid" utilized a cast of mostly unknowns. Sebastian (Samuel E. Wright) follows in the footsteps of "Pinocchio" (1940) in which he acts as a conscience. He serves also as a comic foil to Scuttle (Buddy Hackett). The short scenes in which they interact are hilarious. Flounder (Jason Marin) is sweet as Ariel's best friend, and King Triton (Kenneth Mars) is perfect as Ariel's father. And if you're a father of a daughter, there is no doubt you won't get a little misty eyed at the end of the film.
Matching Ariel's wonderful characterization is Ursula (Pat Carroll). She is one of the most delightful and wicked villains to come down the Disney pike. More like Cruella de Ville than the Wicked Queen, Ursula is not only evil in her intent to rule the sea, but she's also fun! Played to the hilt, Carroll instills a sense of vamp, upstaging Ariel on occasion. Much of this can be attributed to not only Carroll's great vocals, but to Howard Ashman's playful lyrics.
The songs in "The Little Mermaid" put Disney back on the map. It had been a number of years
since the studio had a hit song from an animated feature. Who could've thought that two outsiders, Alan Menken (composer) and Howard Ashman (lyricist) would create some of the most memorable Disney tunes in recent memory? Famous for creating the off-Broadway version of "Little Shop Of Horrors," Menken and Ashman crafted music and lyrics of whimsy, sadness, and danger. "Under The Sea" is the film's signature tune, and deservedly so. Set just like a Broadway showstopper, it's a blast to watch and hear. In "Poor Unfortunate Souls," only Ashman could get away with lyrics in a Disney film like "I admit that in the past I've been a nasty/They weren't kidding when they called me, well, a witch." Ashman was very clever with his lyrics. "Les Poissons" is a farce and always elicits laughs from an audience, as well as "Kiss The Girl." Menken's score provides a wonderful undercurrent that drives the film. It's filled with music throughout, and each scene is underscored by Menken's symphonic music.
After years of seeing spin-offs like a television series and a straight-to-DVD movie, it's an enjoyable experience to see "The Little Mermaid" back on DVD. You land loving lads and lasses don't have to wish to go under the sea anymore. Dive right into your local retail store and hook yourself up with a copy.

The Little Mermaid
Walt Disney Home Entertainment
Catalog Number 40234
Region 1
1.78:1
Dolby Digital 5.1 (Disney Enhanced Home Theater Mix)
Dolby Digital 5.1 (French and Spanish)
DVD Release Date: October 3, 2006
$29.99
G
Two DVD-9 Discs
1989
83 minutes
Color
Directors: Ron Clements & John Musker
Cast: Jodi Benson, Samuel E. Wright, Kenneth Mars, Buddy Hackett, Rene Auberjonois, Pat Carroll, Christopher Daniel Barnes, Jason Marin, Paddi Edwards, Edie McClurg, Will Ryan and Ben Wright

---
Special thanks to Mac McLean
IMAGES: © Disney. All rights reserved.