Related Articles:
"Star Wars: Episode III" D-Cinema
"Batman Begins: The IMAX Experience"
"Charlie And The Chocolate Factory: The IMAX Experience"
Posted July 22, 2005
Updated August 20, 2005
The Digital Cinema Engagements Of "The Island"
Compiled By
Michael Coate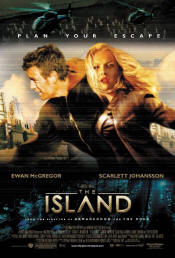 Michael Bay's "The Island," starring Ewan McGregor and Scarlett Johansson, is screening in a DLP Digital Cinema presentation in selected theatres. The list below identifies those venues equipped with digital projection that are screening the movie digitally.

This list is a work-in-progress. Please check back to this page periodically for updated information. (And don't hesitate to contact us if you have any useful details or if you believe any information to be incorrect.) Also note that many of the theatres are showing the movie on multiple screens in their complex; some digital, some 35mm, and newspaper advertisements and recorded showtime information may not make it clear which is which. As such, we encourage you to confirm presentation format with the management or projectionist staff of any theatre in which you have an interest.

So where can moviegoers see a Digital Cinema presentation of "The Island"? Read on...
---
UNITED STATES (Released July 22)

ALABAMA
Hoover: Rave Patton Creek 15 (2K)

ARIZONA
Peoria: Harkins Arrowhead Fountains 18

CALIFORNIA
Carlsbad: UltraStar La Costa 6
Chula Vista: UltraStar Chula Vista 10
Daly City: Century 20
Los Angeles (Universal City): Loews Cineplex Universal Studios CityWalk
Poway: UltraStar Poway Creekside Plaza 10
Riverbank: Galaxy Riverbank 12 (2K)
San Diego (Del Mar): UltraStar Del Mar Highlands 8

IDAHO
Meridian: Hallett Majestic (2K)

ILLINOIS
Elk Grove Village: Classic Elk Grove (2K)

MARYLAND
Gaithersburg: Loews Cineplex Rio 14

MICHIGAN
Birch Run: Emagine Cinema Hollywood
Canton: Emagine Canton
Novi: Emagine Novi 18

NEW YORK
Gates: CineMark Tinseltown USA (2K)
New York (Brooklyn): ADM Pavilion (2K)
New York (Manhattan): Clearview Ziegfeld (2K)

PENNSYLVANIA
Hanover: R/C Hanover Movies 16

TEXAS
Austin: Galaxy Highland 10 (2K)
Big Spring: Ritz

WASHINGTON
Monroe: Galaxy 12 (2K)
Sunnyside: Hallett Grand Cinemas Yakima Valley (2K)
Vancouver: Cinetopia (2K)


CANADA (July 22)

There are no Digital Cinema engagements of "The Island" in Canada


INTERNATIONAL

GERMANY (Aug. 4) ("Die Insel")
Dresden: UFA Kristallpalast (2K)
Dusseldorf: UCI Kinowelt Dusseldorf (2K)
Herne: Filmwelt Herne (2K)
Nuremberg: Cinecitta (2K)
Stuttgart: Gloria (2K)

ITALY (Aug. 26) ("L'Isola")
Milan: Arcadia (2K)
Pioltello: EuroPlex Pioltello 14 (2K)

SPAIN (Aug. 5) ("La Isla")
Barcelona: UCI Cinesa Diagonal
Paterna: Kinepolis Valencia
Pozuelo: Kinepolis Madrid
Pulianas: Kinepolis Granada

SWITZERLAND (Aug. 4, German) ("Die Insel")
Buelach: MaM Kino ABC (2K)
Zurich: Cinemax AG Abaton A (2K)

UNITED KINGDOM (Aug. 12)
London: Odeon Leicester Square (2K)

Source: industry contacts, theatre company websites, newspaper advertisements, www.fandango.com


What is Digital Cinema? See:
www.christiedigital.com
www.dcinematoday.com
www.dlp.com
www.technicolor.com
---
IMAGE: TM and copyright 2005 by DreamWorks, LLC and Warner Bros. Entertainment Inc.
DLP™ is a trademark of Texas Instruments