Related Articles:
"Chicken Little" 3-D Engagements
Posted November 12, 2005
Updated December 23, 2005
The Digital Cinema Engagements Of "Harry Potter And The Goblet Of Fire"
Compiled By
Michael Coate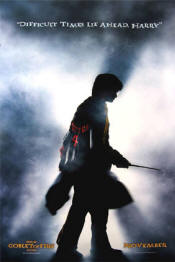 "Harry Potter And The Goblet Of Fire," Warner Bros.' fourth motion picture adventure based upon J.K. Rowling's popular series of books, will be released on November 18, and selected theatres will be screening the movie in DLP Digital Projection. Included below is a tentative list of the locations expected to screen "Harry Potter" in D-Cinema. (The movie is also scheduled to be released in IMAX; click here for a list of those locations.)
---
UNITED STATES (Released November 18, 2005)

ALABAMA
Hoover: Rave Patton Creek 15 (2K)

ARIZONA
Peoria: Harkins Arrowhead Fountains 18

CALIFORNIA
Daly City: Century 20 Daly City
Emeryville: AMC Bay Street 16
Glendale: Mann Glendale Marketplace 4
Irvine: Regal Edwards Irvine Spectrum 21
Los Angeles (Hollywood): Mann Grauman's Chinese (2K)
Los Angeles (Sherman Oaks): Pacific Galleria Stadium 16
Los Angeles (Westchester): National Amusements The Bridge: Cinema de Lux
Los Angeles (Westwood Village): Mann Village (2K)
Riverbank: Galaxy Riverbank 12 (2K)
San Diego (Mira Mesa): Regal Edwards Mira Mesa Stadium 18
San Diego (Mission Valley): AMC Mission Valley 20
San Francisco: Loews Cineplex Metreon
San Jose: Century 22 (2K)

COLORADO
Denver: Regal UA Denver Pavilions Stadium 15

CONNECTICUT
Hartford: Crown Palace 17
Trumbull: Crown Marquis 16

FLORIDA
Daytona Beach: R/C Ocean Walk Movies 10
Lake Buena Vista: AMC Pleasure Island 24
Melbourne (West Melbourne): CinemaWorld 16

IDAHO
Meridian: Hallett Majestic (2K)

ILLINOIS
Chicago: AMC River East 21
Elk Grove Village: Classic Elk Grove (2K)
Schaumburg: Loews Cineplex Streets of Woodfield
Skokie: Crown Village Crossing 18

MARYLAND
Annapolis: Crown Annapolis Mall 11

MASSACHUSETTS
Randolph: National Amusements Showcase Cinemas Randolph

MINNESOTA
Eden Prairie: AMC Eden Prairie Mall 18

NEW JERSEY
Edgewater: National Amusements Edgewater Multiplex
Elizabeth: Loews Cineplex Jersey Gardens 20

NEW YORK
Gates: Cinemark Tinseltown USA (2K)
New York (Brooklyn): ADM Pavilion (2K)
New York (Manhattan): Loews Cineplex Kips Bay
New York (Manhattan): Regal UA Union Square Stadium 14

OHIO
Springdale: National Amusements Springdale 18: Cinema de Lux
Valley View: Cinemark at Valley View (2K)

PENNSYLVANIA
Hanover: R/C Hanover Movies 16 (2K)

SOUTH CAROLINA
Greenville: Greenville Camelot (2K)

TENNESSEE
Knoxville: Regal Pinnacle Stadium 18 (2K)

TEXAS
Austin: Galaxy Highland 10 (2K)
Big Spring: Ritz
Plano: Cinemark at Legacy (2K)

VIRGINIA
Merrifield: National Amusements Lee Highway Multiplex

WASHINGTON
Bellevue: Hallett Bellevue Galleria Stadium 11 (2K)
Monroe: Galaxy Monroe 12 (2K)
Sunnyside: Hallett Grand Cinemas Yakima Valley (2K)
Vancouver: Cinetopia (2K)


CANADA (Nov. 18, 2005)

ONTARIO
Oakville: AMC Winston Churchill 24
Vaughan: Cineplex Galaxy Famous Players Colossus Woodbridge
Waterloo: Cineplex Galaxy Famous Players Conestoga Mall 10 (2K)

QUEBEC
Montreal: Cineplex Galaxy Famous Players Paramount Montreal


INTERNATIONAL

AUSTRIA (Nov. 17, 2005) ("Harry Potter Und Der Feuerkelch")
Innsbruck: Metropol (2K)
Pasching: Hollywood Megaplex (2K)

BELGIUM (Nov. 23, 2005)
Aarschot: Utopolis Aarschot (2K)
Antwerp: Kinepolis Metropolis Antwerpen (2K)
Braine-l'Alleud: Kinepolis Imagibraine
Brussels: Kinepolis Brussels (2K)
Gent: Kinepolis Gent (2K)
Hasselt: Kinepolis Hasselt
Kortrijk: Kinepolis Kortrijk (2K)
Leuven: Kinepolis Leuven
Lommel: Utopolis Lommel (2K)
Mechelen: Utopolis Mechelen (2K)
Roeselare: Cityscoop Roeselare
Turnhout: Utopolis Turnhout (2K)

DENMARK (Nov. 18, 2005) ("Harry Potter 4")
Arthus: Nordisk BioCity (2K)
Copenhagen: Nordisk Imperial (2K)
Copenhagen: Nordisk Palads (2K)

GERMANY (Nov. 17, 2005) ("Harry Potter Und Der Feuerkelch")
Duesseldorf: UCI Kinowelt (2K)
Herne: Filmwelt Herne (2K)
Luedenscheid: Park (2K)
Moenchengladbach: Comet-Cine-Center (2K)
Nuremberg: Cinecitta (2K)
Stuttgart: Gloria (2K)

ITALY (Nov. 25, 2005) ("Harry Potter E Il Calice Di Fuoco")
Cagliari: CineWorld Cagliari (2K)
Fano: Giometti Fano (2K)
Melzo: Arcadia (2K)
Porto Sant'Elpidio: Giometti Elpidio (2K)

NETHERLANDS (Nov. 23, 2005) ("Harry Potter En De Vuurbeker")
Almere: Utopolis Almere (2K)
Enschede: Alhambra (2K)

SPAIN (Nov. 25, 2005) ("Harry Potter Y El Caliz De Fuego")
Paterna: Kinepolis Valencia
Pozuelo: Kinepolis Madrid
Pulianas: Kinepolis Granada

SWITZERLAND (German; Nov. 17, 2005) ("Harry Potter Und Der Feuerkelch")
Buelach: MaM Kino ABC (2K)
Zuerich: Cinemax AG Abaton A (2K)
Zuerich: Metropol (2K)

UNITED KINGDOM (Nov. 18, 2005)
London: Odeon Leicester Square (2K)
_________________________________________

SOURCES: Industry contacts, newspaper advertisements, trade coverage, theatre chain websites, Digital Cinema news websites, online ticket ordering websites

What is Digital Cinema? See:
www.christiedigital.com
www.dcinematoday.com
www.dlp.com
www.reald.com
www.technicolor.com
Official "Harry Potter" Website: http://harrypotter.warnerbros.com
---
IMAGE: Copyright 2005 Warner Bros. Entertainment Inc.