Related Articles:
Posted October 16, 2005
Updated February 9, 2006
The Digital Cinema Engagements Of "Chicken Little"
Compiled By
Michael Coate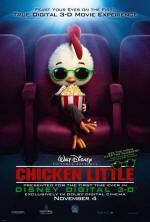 Disney's latest animated production, "Chicken Little," was released on November 4, 2005. Theatres in selected markets are screening the movie in Disney Digital 3-D, the new three-dimensional presentation process that is the result of a collaboration between Walt Disney Productions, the renowned animation company; Dolby Laboratories, Inc., a four-decade leader in motion picture presentation technology; Industrial Light + Magic, Lucasfilm Ltd's award-winning visual effects facility; Real-D, a new enterprise specializing in three-dimensional cinema; and Texas Instruments, the developers of the Digital Light Processing (DLP) projection technology.

Included below is a listing of the locations where audiences can see "Chicken Little" in 3-D, including tentative details on international engagements. The movie is also being released in conventional 2-D Digital Cinema, and those locations are provided as well.
---
UNITED STATES (Released November 4, 2005, except where noted)

ALABAMA
Hoover: Rave Patton Creek 15 (3-D)

ARIZONA
Peoria: Harkins Arrowhead Fountains 18 (3-D)
Tempe: Harkins Arizona Mills 24 (3-D)

CALIFORNIA
Daly City: Century 20 Daly City (3-D)
Dublin: Regal Hacienda Crossings Stadium 20 (3-D)
Glendale: Mann Glendale Exchange 10 (3-D)
Glendale: Mann Glendale Marketplace 4 (2-D)
Irvine: Regal Edwards Irvine Spectrum 21 (3-D)
Long Beach: Regal Edwards Long Beach Towne Center Stadium 26 (3-D)
Los Angeles (Hollywood): Mann Chinese 6 (3-D) (Dec. 9, 2005)
Los Angeles (Hollywood): Walt Disney El Capitan (3-D)
Los Angeles (Sherman Oaks): Pacific Galleria Stadium 16 (2-D)
Los Angeles (Universal City): Loews Cineplex Universal City 18 at CityWalk (3-D)
Los Angeles (Van Nuys): Mann Plant 16 (3-D)
Los Angeles (Westchester): National Amusements The Bridge: Cinema de Lux (3-D)
Riverbank: Galaxy Riverbank 12 (2-D)
San Diego (Mira Mesa): Regal Edwards Mira Mesa Stadium 18 (2-D)
San Francisco: Loews Cineplex Metreon (3-D)
San Jose: Century 20 Oakridge (3-D)
San Jose: Century 22 (2-D)
Thousand Oaks: Mann Janss Marketplace 9 (3-D)

COLORADO
Lakewood: Regal UA Colorado Mills Stadium 16 (3-D)

CONNECTICUT
Hartford: Crown Palace 17 & Odyssey (2-D)
Manchester: National Amusements Showcase Cinemas Buckland Hills (3-D)
Trumbull: Crown Marquee 16 (2-D)

DISTRICT OF COLUMBIA
Washington: Loews Cineplex Georgetown 14 (3-D)

FLORIDA
Boca Raton: Muvico Palace 20 (3-D)
Davie: Muvico Paradise 24 (3-D)
Daytona Beach: R/C Ocean Walk Movies 10 (2-D)
Lake Buena Vista: AMC Pleasure Island 24 (3-D)
Melbourne: Premiere Oaks 10 (3-D)
Melbourne (Viera): Rave Avenue 16 (3-D)
Melbourne (West Melbourne): CinemaWorld 16 (2-D)
Orlando: Regal Waterford Lakes Stadium 20 (3-D)
St. Petersburg: Muvico Baywalk 20 (3-D)
Sunrise: Regal Sawgrass Stadium 23 (3-D)
Tampa: Muvico Starlight 20 (3-D)

GEORGIA
Buford: Regal Mall of Georgia Stadium 20 (3-D)

IDAHO
Meridian: Hallett Majestic (2-D)

ILLINOIS
Elk Grove Village: Classic Elk Grove (2-D)
Lincolnshire: Regal Lincolnshire Stadium 20 (3-D)
Oak Park: Classic Lake (3-D)
Schaumburg: Loews Cineplex Streets of Woodfield 20 (3-D)
Skokie: Crown Village Crossing 18 (3-D)

INDIANA
Evansville: Kerasotes Stadium 16 (3-D)
Fort Wayne: Rave Jefferson Pointe 18 (3-D)
Indianapolis: Kerasotes ShowPlace 16 (3-D)
Plainfield: Rave Metropolis 18 (3-D)
Schererville: Kerasotes ShowPlace 12 (3-D)

IOWA
Davenport: National Amusements Showcase Cinemas 53 (3-D)

KANSAS
Leawood: AMC Town Center 20 (3-D)

KENTUCKY
Louisville: National Amusements Showcase Cinemas Stonybrook (3-D)

MARYLAND
Annapolis: Crown Annapolis Mall 11 (3-D)
Hanover: Muvico Egyptian 24 (3-D)

MASSACHUSETTS
Boston: Loews Cineplex Boston Common (3-D)
Randolph: National Amusements Showcase Cinemas Randolph (3-D)
Revere: National Amusements Showcase Cinemas Revere (3-D)

MICHIGAN
Auburn Hills: Loews Cineplex Star Great Lakes Crossing (3-D)
Brighton: MJR Brighton Towne Square Cinema 20 (3-D)
Kentwood: Loeks Celebration! Cinema Grand Rapids South (3-D)
Southgate: MJR Southgate Cinema 20 (3-D)
Sterling Heights: MJR Marketplace Cinema 20 (3-D) (Nov. 18, 2005)
Waterford Township: MJR Waterford Cinema 16 (3-D)

MINNESOTA
Coon Rapids: Kerasotes ShowPlace 16 (3-D)

MISSOURI
Lees Summit: Dickinson Eastglen 16 (3-D)

NEVADA
Las Vegas: Regal Colonnade Stadium 14 (3-D)

NEW JERSEY
Elizabeth: Loews Cineplex Jersey Gardens 20 (3-D)

NEW YORK
Gates: Cinemark Tinseltown USA (2-D)
Holtsville: National Amusements Island 16: Cinema de Lux (3-D)
New Rochelle: Regal New Roc City Stadium 18 (3-D)
New York (Brooklyn): ADM Pavilion (3-D)
New York (Manhattan): Loews Cineplex 84th Street 6 (3-D)
New York (Manhattan): Loews Cineplex Kips Bay (2-D)
New York (Manhattan): Regal UA Union Square Stadium 14 (3-D)
Westbury: Loews Cineplex Raceway 10 (3-D)
White Plains: National Amusements City Center 15: Cinema de Lux (3-D)

OHIO
Columbus: Rave Polaris 18 (3-D)
Springdale: National Amusements Springdale 18: Cinema de Lux (3-D)
West Chester: Rave West Chester 18 (3-D)

OREGON
Tigard: Regal Bridgeport Village Stadium 18 (3-D)

PENNSYLVANIA
Hanover: R/C Hanover Movies 16 (2-D)
King of Prussia: Regal UA King of Prussia Stadium 16 (3-D)

SOUTH CAROLINA
Greenville: Greenville Camelot (2-D)

TENNESSEE
East Ridge: Rave East Ridge 18 (3-D)
Knoxville: Regal Pinnacle Stadium 18 (Screen #1 3-D)
Knoxville: Regal Pinnacle Stadium 18 (Screen #2 2-D)
Memphis: Malco Paradiso (3-D)

TEXAS
Austin: Galaxy Highland 10 (2-D)
Austin: Regal Gateway Stadium 16 (3-D)
Hickory Creek: Rave Hickory Creek 16 (3-D)
Houston: AMC Willowbrook 24 (3-D)
Hurst: Rave North East Mall 18 (3-D)
San Antonio: Santikos Silverado 16 (3-D)

UTAH
Sandy: Megaplex 17 at Jordan Commons (3-D)

VIRGINIA
Merrifield: National Amusements Lee Highway Multiplex (3-D)
Sterling: Regal Countryside Stadium 20 (3-D)

WASHINGTON
Bellevue: Hallett Galleria 11 (2-D)
Monroe: Galaxy 12 (2-D)
Sunnyside: Hallett Grand Cinemas Yakima Valley (2-D)


CANADA (Nov. 4, 2005)

ONTARIO
Cambridge: Cineplex Galaxy (2-D)
Mississauga: Cineplex Galaxy Famous Players SilverCity Mississauga (3-D)
Vaughan: Cineplex Galaxy Famous Players Colossus Woodbridge (3-D)


INTERNATIONAL

AUSTRALIA (Jan. 1, 2006)
Castle Hill, NSW: Greater Union/Birch Carroll & Coyle Castle Hill Megaplex (3-D)
Chermside, QLD: Greater Union/Birch Carroll & Coyle Chermside Megaplex (3-D)
Innaloo, WA: Greater Union/Birch Carroll & Coyle Innaloo Megaplex (3-D)
Oaklands, SA: Greater Union/Birch Carroll & Coyle Marion Megaplex (3-D)
South Yarra, VIC: Village Jam Factory (3-D)

GERMANY (Jan. 27, 2006)
Munich: Cinema-Filmtheater (3-D)
Nuremberg: Cinecitta (3-D)

JAPAN (Dec 24, 2005)
Tama: Warner Mycal Tama (3-D)
Tokyo: Oriental Land AMC Ikspiari 16 at Tokyo Disney Resort (3-D)

MEXICO (Nov. 4, 2005)
Mexico City: Cinemex Mundo 'E' (3-D)
Mexico City: Ramirez Cinepolis Plaza Universidad (3-D)
Monterrey: Ramirez Cinepolis Galerias Valle Oriente (3-D)
Monterrey: MM Humberto Lobo (3-D)

UNITED KINGDOM (Jan. 27, 2006, except where noted)
Bath: Odeon Bath (3-D) (Feb. 3, 2006)
London: Vue West End (3-D)
Manchester: UCI/Odeon Manchester (3-D) (Feb. 3, 2006)
Wimbledon: Odeon Wimbledon (3-D) (Feb. 3, 2006)

_________________________________________

SOURCES: Industry contacts, theatre exhibitors, newspaper advertisements, trade coverage, theatre chain websites, Digital Cinema news websites, online ticket ordering websites

What is Digital Cinema? See:
www.christiedigital.com
www.dcinematoday.com
www.dlp.com
www.reald.com
www.technicolor.com
Official "Chicken Little" Website: http://disney.go.com/disneypictures/chickenlittle
---
IMAGE: Copyright 2005 Disney Enterprises