Peter Ellenshaw
(1913-2007)
A Remembrance By William Kallay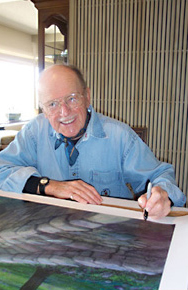 It's tough when the good ones leave us, no matter if they're young or old. We lost one of our great artists, Peter Ellenshaw, on February 12, 2007 at the age of 93. He will probably forever be known as the matte painter on "Mary Poppins" (1964). That's a credit that I'm sure anyone would be proud of. But Peter was also an impeccable painter and visual effects artist who crafted numerous scenes out of paint, glass and his imagination. He helped lay the foundation for Walt Disney during the 1950s and 1960s, an explosive growth period for the studio.
I didn't know Mr. Ellenshaw personally. I wish I had, or at least had been able to sit down and watch him paint. I would've been perfectly content being a spectator, admiring an artist at work. From what I've known or seen of Ellenshaw, he'd probably ask me, "What's the big deal? I'm just a painter. Move on. Nothing to admire or see here." He was modest about his work, but for someone who grew up watching many Walt Disney productions over the years, Mr. Ellenshaw's work touched me.
I couldn't tell you about the many fine paintings in an art museum, but I could tell you that a certain shot in a Disney film had Ellenshaw written all over it. His matte paintings were exquisite and all Peter. I can remember seeing "Mary Poppins" for the first time at a drive-in sometime during the 1970s. The first thing I remember is how exciting the city of London looked. All of those twinkling lights and a bit of fog running through the streets. It was all an illusion, and what a beautiful illusion it was.
Peter crafted paintings that drew your eye and imagination into the scene. His mattes weren't merely clever set pieces designed as a visual effect. They lent themselves to the scene at hand, and more importantly, to the storyline of a given film. Peter's painting of Vulcania in "20,000 Leagues Under The Sea" (1954) really showed off his talent for scope, lighting, composition and detail. Watch as the Nautilus cruises into the island's crater. I don't recall seeing many movies of that era that had a high overhead shot of the action below. On the wide CinemaScope screen, this shot is beautifully composed.
Many will talk about "Mary Poppins," and rightly so. But I think one of Ellenshaw's masterpieces is the underrated "Darby O'Gill And The Little People" (1959). There have been so many technical advancements in visual effects over the years, one might think that this film is antiquated. Far from it. At a visual effects seminar some years ago, I recall visual effects supervisor Richard Edlund ("Ghost Busters," "Die Hard") cracking a smile when a clip from "Darby" was shown. I'm paraphrasing, but he said, "My God. Ellenshaw's work in this film is flawless." The audience clapped in agreement. In this film, many techniques were employed to make the audience believe that leprechauns actually existed. Using split scale and clever matching of live action elements, Ellenshaw and crew created some groundbreaking effects.
"I discovered this when I worked with my father on a film that he was not always content with the conventional. He wanted to take a chance and try for something that might not be as safe, but might be far more interesting, maybe more spectacular," said Harrison Ellenshaw in a Disney Channel special about Peter.
Mr. Ellenshaw worked with the great masters of cinema. He worked for Michael Powell as an uncredited matte painter on "The Thief Of Baghdad" (1940). He created the beautiful set extensions in "Quo Vadis?" (1951). And he created the matte paintings in Stanley Kubrick's epic, "Spartacus" (1960). One of the most impressive mattes I've ever seen is Ellenshaw's beautiful shot of Rome in that classic film. Harrison passed along this wonderful little story about that matte shot.
"My father always hated the fact that Kubrick felt he should put the graphic 'Rome' over the shot. 'I don't know why the hell you need to be "told" it's Rome,' he would say. 'What else would it be? If it's not damn evident that it's Rome, then I didn't do my job!' "

But his most recognized work was for Walt Disney.
The pairing of Ellenshaw and Disney was made in cinematic heaven. When Ellenshaw was hired to do mattes for "Treasure Island" (1950), Disney was looking to spend some of his assets that were frozen in Britain. Peter was hired to paint the lush, tropical landscapes and ships in the film, and to most audiences, his mattes were seamless. From what I understand from Peter's wonderful book, "Ellenshaw Under Glass," and some private video footage I've seen, Walt was a great friend to Peter. I believe there was a deep respect for each other's work, and that's perhaps one of the reasons why Walt entrusted Peter to work on many of his projects. That famous painting of Disneyland that Walt showed to the American public on his television show was Peter's. He was so incredibly talented that when a black light was turned on the painting, the painting looked like it was a nightscape, down to the street lights of Disneyland. Peter also directed and produced the first Disney theme park film, "Circarama" (1955), in which multiple cameras were set up to film the American Southwest in 360-degrees. Ellenshaw's contributions to the early days of Disneyland earned his name a spot in one of the windows on Main Street.
"You just did what ever you had to do to do a good job for Walt," said Peter.

Retirement wasn't really in Peter's plans. Even after he supervised effects on "The Black Hole" (1979)and contributed his matte painting talent to "Dick Tracy" (1990), he continually worked painting landscapes and Disney sponsored artwork. His work is extraordinarily beautiful. From a distance, his painting fools your eyes into thinking you're looking at a photograph. But it's not a photo, but a very realistic painting. I'm no artist, nor did I study art in school, except perhaps an occasional art appreciation class. But I can appreciate and admire Ellenshaw's work. One of my favorite paintings is called "Dunloe Gap." The scenery is captured in beautiful detail, and it's a painting that lets me feel the tranquility of the Irish countryside. Looking at Peter's rendition of the water brings chills to me. I can imagine myself dipping into the water and shaking the icy water from my hand! As with many of his paintings, matte or canvas, the viewer is taken into the picture.
I've been to a few art galleries, one as far as Hawaii, and a few of Peter's paintings were sold there. He was world renowned. I'm convinced my first brush, excuse the pun, with Peter's work was in the late-70s. My parents were on a whirlwind tour of a number of art galleries in the Los Angeles area. They were buying up various paintings and such. I recall seeing an Ellenshaw painting and was struck by its realism. Upon looking closer, I noticed it was paint, expertly brushed onto a canvas (more than likely this was a reproduction of the original). I was hooked onto the Ellenshaw style. It was something that I could understand and appreciate, yet not feel like the artwork was above my head.
In recent years, I've been fortunate to have known Peter's son, Harrison, who has carried on the Ellenshaw legacy of matte paintings and brilliant visual effects. Harrison has been at the forefront of visual effects breakthroughs like "Tron" (1982), and his legendary matte work in "Star Wars" (1977) and "The Empire Strikes Back" (1980) have solidified his standing in film. I've also met Peter's daughter, Lynda, who has also produced excellent visual effects in movies like "The Haunted Mansion" (2003) and the upcoming "Evan Almighty." After meeting the Ellenshaws, and seeing Peter in interviews, I've been struck at how down-to-Earth they are. The movie business is rife with strong personalities and huge egos. Yet the Ellenshaws have no pretension, despite their remarkable achievements and the people they've known over the years. I think that Peter, in his casual and easy going manner, instilled that upon his children and grandchildren. He was also a kidder with a touch of mischief in him. He reminded me of my grandfather Michael Kallay, who passed away last year. Sweet old man, but he had that wink in his eye before he rolled a strike at the bowling alley, demolishing your own pathetic score! It seemed that Peter never took things too seriously. Life was short. Have fun while you're at it.
It's difficult to summarize Peter's life into a short remembrance like this. I highly recommend Peter's wonderful book, "Ellenshaw Under Glass" to gain insight into his life and career. The book is an endearing memoir of a fascinating life. It comes from his memories and what great memories they were. He pays tribute to his colleagues, his work and most of all, his family.
Peter was one of the last of a generation of artists that I don't believe we'll see again. In Peter's time, there was still a lot of experimentation and risk. Even though visual effects had been around since the dawn of filmmaking, Peter and his collaborators broke new ground all of the time. It's impressive that many of his visual effects hold up today. That's artistry. That's craftsmanship. That's excellence.
Peter's brush has been laid to rest, but we can admire his work for years to come. Thank you, Mr. Ellenshaw, for your breathtaking landscapes, cheerful "Mary Poppins" cityscapes, sense of humor and passion for all of the things that make life great.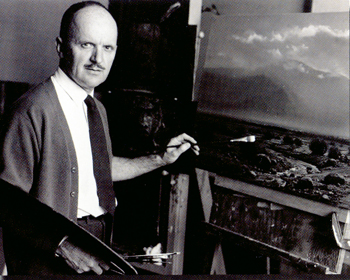 ---
Our condolences go to the Ellenshaw Family
Special thanks to Harrison Ellenshaw and Lynda Thompson
For more information about Peter, please visit www.ellenshaw.com
IMAGES © 2007 Harrison Ellenshaw; Walt Disney Company; Ellenshaw Family. All rights reserved.