Cinema Treasures:
A New Look At Classic Movie Theaters
A Book Review
By
William Kallay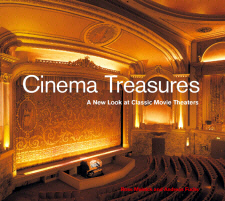 Of all of the great achievements in America, it seems odd that the motion picture palace has virtually been run into extinction. Some were works of art, creating a sense of grandeur and elegance for moviegoers of all classes. American filmmakers may have refined the art of making movies, but showmen like Marcus Loew and Sid Grauman set the standard in how those movies were experienced in a theatre. Sadly, many movie palaces from the beginning of filmmaking through the "modern" palaces of the 1950s and 1960s are gone, or have been transformed into retail spaces, churchs and parking lots.
Thankfully, many still survive. And those that haven't survived have been given proper respect and treatment in the wonderful book, "Cinema Treasures: A New Look At Classic Movie Theaters" by Ross Melnick and Andreas Fuchs. This large and colorful hardcover book does justice to palaces from the Roxy in New York City, to the modern 30-screen giants seen in cities today.

"Cinema Treasures" is a movie theatre lover's idea of what a book on the subject should be. It contains history, lots of glossy photos, postcards and information of select theatres. There have been numerous books on the subject of movie theatres, and some of them like "The Show Starts On The Sidewalk" (Maggie Valentine, 1996), "Great American Movie Theatres" (David Naylor, 1987) and "Motor City Marquees" (Stuart Galbraith IV, 2001) have done excellent jobs on the history of American movie theatres. But this new book certainly is impressive in its own right.
Melnick and Fuchs have run a website devoted to the same subject, and ironically, it's called www.cinematreasures.org. That site has been a helpful place to glean information on movie theatres around the world. The authors have taken their love of these exhibition halls and written this book.
The book is divided into numerous chapters, covering each significant era in exhibition, beginning with the era of nickelodeons, through the grand palaces, through the terrible times when exhibitors began splitting massive theatres into multiple screens, to today. The book has sidebars called "Curtain Call," where the authors give readers glimpses into the fate of some of the most beautiful theatres in the country. And another nice element to "Cinema Treasures" are two-page layouts featuring select and currently operating theatres, like Radio City Music Hall in New York City, New York; the Panida Theater in Sandpoint, Idaho; and the Cinerama Dome in Hollywood, California. These are exquisitely presented and one can almost smell the popcorn popping. By looking at these theatres, it's satisfying that they're still in operation and will hopefully continue for years to come.
The book is layered with hundreds of color and black-and-white photographs, trade advertisements and postcards. The authors have chosen a number of great ones. First, readers will get a sense of the times when these photos were taken. Imagine having to wear a suit just to go to the movies! Or imagine watching a parade in front of a theatre advertising the latest motion picture. Second, it's a lot of fun looking at old industry ads selling theatre seats and soda. Third, it's maddening to see ads for splitting theatres into smaller auditoriums, and seeing the destruction of classic palaces like the Fox Theatre in San Francisco in 1963. Yet, the book as whole is a celebration of mostly what was great about film exhibition.
Melnick and Fuchs have painstakingly put together a history of theatres, as well as the innovations brought fourth to sell more tickets to the public. The usual suspects are there, like sound, 3-D, Cinerama, and the widescreen and widegauge processes unveiled in the 1950s and 1960s.
There are minor quibbles, such as an incorrect reference to Southern California-based showman James Edwards opening the Cine Capri in Phoenix, Arizona, or a misspelling of the process "Todd-AO." (In the book, it's spelled "Todd A-O.") The authors also claim Cineplex Odeon's Universal City complex opened with an Imax auditorium and that "Star Wars" opened in 1977 with only 42 engagements. ("Star Wars" opened initially in 32 theatres.) And as for the highly-regarded Cinerama format, they claim that the Indian Hills Cinerama in Omaha, Nebraska opened after the switch from 3-strip Cinerama to single-strip 70mm presentation. (The theatre indeed showed 3-strip presentations. The industry switch to single-strip 70mm took place beginning in late-1963 after the Indian Hills opened.) And the authors may confuse or mislead readers with their comments regarding the Cinerama Dome in Hollywood when they write the theatre was "constructed without the three Cinerama booths needed for true Cinerama." Actually, one long booth was constructed and the theatre always had three projection ports; it just never was equipped for three-strip Cinerama until 2002. But little things like these don't, in any way, take away from this fine effort.
The history of theatres is well-documented in "Cinema Treasures." The authors take time to point out bits and pieces of the theatrical timeline. We meet a number of showmen, like Loew and Grauman, and we also meet their more modern counterparts such as Stanley Durwood, who claimed to have invented the multiplex, though Melnick and Fuchs point out that there were twin theatres around since the 1900s. Moving further is time, the authors have dug up more historical facts on theatres built by Jerry Lewis (!), theatres operated by Sumner Redstone and others.
What I found intriguing was that the authors didn't look down upon the modern palaces of the 1950s and 1960s. Perhaps because I grew up experiencing these types of theatres, I've always had a place in my heart for their sparse décor, large screens and burnt-orange curtains. Kudos for making an effort to make note of their existence.
Melnick and Fuchs have done justice to movie theatres past and present. The book is well-planned and a beauty to have on one's coffee table, and perhaps one of the best books ever published on the subject of movie theatres.
"Cinema Treasures: A New Look At Classic Movie Theaters"
By Ross Melnick and Andreas Fuchs
Hardcover: 208 pages
2004
$40.00
---
Special Related Links: www.cinematreasures.org
Book Cover Photo By Tom Paiva