Related Articles:
"Herbie: Fully Loaded" Premeire Photo Gallery
American Cinema Editors
2004 Oscar Nominees Discuss Their Craft At The Egyptian Theatre
By
William Kallay

A day before the Oscar ceremonies, the American Cinema Editors (ACE) hosted a gathering at the Egyptian Theatre in Hollywood, California. The purpose of this was to give the public a look at the job of a film editor. Thelma Schoonmaker, ACE ("The Aviator"), Jim Miller, ACE & Paul Rubell, ACE ("Collateral"), Matt Chesse ("Finding Neverland"), Joel Cox, ACE ("Million Dollar Baby"), and Paul Hirsch, ACE ("Ray") were on-hand to talk about their craft.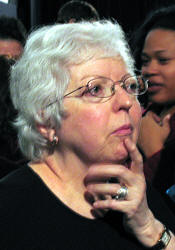 Thelma Schoonmaker, ACE

The seminar, sponsored in part by the American Cinematheque, was held first thing in the morning on February 26. Despite a half-hour delay in getting the show started, the seminar began before a full house. A number of editors and film students gathered here to see some of the top editors in the business.

Moderator Alan Heim, ACE ("All That Jazz," 1979) discussed a number of editing-related topics with the panelists. Clips from each of this year's Oscar-nominated films were played on the giant Egyptian screen.

It was emphasized that the job of an editor isn't merely to put pieces of a film together, or simply cut dialogue scenes. Film editing is an art form which can either make or break a scene in a film. The addition of just a single frame, for instance, can change the emotion of a scene.

Each editor has been editing for a number of years. Some of the most interesting stories came from Joel Cox, who has been working for Oscar winner, Clint Eastwood, since 1976 on "The Enforcer." He has been working in the film industry since he played a baby in "Random Harvest" (1942), then eventually got into editing. He also told the audience that his working relationship with Eastwood has been very cordial over the years, with Eastwood having re-cut only one scene that Cox has put together in 30 years. Cox won an Oscar for "Unforgiven" (1992).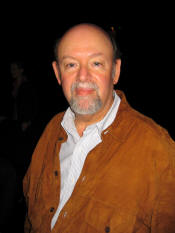 Paul Hirsch, ACE

Thelma Schoonmaker, winner of an Oscar for her outstanding work on "Raging Bull" (1980), talked about working on everything from "Woodstock" (1970) to "Gangs Of New York" (2002). She commented that she and director Martin Scorsese worked very closely on each of his films, and that she appreciates the fact that he uses less takes these days.

There was some discussion about the use of modern digital editing machines compared to film. Schoonmaker looked to the audience and said that most of them probably have never touched a piece of film while editing. Cox says he misses, to an extent, the sense of running film through a Moviola (now considered an old-fashioned editing machine). He enjoys the ease of editing on an AVID, with its non-linear editing ability to pick and choose cuts at a moment's notice, but the aesthetic of celluloid was missed. Overall, each editor seemed to like the convenience of digital editing.

Clips from each nominated film were screened to show off the editing skills of all. Schoonmaker's clip was from when Katherine Hepburn (Cate Blanchett) takes Howard Hughes (Leonardo DiCaprio) to visit her family. The dining room scene shows the erratic clatter of Hepburn's family and Hughes' uncomfortable feeling of being among them.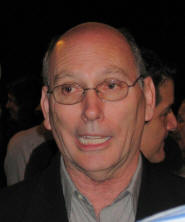 Joel Cox, ACE

For "Collateral," Miller and Rubell had two scenes shown: a scene where Vincent (Tom Cruise), Max (Jamie Foxx) and Barry Shabaka Henley (Daniel) have a calm, then tense conversation, and the nightclub shootout scene. It was evident through watching these clips that the editors carefully built suspense in the scenes to keep the audience on edge.

Matt Chesse's "Finding Neverland" clip was mostly from a dinner scene, in which Sir James Mathew Barrie (Johnny Depp) has dinner with his wife (Radha Mitchell) and Sylvia Llewelyn Davies (Kate Winslet) and her family. Then the clip cuts to an outdoor scene with Depp teaching Davies' boys how to fly a kite. His film editing was a contrast in that it was quiet editing; you don't see the cuts of the film, but feel them emotionally on a human level.

Joel Cox's scene was of a major turning point in "Million Dollar Baby," which I will not discuss here, as many of you may have not seen the film. But his scene was dynamic in how it cuts from intense action to raw emotion.

Finally, Paul Hirsch's scene from "Ray" was comprised of quick cutting style and a quick succession of scenes that begin with a love affair Ray Charles (Jamie Foxx) has with studio singer, Margie Hendricks (Regina King). The scenes build with intensity and sexual overtones all the way into a live club appearance by Charles. Hirsch shared an Oscar with Marcia Lucas and Richard Chew for their work on "Star Wars" (1977).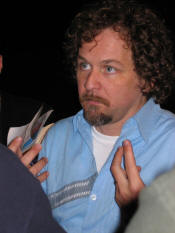 Matt Chesse

All of the scenes shown at the Egyptian were great examples to see how each editor has fashioned a sequence of cuts into storytelling. Miller and Rubell told the audience, for instance, that the jazz club scene wasn't very exciting to watch in dailies. Through editing and selecting the correct cuts, they shaped an uneasy scene in which the audience suspects something is about to go down. And as in all of these cases, it was demonstrated that an editor is very important to a film's storytelling technique.

After the seminar was over, a good number of audience members had a chance to meet the editors. Many film students asked the question: "How do I get into the film industry?" To paraphrase Schoonmaker, do anything. Be a director's driver. Get someone's coffee. Get your foot in the door. That's how she did it, and so did some of the other editors.
---

Congratulations to Thelma Schoonmaker for her Oscar for "The Aviator," and to all of this year's Oscar nominees for their excellent work in editing.
---
Photo Credits

William Kallay (© 2005 From Script To DVD)