THE SCREENING ROOM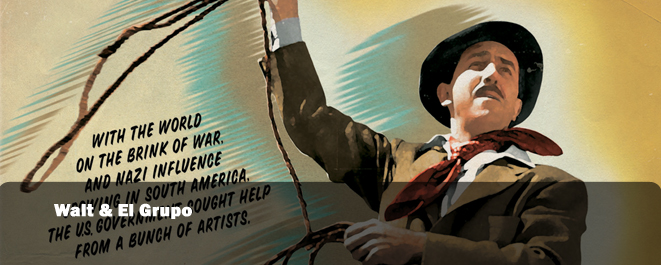 DVD REVIEW
By Bill Kallay
I've always been fascinated by Walt Disney, but not every aspect of his storied life & career has kept me entertained. The one period of his life that I've always glossed over was his trip to South America in 1941.

"Walt & El Grupo" is now on DVD.

During a strike of animators at his studio in Burbank, the United States government sent Walt and a small selection of his staff down to South America on a goodwill trip. The trip for Walt was a way to get away from the ugly strike, as well as meet a number of wonderful people. It would turn out to be a memorable trip for everyone involved. Walt got a nice vacation and his staff brought back enough material to make "Saludos Amigos" (1943) and "Three Caballeros" (1945). Mary Blair was also on the trip and Disney discovered that she was a great artist. She would become instrumental at Disney, especially in the theme parks with "it's a small world."

As much as I've tried over the years, I still cannot get into either "Saludos Amigos" or "Three Caballeros." They're painfully slow, even with their short running times, and very disjointed. "Walt & El Grupo" left me with almost the same impression, and I honestly don't mean that to be disrespectful to the filmmakers. The film is not disjointed and tells its story very well. It's obvious that they went through great lengths to make this film, and it's obvious that it was a labor of love. Director Theodore Thomas, whose father was famed Disney animator Frank Thomas, clearly did his research. But I found myself struggling to keep up with the film. In a sense, it reminded me of home movies in which you're shown wonderful people and wonderful locations, but you're wondering when the film will finish.

Thomas points his camera toward relatives and spouses who read letters from the group that traveled to South America. He focuses on people who either met Disney, or who have relatives who did. We also get tours of the places Walt and his group visited. All of this is beautifully filmed by cinematographer Shana Hagan. This is a good looking documentary. But like many contemporary documentaries, the tone of the film is a bit heavy. Although the participants in Walt's group appear to have had fun, the audience watching this film about it does not. I had the most fun in this film, or I should say I was most interested, in watching the studio strike footage. Perhaps that was fascinating to me because there was conflict. Now there's a film that I believe Thomas could provide for an entertaining look at one of the Disney studios' darkest times.

Please don't get me wrong. I think if I sat down with the people in Thomas' film for coffee and listened to their tales about the famous South American trip, I'd be completely interested. I think it's important, especially for Disney fans and scholars, that this film was made. Unfortunately, the film is slow going even for this Disney fan.

Special thanks to Click Communications

Photos:

© Disney. All rights reserved.
QUICK GLIMPSE
MOVIE
A slow moving tribute to Walt's South American trip

TALENT
Director: Theodore Thomas

Cast: Walt Disney, Frank Thomas, Mary Blair, Norm Ferguson

FEATURES
A number of extra interviews

RATING
PG

DVD
Picture: Very Good
Sound: Very Good

TECH SPECS
Aspect Ratio (1:78:1)

Dolby Digital 5.1

DVD RELEASE DATE
November 30, 2010
About | Site Index | Contact | Terms & Conditions | Links
Custom Search