HAPPY ANNIVERSARY, FROM SCRIPT TO DVD!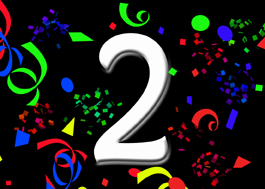 "I've had it bookmarked from the beginning! Congratulations on maintaining this fascinating and valuable website; I've consulted it many times." — Roberto Landazuri, Archivist, Dolby Laboratories Inc.
"Insanely cool!" — Theo Gluck, The Walt Disney Company
"The most accurate. The best researched. The ultimate in information. I'm grateful to Mike and Bill for their hard work in providing it. I'm constantly amazed at the information that they turn up. Thanks, gentlemen, for being the definitive source." — Mark Lensenmayer, Educator, Columbus, Ohio
"There isn't a week that goes by that I don't check fstdvd. I especially enjoy the Los Angeles and New York theatre photo galleries. You guys do a great job, not only in preserving memories of the great roadshow days but also with what's happening now. I have no doubt your site contributed to the recent success of Cinerama at The Dome. I find your site fascinating and wish you continued success." — John Sittig, Director Sight & Sound, Pacific Theatres/ArcLight Cinema Company/Cinerama Inc.
"Congratulations! Your website is great and full of detail. It has been a very good source of hard to find information especially on digital projection and 70mm. Again, great job and may the new year bring you much success!" — Robert Weisgerber, President, Super Vista Corp.
"From Script to DVD's professionalism and dedication to movies are admirable. Thanks, Bill and Mike, for all your thoughts." — Jena Huynh, www.4eyedtroll.com
"All the best for the anniversary of the site. Surely it is a must for all movie fans all over the world. All the best for all the team." — Miguel Carrara, Film Historian, Mexico City
"Congratulations to Bill and Michael on the growth of FSTD! They've done great work from the beginning. My clients have always liked to be associated with them because of Bill and Michael's ability to have an informed conversation, not just an interview. The stories are in-depth and cover new ground - not always easy to accomplish in the height of publicity campaign frenzy. FSTD deserves, and has earned, its success. I hope it's on the scene for many years to come." — Ellen Pasternack, Public Relations Person Extraordinaire
"HAPPY ANNIVERSARY From Script to DVD! I do believe I've been visiting this site for nearly that entire time! It's a terrific one- stop smorgasbord of all things movies, celebrating the art and craft of moviemaking and the continued promotion of watching films as they were MEANT to be seen: ON THE BIG (and preferably WIDE) SCREEN! CONGRATULATIONS!" — Ralph Eggleston, Pixar Animation Studios
Dear Friends,

We'd like to mention that two years ago this autumn, we officially launched our website, www.FromScriptToDVD.com. As with our first anniversary, we thought our second anniversary worth celebrating. And in light of this festive occasion, we would like to thank all of you for supporting the site with your visits, feedback and word of mouth.

In this age of too many options and too little time, we hope you will continue to consider our website worthy of a visit from time to time.

Sincerely,
Michael Coate
William Kallay
www.FromScriptToDVD.com