THE SCREENING ROOM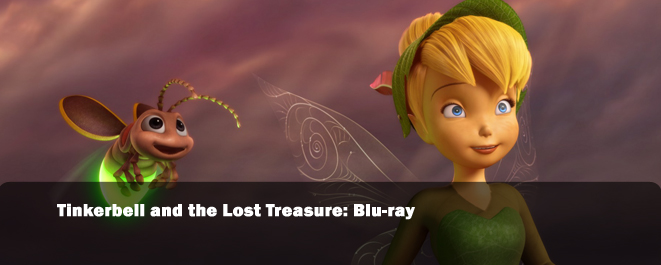 BLU-RAY REVIEW
By Bill Kallay
Maybe my gripes made it to Disney Animation after all.
I wasn't too keen on Disney's decision to have Tinkerbell talk. But they broke tradition anyway and probably sold a million "Tinkerbell" movies last year. My main complaint was Tink talking. My second complaint regarded her being in a mundane movie. With "Tinkerbell and the Lost Treasure," one complaint hasn't been fixed, but the other one has improved.

"Tinkerbell and the Lost Treasure" is now available on Blu-ray.

Since my daughter is growing out of needing to watch princess movies, I reluctantly requested this title for review. My friend at Click Communications, Dre, said it was pretty good. Much to my surprise, this new Tink is a lot better than the cutesy Tink in the first movie released in 2008. The moviemakers threw Tink's fairie pals, who all looked like fashion plates, to the side. They pushed the goofy side characters and unbearably cute animals out the door for the most part. What they've got left is a decent little story about Tinkerbell's adventure to find the Lost Treasure.

The adventure starts with Tinkerbell's assignment to build a special scepter. As she does it, her well meaning pal, Terence (Jesse McCartney), ends up causing her more trouble than she needs. Since her scepter is now in ruins, she sets off on an adventure. The story soon becomes one of Tinkerbell realizing she needs friends, even if they're sometimes a pain.

Thankfully, the story doesn't get bogged down in being too sugary sweet. The story and adventure is very predictable with the usual cliché situations and characters we've seen in numerous kiddie flicks. But the pace is fast and before you know it, the movie's finished. I still disagree with Disney's decision to make Tinkerbell talk. I still believe she's at her best by being stubborn and silent. If this were a "Barbie" character in the same exact story and same exact role Tinkerbell occupies, I don't think an audience could tell them apart.

The Blu-ray is a stunner. This is a reference quality disc. The picture is gorgeous, though the digital animation lends itself to the high definition format quite well. For a movie made for home entertainment, there is no getting around how much detail and color is within the frames of this movie. Even for a cynic like me, I enjoyed looking at it.

The DTS-HD Master Audio soundtrack is crisp and offers some good fidelity for a film. It's nothing earth shaking by any means, but the dialogue and music is clear enough to enjoy.

Rants aside, this is a movie meant for little girls and it does its job. The story is easy to digest, while the movie moves along fast enough for parents not to get squirmy.

Special thanks to Click Communications

Photos:

© WDSHE. All rights reserved.
QUICK GLIMPSE
MOVIE
Better than "Tinkerbell"

TALENT
Director: Klay Hall

Cast: Mae Whitman, Anjelica Houston, Jesse McCartney

FEATURES
Tons of bonus features

RATING
G

BLU-RAY
Picture: Excellent
Sound: Excellent

TECH SPECS
Aspect Ratio (1.78:1)





BLU-RAY RELEASE DATE
October 27, 2009
About | Site Index | Contact | Terms & Conditions | Links
Custom Search