THE SCREENING ROOM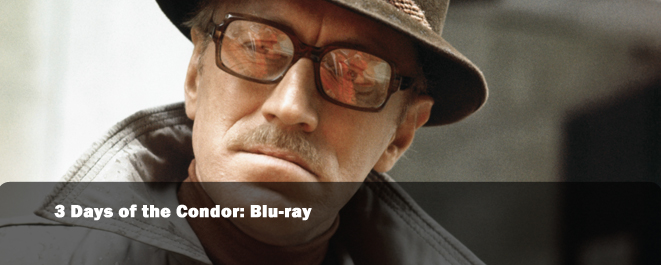 BLU-RAY REVIEW
By Bill Kallay
At one time, Robert Redford was unstoppable as an actor. He epitomized rugged looks and great acting of the 1970s. Sydney Pollack, director, was also a hot property during the decade. They teamed up again for the thriller, "3 Days of the Condor."

"3 Days of the Condor" is now on Blu-ray.

Using some Alfred Hitchcock style, and his own assured direction, Pollack weaves an intricate tale of intrigue. Redford plays bookworm (if that can be believed) in a secret CIA office. While he goes out to get the office lunch, he comes back to find everyone shot to death. He's now on the run from mysterious killers.

Film students of today should sit down and watch Redford and Pollack in action. Redford, though a bit monotone at times, is a good study in acting. He exudes confidence and at times, fear. He's believable as a man on the run. Pollack, as director, lets Redford and the cast (including a subdued Faye Dunaway) go on their acting intincts. Yet he maintains his own precision and control over where the movie goes. With Pollack, flash is kept at a minimum. His concentration is on making a good movie.

Outside of the heavily dated music by Dave Grusin, the film works itself at a leisurely pace and still captures your attention. Its a film that fits right in with the mood of the 1970s of trusting no one. Perhaps this was a feeling shared by many Baby Boomers. Trust no one over the age of 30 (though Redford was about 39 when the film was made), and especially don't trust Max von Sydow.

The Blu-ray soundtrack is good, but it's not going to knock anyone's socks off. The movie, like most movies during the early-to-mid 1970s, was presented in mono sound. Paramount has done an admirable job in keeping the soundtrack mostly mono. There are few multi-channel effects, which aren't necessary for this film anyway. The sound is clear but not dynamic.

The picture quality might stun those who expect every Blu-ray to be sharp and bright. Owen Roizman's cinematography is gritty and dark. The film is grainy and looks appropriate for the time it was made. This is the way it's supposed to look.

It's too bad that Pollack passed away far too soon, and it's also too bad Redford pretty much retired from acting. They made for a great movie pair. "3 Days of the Condor" shows why.


Special thanks to Click Communications

Photos: © Paramount. All rights reserved.
QUICK GLIMPSE
MOVIE
Excellent thriller from the '70s

TALENT
Director: Sydney Pollack

Cast: Robert Redford, Faye Dunaway, Max von Sydow, Cliff Robertson

FEATURES
Trailer

RATING
R

BLU-RAY
Picture: Very Good
Sound: Good

GEEK OUT
Brad Pitt reminds me of Redford

TECH SPECS
Aspect Ratio (2.39:1)





BLU-RAY RELEASE DATE
May 19, 2009
About | Site Index | Contact | Terms & Conditions | Links
Custom Search