Related Articles:
"Superman Returns" IMAX Engagements
"Superman Returns" Review
The Digital Cinema Engagements Of "Superman Returns"
Compiled By
Michael Coate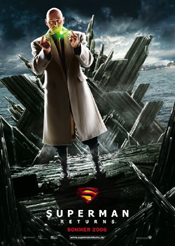 The following is a list of DLP Digital Cinema presentation locations for "Superman Returns." (The movie is also being released in IMAX; click here for a list of those locations.)
---
UNITED STATES (Released June 28, 2006)

ALABAMA
Birmingham: Carmike Summit 16
Hoover: Rave Patton Creek 15
Huntsville: Rave Valley Bend 18
Orange Beach: Rave Wharf 15

ARIZONA
Mesa: Cinemark Mesa 16
Peoria: Harkins Arrowhead Fountains 18

ARKANSAS
Little Rock: Rave Colonel Glenn 18

CALIFORNIA
Bonsall: UltraStar Galaxy 6
Carlsbad: UltraStar La Costa 6
Chula Vista: UltraStar Chula Vista 10
Daly City: Century 20 Daly City
El Centro: UltraStar Imperial Valley 14
Fontana: UltraStar Fontana 8
Glendale: Mann Marketplace 4
Long Beach: Regal Edwards Long Beach Towne Center Stadium 26
Los Angeles (Hollywood): Mann Grauman's Chinese
Los Angeles (Van Nuys): Mann Plant 16
Los Angeles (Westwood Village): Mann Village
Porterville: Galaxy Porterville 9
Poway: UltraStar Poway Creekside Plaza 10
Rancho Cucamonga: UltraStar Terra Vista 6
Riverbank: Galaxy Riverbank 12
San Diego (Del Mar): UltraStar Del Mar Highlands 8
San Diego (Mission Valley): UltraStar Mission Valley Hazard Center
San Jose: Century 20 Oakridge
Thousand Oaks: Mann Janss Marketplace 9
Tulare: Galaxy Tulare 10

COLORADO
Colorado Springs: Cinemark 17 at Carefree Circle
Fort Collins: Carmike 10

CONNECTICUT
Hartford: Crown Palace 17
Trumbull: Crown Marquee 16

DISTRICT OF COLUMBIA
Washington: AMC Loews Georgetown 14

FLORIDA
Bradenton: Carmike Royal Palm 20
Daytona Beach: R/C Ocean Walk Movies 10
Lake Buena Vista: AMC Loews Pleasure Island 24
Melbourne (Viera): Rave Avenue 16
Melbourne (West Melbourne): CinemaWorld 16
Pensacola: Rave Pensacola 18

GEORGIA
Cartersville: Carmike 12
Fort Oglethorpe: Carmike Battlefield 10

IDAHO
Meridian: Hallett Majestic

ILLINOIS
Oak Park: Classic Lake
Schaumburg: AMC Loews Streets of Woodfield 20
Skokie: Crown Village Crossing 18

INDIANA
Fort Wayne: Carmike 20
Fort Wayne: Rave Jefferson Pointe 18
Plainfield: Rave Metropolis 18

IOWA
Des Moines: Carmike Southridge 12
Johnston: Carmike Wynnsong 16
Urbandale: Carmike Cobblestone 9

LOUISIANA
Baton Rouge: Rave Baton Rouge 16

MARYLAND
Annapolis: Crown Annapolis Mall 11
Hanover: Muvico Egyptian 24

MASSACHUSETTS
Randolph: National Amusements Showcase Cinemas Randolph
Revere: National Amusements Showcase Cinemas Revere

MICHIGAN
Birch Run: Emagine Cinema Hollywood
Canton: Emagine Canton 18
Kentwood: Loeks Celebration! Cinema Grand Rapids South
Novi: Emagine Novi 18

MINNESOTA
Apple Valley: Carmike 15
Mounds View: Carmike Wynnsong 15
Oakdale: Carmike Oakdale Stadium 20

MISSISSIPPI
Madison: Malco Grandview

MISSOURI
Lees Summit: Dickinson Eastglen 16

NEVADA
Las Vegas: Century 16 South Coast
Las Vegas: Regal Colonnade Stadium 14
North Las Vegas: Galaxy Cannery

NEW JERSEY
Edgewater: National Amusements Edgewater Multiplex
Elizabeth: AMC Loews Jersey Gardens 20

NEW YORK
Farmingdale: National Amusements Farmingdale Multiplex
Gates: Cinemark Tinseltown USA
Holtsville: National Amusements Island 16: Cinema de Lux
New York (Brooklyn): ADM Pavilion
New York (Manhattan): AMC Loews Lincoln Square
New York (Manhattan): Regal UA Union Square Stadium 14

NORTH CAROLINA
Durham: Carmike Wynnsong 15
Greensboro: Carmike 18
Morrisville: Carmike Park Place 16
Raleigh: Carmike 15
Wilmington: Carmike 16
Wilson: Carmike 10
Winston-Salem: Carmike 10
Winston-Salem: Carmike Wynnsong 12

OHIO
Columbus: Rave Polaris 18
Springdale: National Amusements Springdale 18: Cinema de Lux
Valley View: Cinemark at Valley View
West Chester: Rave West Chester 18

OREGON
Corvallis: Carmike 12
Tigard: Regal Bridgeport Village Stadium 18

PENNSYLVANIA
Hanover: R/C Hanover Movies 16
Moosic: Cinemark Tinseltown 20

SOUTH CAROLINA
Greenville: Greenville Camelot

TENNESSEE
Antioch: Carmike Bell Forge 10
Chattanooga: Carmike Bijou 7
Chattanooga: Carmike Wynnsong 10
Chattanooga: Rave East Ridge 18
Clarksville: Carmike Governor's Square 10
Goodletsville: Carmike Rivergate 8
Hixson: Carmike Northgate 14
Knoxville: Regal Pinnacle Stadium 18
Murfreesboro: Carmike Wynnsong 16

TEXAS
Austin: Galaxy Highland 10
Hickory Creek: Rave Hickory Creek 16
Houston: AMC Loews Willowbrook 24
Hurst: Rave North East Mall 18
Longview: Carmike 10
Lufkin: Carmike Lufkin Mall 9
Plano: Cinemark Legacy 24
Plano: Cinemark Tinseltown 20
Tyler: Carmike 14

UTAH
Provo: Carmike Wynnsong 12
Salt Lake City: Megaplex 12 at The Gateway
Sandy: Megaplex 17 at Jordan Commons
South Jordan: Megaplex 20 at The District
West Jordan: Carmike 12
West Jordan: Cinemark 24 Jordan Landing
West Valley City: Carmike Ritz 15

VIRGINIA
Merrifield: National Amusements Lee Highway Multiplex

WASHINGTON
Monroe: Galaxy 12
Sunnyside: Hallett Grand Cinemas Yakima Valley
Vancouver: Cinetopia

WEST VIRGINIA
Morgantown: Carmike Morgantown Mall 12


CANADA

ONTARIO
Waterloo: Cineplex Galaxy at Conestoga Mall


SOURCES: Industry contacts, theatre exhibitors, newspaper advertisements, trade coverage, theatre chain websites, Digital Cinema news websites, online ticket ordering websites

What is Digital Cinema? See:
www.christiedigital.com
www.dcinematoday.com
www.dlp.com
www.reald.com
www.technicolor.com
Official "Superman Returns" Website: http://supermanreturns.warnerbros.com
---
IMAGE: Copyright 2006 Warner Bros. Entertainment. All rights reserved.