THE SCREENING ROOM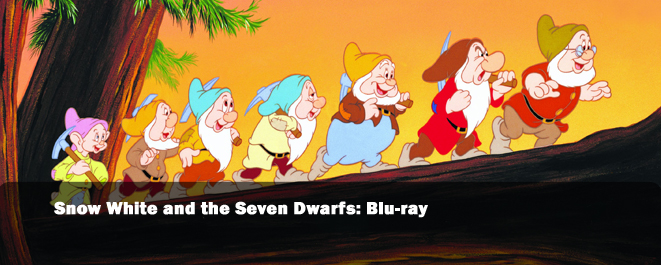 BLU-RAY REVIEW
By Bill Kallay
As far as princesses go, Snow White is tops in the Disney lineup. She's instantly recognizable and her songs are hummable. Children flock to see her at the Disney theme parks. This girl has it good. So why, after all these years, isn't "Snow White and the Seven Dwarfs," despite being a masterpiece, one of my least favorite Disney classics to watch? I'll tell you why.

"Snow White and the Seven Dwarfs" is now available on Blu-ray.

This was one of the first films I saw in a theater. If my memory is correct, I saw it at about the age of 7 in 1975. I remember being delighted in the antics of the dwarfs, especially Dopey. He was just a clown. Grumpy was a crack up because he was such a sour puss. The Wicked Queen scared the daylights out of me once she transformed herself into an old hag. I can also remember sitting on the edge of my seat as the dwarfs went after the Wicked Queen in the exciting climax. Even her death was frightening to me. Walt Disney and his incredible animators knew how to tell a compelling story.

Since that time, I never really went back to the film. I always found Disney's later animated features like "Pinocchio" and "Lady and the Tramp" more appealing. I didn't revisit "Snow White" until 1993's digitally restored version was released. I couldn't sit through it. Not because I didn't like the film, but because both my girlfriend and I felt ill that night. Must've been a bad dinner. I would've revisit it until 2000 when it came out on DVD.

I finally discovered why the film has been considered a masterpiece, and why it's also driven me away. The film's heart, which I believe is the Wicked Queen's vanity and pure evil heart to destroy Snow White, still stands. She is one evil character without an ounce of humanity or compassion. In my book, she's perhaps one of the best villians of cinema. I also re-discovered the charm of the Seven Dwarfs. Disney instilled charm in every one of the characters, even though some aren't totally memorable like Bashful, Sneezy, Happy and Sleepy. Doc, Grumpy and Dopey seem to have stronger personalities.

What bothers me most about "Snow White" is Snow White. Out of all the classic Disney versions of famous fairy tale princesses, Snow comes off as condescending and so sweet you want to want to eat a tablespoon of salt to balance everything out. I'm not sure if it's the high pitched voice of Adriana Caselotti, or just the way she treats the dwarfs like little children. She's almost too phony to enjoy for any extended amounts of time. She talks to the forest animals like they're a year-old human baby. She talks to the dwarfs the same way. As an audience member, you almost expect her to start talking to you the same way.

Snow White also doesn't have an edge to her, or a strong desire to help herself in danger. I'm not expecting her to pull out martial arts moves like the DreamWorks princesses. After she escapes the Huntsman, she falls helpless in the forest. When the Wicked Queen comes to visit her, she doesn't have a clue not to talk to strangers offering fruit. Didn't her mom teach her anything? Granted, the film was made from a fairy tale (which I understand was far more scary and gruesome than Disney's tale), and made in a different era. And I understand without her naiveté, there would be no movie. But it would've been nice to see Snow White have some smarts about her.

If I seem harsh on Snow White, it's only because the rest of the film is a masterpiece. It doesn't really have much of a plot. Disney gets down to business very fast by establishing the Prince and Snow White, the Wicked Queen's vanity and mission, and the Dwarfs. My daughter had a hard time sitting through it, but it really is well paced. Disney's animation isn't as refined as it would become, in my opinion, on "Bambi" and "Pinocchio" later on. But it's still brilliant. The texture, the color and the overall mood of the film is tops.

The songs by Frank Churchill, Leigh Harline, and Paul Smith are very much of the era, but hold up remarkably well today. "Someday My Prince Will Come," "Heigh-Ho," and "Whistle While You Work" are instantly recognizable. Very few songs in films today can do that. These were talented song writers. I also enjoyed the underlying score.

The film, though I don't care for Snow White herself, still packs an emotional wallop. Perhaps it's the reaction from the Dwarfs that gets to my heart. I can remember holding back tears as a kid when Grumpy shows his feelings for Snow White. Quite moving and didn't want to appear like a crybaby to my parents, after all.

The Wicked Queen is stone cold, and I love her for it. She's such a callous and vain character, it would take Stromboli to equal her. I don't think the film would've been as strong without her. Actress Lucille LaVerne instills passion and a wicked sense of humor in her that we want her to give Snow White the poison apple. Sounds cruel, but it's sort of true! Sorry Snow.

The Blu-ray is beautifully done, though again, Disney seems to have cleaned it up and pumped it to look too much like a contemporary film. Maybe it's different on a bigger screen or projection high definition system, but on my 50-inch Panasonic plasma, there isn't any film grain. Call me old school, but I like the original film grain if it existed. I also recall the 1993 restoration looking soft as if it was shot with a soft gauze filter. I was told by one of the heads of that restoration that it wasn't shot soft. It could've been a dirty projector lens or food poisoning the night I saw it. Nonetheless, most people will probably find this disc eye popping.

The DTS-HD Master Audio soundtrack is crisp and holds fairly close to the original fidelity. As much as I love stereo sound, I find it sounds funny coming from a 1937 film which was recorded in mono sound. Credit is due to the Disney sound department for keeping the multichannel soundtrack as faithful as possible without overriding it with too much sound embellishment. The original soundtrack is available in mono. Don't let the lower sound volume quality fool you. It's presented at a lower bit rate, and if it was presented in DTS-HD, it would sound fine.

Although it's not one of my favorite Disney animated features, it's still one heck of an achievement in cinema. It put the Disney studio firmly on the map, and has made a lot of little girls happy at Disney's theme parks. "Mom, it's Snow White!" Cue the stampede!

Special thanks to Click Communications

Photos: © WDSHE. All rights reserved.

QUICK GLIMPSE
MOVIE
The original classic comes to Blu-ray in a fine edition

TALENT
Director: David Hand

Cast: Adriana Caselotti, Pinto Colvig, Roy Atwell, Lucille LaVerne

FEATURES
Tons of bonus features from the 2000 DVD, plus new ones and of course a music video from a Disney Channel star

RATING
G

BLU-RAY
Picture: Excellent
Sound: Excellent

TECH SPECS
Aspect Ratio (1.37:1)





BLU-RAY RELEASE DATE
October 6, 2009
About | Site Index | Contact | Terms & Conditions | Links
Custom Search