THE SCREENING ROOM

From Disney (additional material by William Kallay)
A magical fairy adventure for the whole family, "Secret of the Wings," features a spectacular voice cast including Academy Award®-Winner Anjelica Huston ("Smash") as Queen Clarion, Timothy Dalton ("Chuck," "The Living Daylights") as Lord Milori, Lucy Liu ("Elementary," "Charlie's Angels") as Silvermist, Raven-Symoné ("That's So Raven") as Iridessa, Megan Hilty ("Smash") as Rosetta the Garden Fairy, Pamela Adlon ("Californication") as Vidia, Matt Lanter("90210") as Sled, Debby Ryan (Disney Channel's "Jessie") as Spike, Mae Whitman ("Parenthood") as Tinker Bell, and introducing the sparkling new winter fairy, Periwinkle, voiced by Lucy Hale (ABC Family's "Pretty Little Liars").

Premieres took place in New York City and Anaheim.

NEW YORK CITY

Tinker Bell and her sister Periwinkle stepped out onto the red carpet together today at the Disney Digital 3D™ premiere of Secret of the Wings. They were joined by film talent Anjelica Huston (Queen Clarion), Mae Whitman (Tinker Bell), Timothy Dalton (Lord Milori), Raven-Symoné (Iridessa), Matt Lanter (Sled) and filmmakers Peggy Holmes (Director), Michael "Makul" Wigert (Producer). Special guests included Ken Paves (Celebrity and "Periwinkle's" hair stylist), Sandra Lee, 2012 Miss USA Olivia Culpo, Donald Trump Jr., Kerry Butler, Kimberly Chandler (wife of New York Knicks player Tyson Chandler), Clare Foley (Sinister), Brent Zachery, Gretta Monahan, Faith Wladyka (Blue Valentine), Mackenzie Aladjem ("This is 40"), Suzie Ketchum ("Basketball Wives") and Alexis Welch (wife of New York Knicks star A'mare Stoudemire). The All-New Flitterrific 3D Flick "Secret of the Wings," executive produced by Academy Award® winner John Lasseter, follows the adventures of Tinker Bell and friends on their new adventure into the never-before-seen mysterious Winter Woods. It is in these woods that Tink finds out that she has a sister and discovers other incredible secrets that will change her life forever.

ANAHEIM

"Dancing With The Stars" pro Kym Johnson hosted a screening of Disney's "Secret of the Wings" at Downtown Disney for guests from the Down Syndrome Association of Los Angeles at Disneytoon Studios in Glendale, CA, and was presented with a "Fairyization" created especially for her by the filmmakers, Director Peggy Holmes and producer Michael Wigert.

"Secret of the Wings" is now available on 3D Blu-ray, Blu-ray, DVD and Digital Download.
SECRET OF THE WINGS PREMIERE PHOTO GALLERIES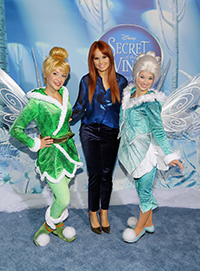 Debbie Ryan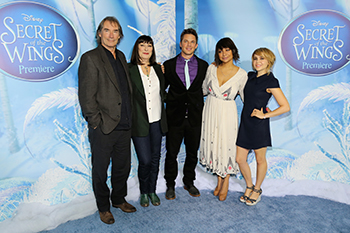 (Left to right) Timothy Dalton, Anjelica Huston, Matt Lanter, Raven-Symoné and Mae Whitman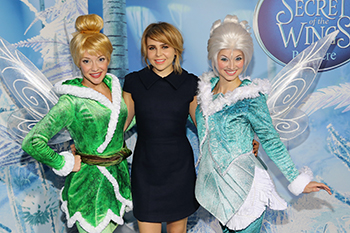 Mae Whitman
At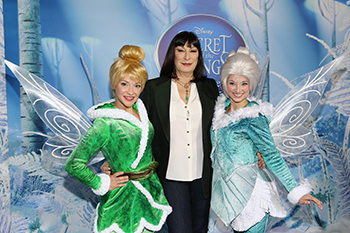 Anjelica Houston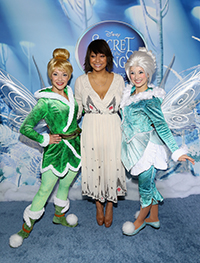 Raven-Symoné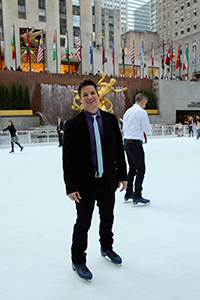 Matt Latner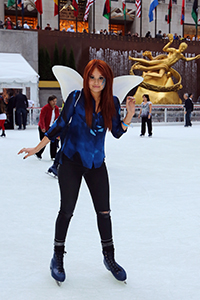 [3]
Debbie Ryan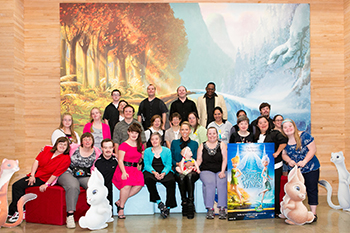 [4]
Kym Johnson and guests from the Los Angeles Downs Syndrome Association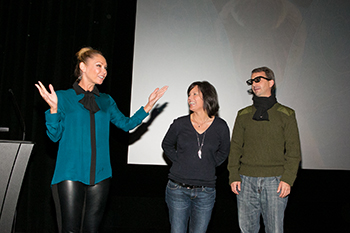 [4]
Kym Johnson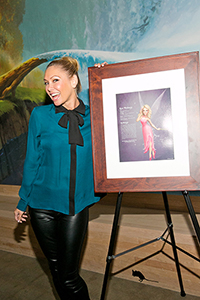 [4]
Kym Johnson poses
Special thanks to Click Communications
Photos © 2012 Disney. All rights reserved.