By
William Kallay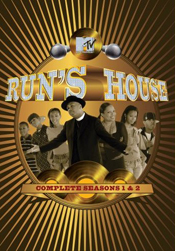 I must admit that perhaps I'm not the right person to review the new "Run's House" DVD set. The popular MTV series, which features the Reverend Run (Joseph Simmons, formerly of the groundbreaking hip hop group Run-DMC) and his family, seems like an unusual choice for me to pay attention to. Hip hop has rarely blipped on my music radar, though the collaboration of Run-DMC and Aerosmith on "Walk This Way" can make me turn up the radio loud. As I get into middle age, I rarely watch MTV anymore. Strangely enough, my wife still watches the reality shows on the channel, and she's older than me. The reality television craze just doesn't appeal to me. What a curmudgeon I am.

My conclusion? I just ain't hip! Yet, this site covers the gamut that is Hollywood, and "Run's House" is every bit Hollywood, even though it takes place in Rev. Run's mansion in New Jersey. Glitz! Cameras! Lights! Family! I can relate to that!

The show is presented on a three-disc set that comes in a handsome case. Each of the discs is presented in full screen (1.33:1) and in Dolby Digital 2.0 sound. There are no audio commentary tracks. Episodes are shown in order and bonus features are spread out over the discs.

Disc 1 features Season One with episodes "Angela's Graduation," "Run's Facts of Life," "There's No Place Like Home," "Do Your Best, Forget The Rest," "The Fruits Of Labor," and "Simmons Family Vacation." Disc 2 features Season Two with episodes "Baby Fever," "A Healthy Heart," "All Work And No Peace," "Maximum Growth," and "Vegas Vacation." Disc 3 features the continuation of Season Two with episodes "Rev's Fix It List," "Rev Mom," "Downward Facing Dawg," "Anger Management," and "Two Down And One To Grow." The episodes, though they have chapter stops, have a play function which allows for the viewer to watch the episodes without a break. Bonus features are mostly tours of various rooms in the Simmons house, or a few outtakes.

The picture quality is very good across the board, lending itself to the portable camera style of the show. I'm not sure if the original video footage was shot in 24p, or run through a software program to give the show a film-like appearance, but the faux film-look isn't distracting.

Sound is clean, though surprisingly presented at only 192kbps. The lower playback rate doesn't affect the quality of the sound. Most of the programs feature dialog that was recorded live, so this DVD set isn't going to sound like a film with tons of ADR work done to it. Music comes in quick spurts, so this isn't the kind of soundtrack you're going to use to show off your home theatre sound system.

"Run's House" doesn't break any new ground on the reality television genre. Nearly all reality shows follow a standard structure. Place cameras around a house, tape a family and its daily routine, cut out the boring real reality bits, then add cute sound and music riffs when something dramatic happens, and voila! Reality television. "The Osbournes" (2002-2005) and "Hogan Knows Best" (2005-present) follow this routine to the tee.

Before popping the DVD into my player, images of Run-DMC ran through my head. Hard core raps with in-your-face videos. Street cred. Lots of bling. Attitude. Time has changed Run into a family man. He stills raps, but with a religious message, and he also runs a business empire producing records and selling apparel and sneakers.

I was expecting the Simmons kids to be out of control. Maybe this comes from watching snippets of "The Osbourne" children, but I expected a household of mayhem. I was expecting the Rev. Run to be rapping sermons my way. But to my surprise, none of that occurred.

"Run's House" pretty much follows the reality family genre. But what sets it apart, at least for me, was how much I enjoyed the Simmons family. At the core is the Rev. Run, and he's quite likable. Despite his wealth and stature in the hip hop community, he's sincere as the head of the Simmons household. He treats his wife & kids with lots of love and respect. Not that "The Osbournes" doesn't show the loving side of Ozzy, for instance. But the Rev. Run is straight forward without the often bizarre behavior that Ozzy brought to his show. This is a refreshing change.

The Simmons family is as straight forward as they come. Wife and mom, Justine, is pleasant. She tries to be the practical half of her marriage when the Rev wants to buy something, for instance. Children Vanessa, Angela, Jo Jo, Diggy, and Russy are typical siblings. The sisters gab in their room, while the brothers wrestle, swim and cut the occasional cheese in front of unsuspecting family members. Now that is family!

Though we don't see the Simmons argue much, they have an unusual trait not seen on very many of these reality family shows: love for each other. This is seen in many of the scenes spread across the episodes. When Angela looks for a new puppy in "Two Down And One To Grow," she takes Diggy and Russy along and asks them for their support. The Rev. Run doesn't want another dog in the house. Without being cloying, they agree to put in a good word. This might sound odd, but the interaction between Angela and her young brothers was sweet.

It's also clear how much Rev. Run loves his family. He never yells at the kids when they're causing a ruckus or when Russy is consistently breaking his Game Boy videogame units. When Russy takes his anger out on his game, the Rev. decides with Justine to take him to counseling. Heck, I didn't get that kind of love until I was much, much older! The Rev. also doesn't argue much with his wife. Of course, we don't see everything that the Simmons' do 24 hours a day, but I got the sense that the love in their house is for real.

The one thing I did come away with from watching the episodes is how much the Rev. Run spoils his family. This is reiterated throughout the show. Angela wants a nice high school graduation party that could cost upwards of over $30,000. Rev. Run talks her down to something less expensive and manageable, just as most fathers would. In the end, the Rev. gives in with something even more spectacular. I'm not sure if most fathers would give in as much the Rev. does in that episode, especially at that price. I guess if you've got the funds handy, spend them. But he's not above spoiling himself when he invests in a private jet. The message I got from this was that if you're good in the Rev's house, and don't whine too much, you get something really nice in return.

Let's talk about the Rev. Run's House. Dang, it's nice! In the driveway, a fancy Escalade is parked. The family room (or great room) and kitchen are huge and immaculate. No dishes in the sink, because Mama Simmons doesn't like that. The kids' rooms are usually spotless. But the coup de grace is the indoor basketball court. Nice polished wood floors, adorned with Rev. Run's record label, makes this the envy of any dad. I don't even have a basketball hoop above my garage. And how about the Rev's home theatre? Curtains adorn the movie screen, and he's got a one-click remote control that dims the lights so that you can see twinkling stars above you as the movie plays. I guess I'm going down to the local home improvement store for some Christmas lights on clearance. My home theatre is pathetic compared to the Simmons' home theatre.

Am I envious of Rev. Run? Sure. Who wouldn't want a nice lifestyle where money is not much of an object? All I can imagine, if there is a downside to wealth, is the upkeep of a large mansion. But I guess that's what maids and maintenance men are for.

A show like "Run's House" is, after all, entertainment. This type of reality show is essentially a promotional tool for the rich & famous. They show off their worldly goods, and an average person might drool over the excess. In nearly every reality show that my wife watches, and she watches them all, Daddy is super rich and spoils his kids with a vengeance. Whatever daughter needs, whether it's a new SUV or gigantic Sweet 16 birthday bash, she gets it because Daddy loves her. She doesn't have to do a damn thing to earn it. Thus the rich get richer off us because we watch the show and perhaps buy their product spin-offs. Sickening, yes. We wince at the price of $3 per gallon gasoline, yadda, yadda and so forth, while they're driving around in Escalades yakking on their Blackberries without a care in the world. Does their wealth and status affect me and my everyday life? Nope. I have a roof over my head, food on the table, and my own wife and kid who like to make a mess around the house.

So why doesn't somebody make a reality show about "normal" people? Wait, that's been done. There are reality shows that focus on the opposite extreme of family households that don't have tons of money. "Extreme Makeover: Home Edition" plunges a needle into your heart to pull out the sappy sorrow you may have for a family in need. "Super Nanny" shows us that if you thought your own kids were bad, you've got another thing coming. And "What Not To Wear" demonstrates that makeovers are bunk, never last, and that no matter what anyone says, people do judge you by your appearance. If that wasn't the case, would there be shows like "What Not To Wear" or plastic surgery?

What I did like, though, was that "Run's House" shows that the Simmons' are normal, if not entertaining. I guess it's like staying at a decent hotel. You've got fresh towels, a TV and and room service. But wouldn't it be nice to stay at a Four Seasons? As for the Simmons family, they live in a totally nice mansion and can afford what they pretty much want (not need), but that's their prerogative. If I was a guest at their house, I'd be totally comfortable chatting with the Rev. Run and his family, no matter the obvious wealth. I'm sure if this site becomes larger than eBay, I'll be spreading the wealth amongst my family. That's not happening anytime soon, but I'll enjoy "Run's House" in the meantime.

Run's House
Paramount Home Entertainment
Catalog Number 80317
Region 1
1.33:1
Dolby Digital 2.0
DVD Release Date: March 20, 2007
$38.99
Not rated
Three DVD-9 Discs
2007
316 minutes
Color
Directors: N/A
Cast: Joseph, Justine, Vanessa, Angela, Jo Jo, Diggy, and Russy Simmons; Sean Combs and Russell Simmons
---
Special thanks to Mac McLean
IMAGES: © MTV Networks. All rights reserved.