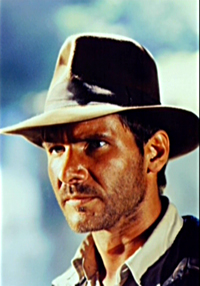 We want to wish Indiana Jones, our favorite adventurer and archeologist, a very happy 25th birthday of his monumental debut in "Raiders Of The Lost Ark." It was on June 12th, 1981 that Harrison Ford, as Indiana Jones, began entertaining audiences with his intrepid quest for the Ark of the Covenant.
"Raiders" was truly a triumph from Steven Spielberg & George Lucas. This film is perhaps the greatest adventure film of all-time, making audiences laugh, cringe and cheer as Indy and Marion (Karen Allen) traveled the globe, while battling nasty Nazis and an evil French archeologist, Belloq (Paul Freeman). Add to that thrilling chases, pounding fist fights, slithering snakes, scary skeletons and melting faces, you've got yourself one hell of an entertaining movie!
Stay tuned for an upcoming series of articles on this site devoted to "Raiders." This was the best of the Indiana Jones Trilogy and deserves to be celebrated.
The staff of FSTD congratulates the entire cast and crew of "Raiders Of The Lost Ark" on the film's 25th anniversary. Thanks for the adventures!

Michael Coate
William Kallay
---
IMAGE: Copyright 1981 Lucasfilm Ltd. All rights reserved.