THE SCREENING ROOM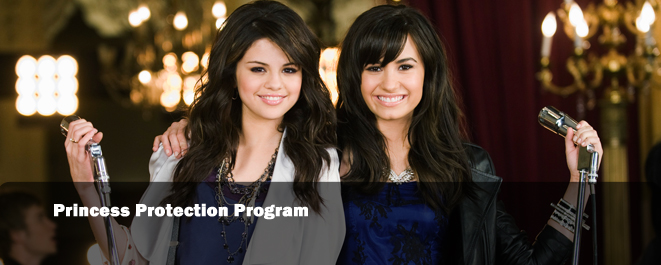 DVD REVIEW
By Bill Kallay
When did princesses become so dull?

"Princess Protection Program" is now available on DVD.

Selena Gomez & Demi Lovato are cute enough girls with bright smiles that appeal to little wannabe princesses. They do look identical, so I had do a double-take to figure out who was who. They are charming girls, but this movie doesn't do them justice.

"PPP" uses all the cliches princess movies have used in the last few years; rich spoiled girls who give the tomboy (Gomez) a hard time; a princess from a country with a made up Disney name; hunks with no personality; routine gags involving frozen yogurt; a believe in yourself message. Been there, seen that. The movie feels like "A Cinderella Story," and "The Princess Diaries" 1 & 2.

Lovato is the princess in peril, and Gomez's special agent dad recues Lovato. The two teens end up living together and learning about each other's worlds. They learn some lessons about loosening up, and how to be a princess.

The movie is conventional Disney Channel material and won't break down any walls like "High School Musical" did. Even for my daughter, the movie was slow and predictable.

Bill Kallay

Special thanks to Click Communications

Photos:

© BHVE. All rights reserved.



QUICK GLIMPSE
MOVIE
Dull princess adventure

TALENT
Director: Alison Liddi-Brown

Cast: Demi Lovato, Selena Gomez

FEATURES
Music video and more

RATING
Not rated

DVD
Picture: Very Good
Sound: Very Good

GEEK OUT
Who's who?

TECH SPECS
Aspect Ratio (1.78:1)





DVD RELEASE DATE
June 30, 2009
About | Site Index | Contact | Terms & Conditions | Links
Custom Search