Related Articles:
"Peter Pan" Re-Premiere!
Walt Disney's Classic Soars At El Capitan
By
William & Alexandria Kallay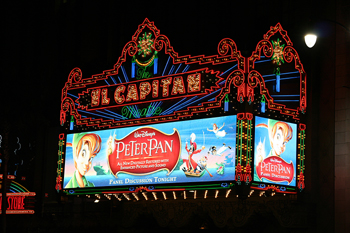 Peter Pan, that boy who never wanted to grow up, flew into the famous El Capitan Theatre in Hollywood to see his 1953 classic film, "Peter Pan." Another Walt Disney animated feature is making its way to DVD in a special collector's 2-disc edition, and Disney pulled out all the stops to show the digitally restored film on the big screen. A panel discussion, led by producer Don Hahn, opened up the limited engagement at El Capitan on February 1, 2007.
Before a packed house, Hahn introduced several familiar faces who played in the film, as well as some experts on animation and music. Kathryn Beaumont ("Wendy Darling"), June Foray ("Mermaid/Squaw"), Paul Collins ("John Darling"), Margaret Kerry ("Tinkerbell" model), Eric Goldberg (animator, "Aladdin"), and composer Richard M. Sherman ("it's a small world") were guests on the panel. Also joining in the party-like atmosphere was T-Squad, a pop singing group featured in Disney Channel's movie, "Jump In!"
Hahn spoke to each of the panelists, getting their stories about working or having been influenced by "Peter Pan." He even convinced Foray to say a couple things in her Rocky The Squirrel's voice! The audience was delighted, to say the least. Interspersed through the evening's program were rarely seen clips of how the film was made, a music video that will be on the upcoming DVD, and a visit from Tinkerbell on the El Capitan stage.
Seeing "Peter Pan" with an audience is a delight, bringing back memories of when I saw it in a theatre as a kid. Sure, some of it's slapstick, but that's what makes it fun! Kids (and adults) are supposed to laugh at Captain Hook's antics and partake in the fantasy of flying to Never Land. It's simply one of those films that has withstood the test of time.
Alexandria, FSTD's resident junior reporter, has certainly grown up with Disney's re-premieres. She's been attending these shows since 2003, and I can see how much she's grown up. Not only was she excited to see "Peter Pan," she couldn't wait to see T-Squad, the teenage pop singers, perform.
The new 2-disc Platinum Edition is due in stores March 6, 2007.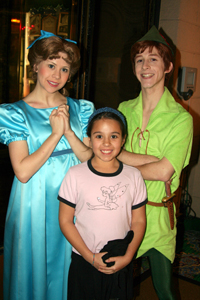 Alexandria is greeted by Wendy and Peter Pan in the lobby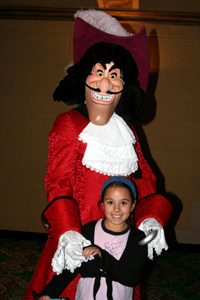 Alexandria attempts to escape from Captain Hook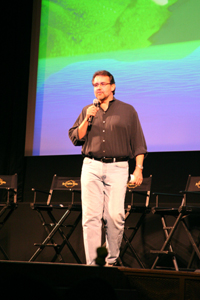 Producer Don Hahn ("The Lion King") introduces the evening's "Peter Pan" panel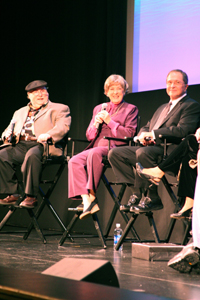 (Left-to-right) Animator Eric Goldberg ("Aladdin"), Margaret Kerry ("Tinkerbell" live action model) and Paul Collins ("John Darling")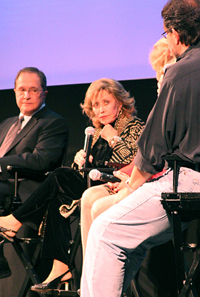 June Foray looks on as Don Hahn speaks about her wonderful career in animation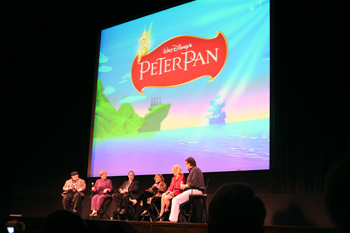 The "Peter Pan" panel on stage at El Capitan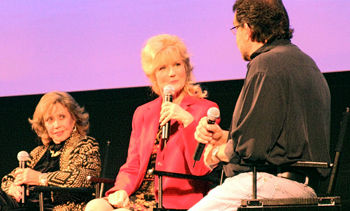 Kathryn Beaumont ("Wendy") talks about working on the film as June Foray looks on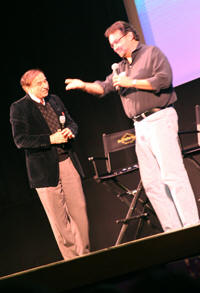 Hahn introduces famed composer, Richard M. Sherman ("Mary Poppins") to the audience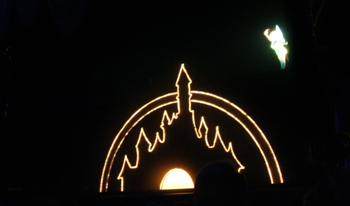 That little pixie, Tinkerbell, makes a visit to El Capitan's stage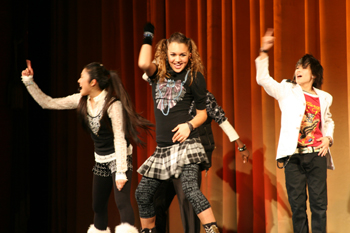 Teen pop singing group, T-Squad, entertains the audience before the show starts — The singers can be heard on Disney Channel's "Jump In!"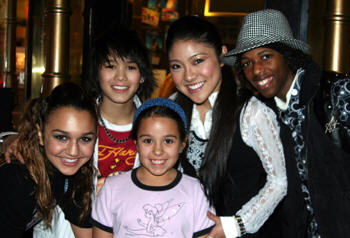 Alexandria takes a pose with T-Squad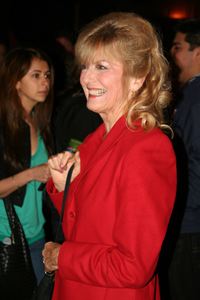 Kathryn Beaumont also voiced Alice in Walt Disney's "Alice In Wonderland" (1951)
Special thanks to Mac McLean, Daryl (BVHE) and Alexandria Kallay
---
All photos © 2007 William Kallay. All rights reserved.