THE SCREENING ROOM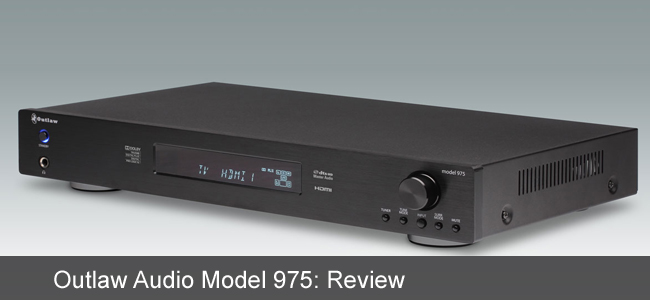 QUICK GLIMPSE

A/V PROCESSOR: Premium sound and video quality for a great price

PICTURE: Excellent

SOUND: Excellent

TECH SPECS: 32-Bit CS497024 Processor

192 kHz 24-bit DAC's for all channels

4 HDMI 3D Inputs

HDMI Output with ARC

7.1 RCA pre-amp outputs

Front height-channel outputs

4 Digital Inputs (2 coaxial, 2 optical)

2 Component Video Inputs

2 Composite and 2 S-Video Inputs

5 Analog Audio Inputs

High performance tuner

PRICE: $549.00

RELEASE DATE: 2012

REVIEW EQUIPMENT: Vandersteen Model 2ce Signature II speakers, Onkyo Integra DTR 30.4 receiver, ATI Amplifier Technologies AT1202 amplifier, HSU STF-1 subwoofer, Vandersteen VSM surround speakers, MacBook Pro, AudioQuest Rocket 33 bi-wire, AudioQuest Sidewinder RCA cables, AudioQuest Mini-5 mini cable, AudioQuest Dragonfly DAC, LG flat screen LED 3-D television (55-inch)
By William Kallay

For a number of years, I sat on the periphery and read about Outlaw Audio. They got their start in the early days of the Internet by selling high quality audio equipment for very reasonable prices. I've read reviews by fellow writers and they've been very impressed by the Outlaws. I never ordered any products from them until now.

The Outlaw Audio Model 975 A/V processor leaves out tons of technological features to concentrate on one thing: great audio for movies and music. Since I needed, and really wanted a simple A/V processor for my Blu-ray collection, I decided to jump on the Outlaw Audio wagon and take the Model 975 for a ride.

METAL LITE

Outlaw Audio shipped the Model 975 quickly to my front door. The unit came boxed with simple but sturdy foam inserts. Unpacking was very easy, as the Model 975 doesn't weigh very much. This is actually a nice change. Many receivers and sound processors I've had in the past weighed a ton.

The Model 975 is housed in a black chassis with a cleanly designed faceplate. The power button and a headphone jack reside on the left side, while a minimal set of buttons sit on the right side of the faceplate. The volume knob sits above the five buttons on the right side.

Installation was very easy. I must admit that I don't care for lightweight audio or video equipment, but it was refreshing to install the Model 975 into my amplifier. Most of the time, I have to lug a heavy receiver or pre-pro on top of the amplifier. Plugging in cables from my Oppo Digital BDP-105 and cables from the Model 975 into amplifier took only minutes.

SIMPLICITY IS A GOOD TRAIT

My two most recent sound processors were made by Onkyo Pro and Integra. Both are high-end divisions of Onkyo and have received well-deserved kudos for their sound quality. They are somewhat complicated pieces of equipment that require some time and patience to set them up properly. And even when they are set-up properly, they sounded good, but not great, to my ears.

The Model 975 doesn't have any fancy menus for set-up. The on-screen display is very basic. I prefer this method. I don't have to scroll through numerous menus to get to what I need. They might not be the prettiest menus, but they get the job done quickly. A few adjustments to speaker settings and levels and I was ready to go.

With the Model 975, there is no room correction. What you hear without the unit's few digital signal processing modes (DSP) is what you get. My Vandersteen speakers are highly sensitive and seem to benefit best by audio equipment with the most direct signal paths possible. I've tried a couple of receivers and pre-pros with room correction software and everything sounds unnatural. I like the simplicity of the Model 975 from its menus to the fact I don't have to set up a room correction microphone.

The only minor setback for me was the Model 975 ability to switch between inputs. Switching between HDMI and analog inputs on the Onkyo products was very quick. The Model 975 has a three-to-five second lag time between input switching. The fine folks at Outlaw Audio explained to me that this was an engineering decision. At first this bothered me, but I actually got used to it. Just don't expect super quick changes when switching.

PICTURE QUALITY

The Oppo Digital BDP-105 lets me run an HDMI cable directly to my flat screen television. It does such a fantastic job in picture quality that I'm reluctant to run HDMI into a processor. For this review, I ran an HDMI cable through the Model 975, and one from it to my television. The picture quality was stunning. I perceived a slight bit of resolution loss, but it was hard to tell. I didn't have matching HDMI cable, so that might explain the difference in picture quality. I had the Model 975 set to "Native." Because I'm so particular about picture quality, even the slightest perception of losing resolution caused me to go with the BDP-105's direct feed. I will say that using the Model 975 as a video switcher will please most viewers, including myself.

SOUND QUALITY (Blu-ray)

With past receivers or pre-pros I've owned, sound from Blu-ray discs could be excellent or just good. Certain Blu-ray discs, when played through those various processors, for instance, sounded filtered. High pitched sound effects lost their sheen, while low bass effects had little boom. Any ambient sound effects were buried. One disc that always frustrated my eardrums was 2008's "Quantum of Solace." I wasn't originally fond of the film but it has its merits and it has grown on me.

The opening sequence features an exciting car chase and it's filled to the brim with loud sound effects. My previous sound processors couldn't get a grasp on this sound mix. The Model 975 brought out the soundtrack's intense mix in all of its glory. The sound was finally crisp and clear. Not all the sound effects had to be loud to impress me on how the Model 975 handled them. In one sequence that takes place on Dominic Greene's jet (Mathieu Amalric), I never, ever, noticed the ambience of the jet's interior until the Model 975. I actually played the scene a couple of times to hear the ambience. In a later scene in which Bond (Daniel Craig) and Camille (Olga Kurylenko) hide out in a cave, the sound of dialogue and cave ambience was extremely realistic.

"Shine A Light" is director Martin Scorsese's ode to the Rolling Stones. The disc has three audio options: Dolby TrueHD, DTS-HD Master Audio, or uncompressed PCM. On my previous Onkyo Pro/Integra processors, when using bitstream without any DSP, only Dolby TrueHD sounded the best. For whatever reason, DTS-HD and PCM sounded heavily filtered and lower in volume level. The Model 975 took out the virtual cotton from my ears. The Model 975 excelled. Dolby TrueHD, DTS-HD and PCM sounded equally awesome.

"Tron: Legacy" is the follow up to the original 1982 classic, "Tron." Since I wrote a book about "Tron," I'm pretty close to that film and its own legacy. The sequel wasn't what I was hoping for, but it does have its moments. What stands out is its aggressive soundtrack. The opening narration by Jeff Bridges (who plays both Kevin Flynn and Clu) is extremely dynamic. Bridges' voice played through my Onkyo products was very deep, but muddled to a degree. The Model 975 kept his deep voice present in my listening room and it also gave it a touch of finesse.

At times, the Model 975 sounded so realistic, I jumped out of my chair. Gun fire in "Quantum of Solace" had me actually ducking on my couch as if someone lit a firecracker behind me. When Keith Richards hit the strings on "Jumpin' Jack Flash," my skin got goosebumps and my heart pounded from sudden shock. I thought to myself, "Damn! That's how the Stone probably sound live!" "Tron: Legacy" had an aggressive punch to it and it sounded better than ever. I saw it originally at the Samuel Goldwyn Theatre in Beverly Hills, and that theatre has one of the best sound installations in the world for film.

I didn't feel the need for room correction while listening to the Model 975. It just sounded right. Room correction can help rooms and certain speakers seemingly sound better. In my experience, I'd rather have speakers that are honest with a component's signal. I'd also rather have components that are as neutral as possible to the signal that flows through them. The Model 975 demonstrates that simplicity works extremely well.

SOUND QUALITY (Digital Audio Files)

The Model 975 can act as a preamplifier for audio sources in your sound system. I was skeptical that a piece of audio equipment this small would sound good on music. Most good sounding components have some heft to them when you pick them up. The Model 975 is weighs so little, it couldn't possibly sound all that great, right? Color me a believer in the Model 975, because it had me grinning.

From my hard drive plugged into the Oppo Digital BDP-105, I used the player as a DAC. I ran a pair of AudioQuest analog cables into the Model 975. Going through the menus, I found an old favorite of mine, The Cure's "Staring at the Sea." This was one of the earliest CDs I bought back in the 1980s. A friend of mine recommended it to me when I was going through my pseudo late-teen angst period. I still dig on the cheesy lyrics and Robert Smith's dark singing. The CD was transferred as WAV files onto the hard drive. The verdict? Nearly every song played from the Oppo into the Model 975 sounded very good.

The Eagles "The Long Run" was their underrated 1979 album. The remastered version sounds incredibly good for a 16-bit WAV file. One of my favorite tracks is "Those Shoes." It's got great bass and drumming that gets my feet tapping every time I hear it. "The Sad Cafe" subtly captures the mood of the band before they went their separate ways. It's a track that is very rarely played on the radio (though you can hear "Heartache Tonight" frequently). For the first time in a long time, I sat down and listened to the entire album.

Despite music sounding very good through the Model 975, I did sense that the processor digitized analog signals. I confirmed this with Outlaw Audio. Normally when a receiver or pre-pro digitizes an analog input signal, the sound becomes very unnatural. The presentation can sound lifeless. Fortunately, the Model 975's analog input didn't seem to impose too much of its own sonic signature.

If anything, there was a hint of "strain" on how music played. The best way I can describe this is by driving a four cylinder car versus a V-6. The four banger is more than capable of hitting high speeds, but the horsepower starts petering out fairly quickly (at least on my car). A car with a good V-6 engine will generally keep going as you hit the higher revs. The power feels more confident. This is how I felt about the Model 975. I felt it sounded very strong at first, but the overall sound lost its power to a degree. This was not a deal killer for me. I prefer a straight analog path from a DAC into an analog pre-amp. Since I didn't have an analog pre-amp on-hand, I was more than pleased with the Model 975's sound with music.

Between my previous Onkyo Pro and Integra products and the Model 975, I much preferred listening to the Model 975, despite the analog input being digitized.

SOUND QUALITY (SACD)

The first SACD I played through the Model 975 was Mobile Fidelity's "JT." I chose the analog inputs on the Model 975. In my review of the Oppo Digital BDP-105, I remarked on good this remastered album sounds. I wanted to hear how it sounded through the Model 975. I came away really impressed with how it allowed the album's sonics play naturally. The album sounded like a fine piece of vinyl LP.

I played select tracks from my other favorite test SACD, "The Nat King Cole Story." On the Onkyo Pro and Integra units, the SACD sounded excellent, but somewhat muffled. The Model 975 seemed to open up these outstanding recordings. Nat's voice always had presence in my listening room, but his vocals were clearer and more robust through the Outlaw.

The "Concord Jazz Super Audio CD Sampler" has recordings dating back to 1979. My favorite is a naughty little number by the late singer Carmen McCrae called "My Handy Man Ain't Handy No More." Recorded at Birdland West in Long Beach, California, the 1987 recording seduces you along with McCrae's sultry vocals. It's a "you are there" recording that automatically drops you into, what I imagine, a smoky nightclub as McCrae playfully sings this tune. The staging of the recording is deep, as you can hear the audience in the background very clearly. McCrae's vocals enter your ears and she makes sure you're listening to her. The Model 975 steps out of the way and lets this recording grab your ears with its double entendres, and then it pushes you back in your chair once it's over. After hearing McCrae on the Model 975, I felt like I needed a cigarette, and I don't smoke!


THE WOW FACTOR

After reading about Outlaw Audio for years, I'm glad I finally checked them out. Their customer service is impeccable and the Model 975 is an impressive little processor.

The Model 975 finally gives me movie sound that I've been craving. Blu-ray discs, with their high-octane soundtracks, sound excellent through the Model 975. For the first time in years, I've actually been eager to sit down and watch and hear a movie. I found myself going through my Blu-ray collection to see how good they would sound through the Model 975.

What surprised me was how good music sounded through the Model 975. I won't say that the Outlaw sounds better than an expensive pre-amplifier separate, but it does an incredible job in sounding remarkably good. I'm not a fan of digitizing analog signals, but the Model 975 performed like a champ. Unless you have an analog pre-amp, I don't think you'd be too disappointed in the Model 975's sound on music.

For $549.00, you can buy a receiver with tons of technology inside of it, plus numerous trademark logos stickered on the front panel. You may want fancy room correction, too. But why bother? Get the Outlaw Audio Model 975 and pair it with an inexpensive amplifier. A combo like this will give you hours of enjoyment that no receiver can provide. At this price, only audiophiles with "golden ears" would ever know you didn't have pricey components. Or would they?

Special thanks to Jennifer Martin, Scott Jackson, Peter and Nancy at Outlaw Audio

Photo:

© Outlaw Audio. All rights reserved.
Best viewed on Google Chrome, Safari and Internet Explorer