THE SCREENING ROOM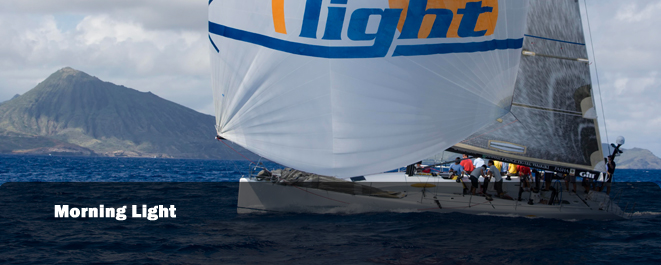 BLU-RAY REVIEW
By Bill Kallay
Roy E. Disney, we love ya. We love that you led the charge in rescuing your father & uncle's studio in the 1980s. We love your passion for saving Disney animation. We love that you love sailing. We love your passion. We don't love your latest sailing movie, "Morning Light," though.

"Morning Light" is now available on Blu-ray.

In 1979, Roy E. Disney produced a sailing movie called "Pacific High." The film didn't perform in theaters and was forgotten. Twenty-nine years later, Disney went back to his love for the wide open sea with a film crew and the result is this film.

The film is set up like a reality show, pitting a group of super smart college students together on Disney's yacht, Morning Light. They train for a grueling race around the Hawaiian Islands. The sailors, unlike most reality show stars, aren't annoying. They're just not compelling enough to follow.

The film clearly has a love for the sea, but it's so slowly paced that we're waiting for something to happen. Nothing does. The race may be thrilling and hard fought in reality, but we don't feel any excitement while it's on film. It would've been far more interesting to hear about Roy E. Disney's love for sailing.

The Blu-ray picture is excellent, showing a lot of detail and color. It was shot digitally, so the film has a distinct look to it. The cinematography is well presented.

The DTS-HD Master Audio soundtrack is excellent, though the score has a new age/Kenny G feel to it.

The film won't win many converts to sailing, and it might even be tough to watch for sailors. Sorry Roy.

Special thanks to Click Communications

Photos: © BVHE. All rights reserved.


QUICK GLIMPSE
MOVIE
A slow boat ride

TALENT
Director: Mark Monroe, Paul Crowder

Cast: Very smart college kids

FEATURES


RATING
PG

BLU-RAY
Picture: Excellent
Sound: Excellent

TECH SPECS
Aspect Ratio (1.85:1)





BLU-RAY RELEASE DATE
June 16, 2009
About | Site Index | Contact | Terms & Conditions | Links
Custom Search