THE SCREENING ROOM

By William Kallay
The "brother and sister" team of Mike and Sally are bidding farewell to Disney Channel. After nearly 5 years on the air, Disney Channel's "Mike's Super Short Show" is passing on the baton to the "Really Short Report." Mike, played by actor Mike Johnson, and Sally, played by actress Alyson Stoner, have gone from kids to teenagers before their fans' eyes. The show, which "broadcasts" from Mike's bedroom, is a fictional program that has Mike and Sally talk about upcoming Disney DVD releases. It airs between Disney Channel's regular programming, even though the channel technically doesn't run commercials. In celebration of the show's long run, a wrap party was held on the Disney Studios lot January 28, 2007.

Guests included actor Phill Lewis, who plays Mr. Moseby on the Disney Channel series, "The Suite Life Of Zack And Cody," and the new cast of "Really Short Report." Fellow journalist and contributor to FSTD, Bill Desowitz, was there with his two little boys and wife. The guests of honor, Mike and Alyson, arrived on the red carpet leading to the studio's famous commissary. Several children were invited, including my daughter Alexandria, who's a huge fan of "Mike's Super Short Show." They were given an opportunity to be a part of the festivities, including being on-camera for the final show.

Mike and Alyson were visibly moved. Stoner remarked, "This is the last 'Mike's Super Short Show' ever." No more sign offs that say, "Now you know, it's Mike's Super Short Show!"

Inside the commissary where Walt Disney and his staff ate lunch many years ago, Buena Vista Home Entertainment pulled out the stuff that Mike and Sally would love. There were giant video game machines, a karaoke stage where anyone could belt out tunes from "High School Musical," foosball, a table where kids could design their own sandals, picture booths, a room where kids could design their own flower pots, tons of food which included mini pigs-in-a-blanket and the set from the show.

Alexandria, ever the trooper, waited patiently to interview Mike and Alyson. She got to ask such probing questions as, "Did you really fall on the ice when you were interviewing Hayden Panettiere?" Panettiere, before she became famous on NBC's "Heroes," was in Disney's "Ice Princess" (2005). Alexandria also got Mike and Alyson's autographs and a picture with them (see below). For a kid who loves almost everything Disney Channel, she held herself very well and professionally. Not to boast...okay, a little bit of boasting on my part, I'm very proud of her being so composed. If it was me at that age, I would've been totally nervous talking with celebrities. Heck, I was nervous when I met an actor who played Shazaam on television in the 1970s! But Alexandria handles it with ease.

Many grown ups might not quite understand the show's appeal, but kids love it. After watching it over the years with my daughter, I can see why. Mike plays a kid who loves being silly, while Sally loves to give her brother a hard time. They talk about the latest Disney DVDs. Occasionally, Mike has guests on the show from various movies, or he and Sally attend premieres for Disney movies on DVD like "Mary Poppins." The show is lighthearted and the look, from the set to the camerawork, isn't meant to be super slick. Mike and Sally talk like regular kids who love movies, and I think that's part of the show's appeal for kids. Although the show essentially is only a promo, or at least started as such, it's easy to see why it's been able to create its own identity and become a mainstay on the Disney Channel.

Most of Disney Channel's shows have a three year lifespan. I'm not sure if this is a rule written in stone, but "That's So Raven," an extremely popular show, has ended its run for "Cory In The House." "Lizzie McGuire" was one of the shows that made Disney Channel "hip," but it ran its course in a short three years. As the kids on those shows grow up, or at least appear to grow up (some of the cast members range from the teens to their early 30s!), Disney replaces their programming with newer content like "Hannah Montana" with successful results.

"Mike's Super Short Show" was actually one of the longer running series on the channel. Mike and Alyson were truly kids when they started on the show, and in the past year, Alyson turned 13 and Mike entered high school as a junior. When Alexandria and I met them at the DVD premiere for "Aladdin" in 2004, they were a lot shorter than they are now! Mike's voice has changed and Alyson has grown into her early teens with grace. If you have children, you know it's true that they do grow quickly.

I was very impressed by both Mike and Alyson when Alexandria and I first met them at the "Aladdin" event. We've seen them occasionally at other Disney premieres, and they've always been very nice to us over the years. We wish them the best in their future endeavors.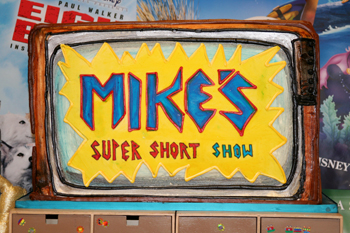 At first, many guests thought this was a prop from the show, but it's really a giant cake!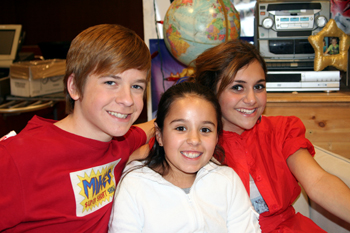 (Left-to-right) Mike Johnson ("Mike"), Alexandria Kallay and Alyson Stoner ("Sally")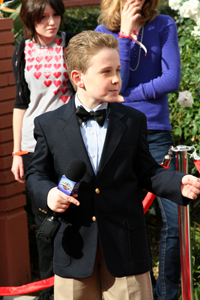 Jacob Hays ("Really Short Report") waits for the director to say, "Action!"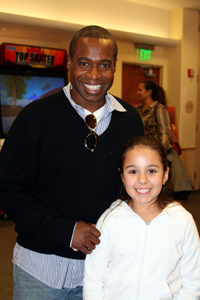 Phill Lewis ("Mr. Moseby" on "The Suite Life Of Zack And Cody") and Alexandria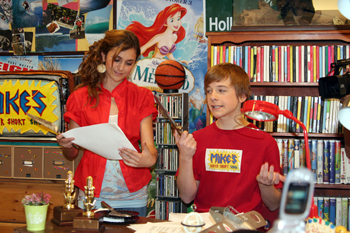 Alyson and Mike look over old scripts and props from the show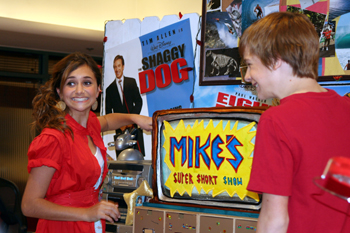 Alyson and Mike cut the cake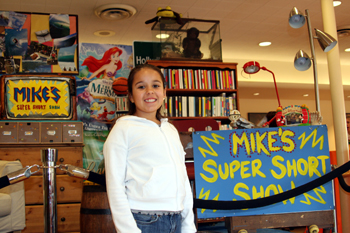 Alexandria poses in front of the "Mike's Super Short Show" set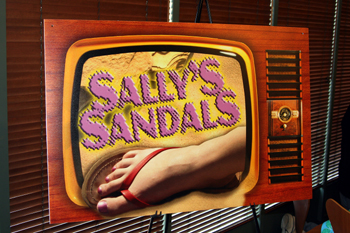 One of the stations where kids could design their own crafts, in this case, sandals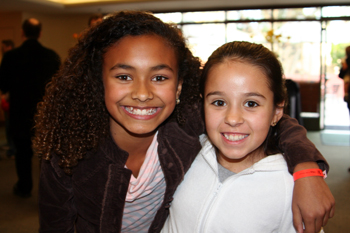 Ginger Storm ("Really Short Report") and Alexandria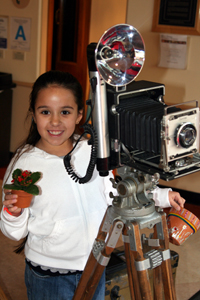 Alexandria takes a shot with a vintage camera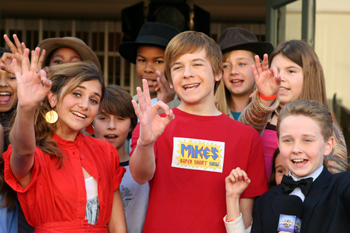 And now you know, it's Mike's last Super Short Show! (pictured front row, left-to-right: Alyson Stoner, Mike Johnson and Jacob)
Originally posted on this site on February 6, 2007.

Special thanks to Mac McLean, Amelia McPartlon, Daryl (BVHE) and Alexandria Kallay
Photo Credits

William Kallay (© 2007 From Script To DVD. All rights reserved.)