Related Articles:
The Digital 3-D Engagements Of "Meet The Robinsons"
Compiled By
Michael Coate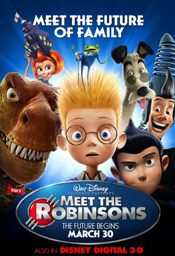 The following is a list of U.S. and Canadian movie theatres screening "Meet The Robinsons," the Walt Disney Company's latest animated production, in Disney Digital 3-D beginning March 30, 2007.
NOTE: Disney is releasing "Meet The Robinsons" in three versions: 3-D Digital Cinema, 2-D Digital Cinema and 2-D 35mm. Many of the multiplexes listed below have booked two or even all three versions to be shown in separate auditoriums within their complex. Therefore, anyone who desires to see the 3-D presentation is encouraged to pay special attention to how the movie is promoted, be it a newspaper advertisement, an online ticketing service, or a theatre's box office, to ensure a ticket is purchased to the desired presentation.
---
UNITED STATES

ALABAMA
Auburn: Carmike Wynnsong 16
Birmingham: Carmike Summit 16
Cullman: Carmike 10
Daphne: Rave Jubilee Square 12
Florence: Carmike Regency Square 12
Hoover: Rave Patton Creek 15
Huntsville: Carmike 10
Huntsville: Rave Valley Bend 18
Mobile: Carmike 14
Mobile: Carmike Wynnsong 16
Montgomery: Carmike Eastdale 8
Montgomery: Rave Festival Plaza 16
Orange Beach: Rave Wharf 15
Vestavia Hills: Rave Vestavia Hills 10

ARIZONA
Gilbert: Harkins SanTan Village 16
Glendale: AMC Westgate 20
Mesa: AMC Mesa Grand 24
Mesa: Cinemark 16
Peoria: Harkins Arrowhead Fountains 18
Phoenix: AMC Desert Ridge 18
Tempe: Harkins Arizona Mills 24
Tucson: AMC Loews Foothills 15
Tucson: Cinemark Century 20 El Con

ARKANSAS
Fort Smith: Carmike 14
Little Rock: Rave Colonel Glenn 18

CALIFORNIA
Alhambra: Regal Edwards Renaissance Stadium 14
Aliso Viejo: Regal Edwards Aliso Viejo Stadium 20
Anaheim: AMC at Downtown Disney
Arcadia: AMC Santa Anita 16
Bakersfield: Regal Edwards Bakersfield Stadium 14
Burbank: AMC Burbank 16
Chula Vista: UltraStar Chula Vista 10
City of Industry: AMC Puente Hills 20
Corona: Regal Edwards Corona Crossings Stadium 18
Costa Mesa: Regal Edwards Metro Pointe Stadium 12
Daly City: Cinemark Century 20 Daly City
Dublin: Regal Hacienda Crossings Stadium 20
El Centro: UltraStar Imperial Valley 14
Fairfield: Regal Fairfield Stadium 16
Fontana: UltraStar Fontana 8
Fresno: Regal Edwards Fresno Stadium 21
Glendale: Mann Exchange 10
Irvine: Regal Edwards Irvine Spectrum 21
La Habra: Regal La Habra Marketplace Stadium 16
Livermore: Cinema West Livermore
Long Beach: Regal Edwards Towne Center Stadium 26
Los Angeles (Hollywood): Pacific Walt Disney El Capitan
Los Angeles (Van Nuys): Mann Plant 16
Los Angeles (Westchester): National Amusements The Bridge: Cinema de Lux
Los Angeles (Woodland Hills): AMC Promenade 16
Moreno Valley: Harkins Moreno Valley 16
Mountain View: Cinemark Century 16
Ontario: AMC Ontario Mills 30
Ontario: Regal Edwards Ontario Palace Stadium 22
Orange: AMC 30 at the Block
Orange: Cinemark Century Stadium 25
Petaluma: Cinema West Boulevard Cinemas 12
Porterville: Galaxy Porterville 9
Poway: UltraStar Poway Creekside Plaza 10
Riverbank: Galaxy Riverbank 12
Rolling Hills Estates: Regal The Avenue Stadium 13
Sacramento: Cinemark Century 16 Greenback Lane
Sacramento: Regal Natomas Marketplace 16
San Diego: AMC Mission Valley 20
San Diego: AMC Palm Promenade 24
San Diego: Regal Edwards Mira Mesa Stadium 18
San Diego: Regal UA Horton Plaza 14
San Diego: UltraStar Hazard Center
San Francisco: AMC Loews Metreon 15
San Jose: Cinemark Century 20 Oakridge
San Luis Obispo: The Movie Experience Fremont 4
Santa Barbara: Metropolitan Arlington
Santa Monica: Mann Criterion 6
Simi Valley: Regal Simi Valley Civic Center Stadium 16
South Gate: Regal Edwards South Gate Stadium 20
Stockton: Regal City Centre Stadium 16
Temecula: Regal Edwards Temecula Stadium 15
Thousand Oaks: Mann Janss Marketplace 9
Tulare: Galaxy Tulare 10
West Covina: Regal Edwards West Covina Stadium 18

COLORADO
Colorado Springs: Carmike 10
Colorado Springs: Carmike Chapel Hills 15
Colorado Springs: Cinemark 17 at Carefree Circle
Denver: Harkins Northfield 18
Fort Collins: Carmike 10
Grand Junction: Carmike 7
Highlands Ranch: AMC Highlands Ranch 24
Lakewood: Regal UA Colorado Mills Stadium 16
Westminster: AMC Westminster Promenade 24

CONNECTICUT
Bridgeport: National Amusements Showcase Cinemas Bridgeport
Manchester: National Amusements Showcase Cinemas Buckland Hills
Milford: National Amusements Connecticut Post 14: Cinema de Lux
North Haven: National Amusements Showcase Cinemas North Haven
Plainville: AMC Loews Plainville 20

DELAWARE
Dover: Carmike 14
Newark: Regal Peoples Plaza Stadium 17
Wilmington: Regal Brandywine 16

DISTRICT OF COLUMBIA
Washington: AMC Loews Georgetown 14

FLORIDA
Altamonte Springs: AMC Altamonte 18
Aventura: AMC Aventura 24
Boca Raton: Muvico Palace 20
Bradenton: Carmike Royal Palm 20
Brandon: AMC Regency 20
Coral Springs: Regal Magnolia Place 16
Davie: Muvico Paradise 24
Destin: Rave Destin Commons 14
Fort Myers: Regal Belltower 20
Gainesville: Regal Royal Park Stadium 16
Jacksonville: AMC Regency Square 24
Jacksonville: Cinemark Tinseltown 20
Jacksonville: Regal The Avenues Stadium 20
Kendall: Regal Kendall Village Stadium 16
Kissimmee: Regal The Loop 16
Lake Buena Vista: AMC Pleasure Island 24
Melbourne: Premiere Oaks 10
Melbourne: Rave Avenue 16
Miami: Regal Southland Mall Stadium 16
Oldsmar: AMC Woodlands Square 20
Orange Park: AMC Orange Park 24
Orlando: AMC Loews Universal Cineplex 20
Orlando: Cinemark 20 at Festival Bay
Orlando: Regal Waterford Lakes Stadium 20
Panama City: Carmike 10
Pensacola: Carmike 10
Pensacola: Rave Bayou 15
Pensacola: Rave Pensacola 18
Pinellas Park: Regal Park Place Stadium 16
Port St. Lucie: Rave St. Lucie West 14
Sarasota: AMC Sarasota 12
Sarasota: Regal Hollywood 20
South Miami: AMC Sunset Place 24
St. Petersburg: Muvico Baywalk 20
Sunrise: Regal Sawgrass Stadium 23
Tallahassee: AMC Tallahassee Mall 20
Tampa: Muvico Starlight 20
Tampa: Regal Citrus Park 20

GEORGIA
Albany: Carmike Wynnsong 16
Alpharetta: AMC Mansell Crossing 14
Athens: Carmike 12
Augusta: Regal Augusta Exchange 20
Buford: Regal Mall of Georgia Stadium 20
Canton: Carmike Riverstone 15
Cartersville: Carmike 12
Chamblee: Regal Hollywood 24 @ North I-85
Columbus: Carmike Hollywood Connection Ritz 10
Conyers: Carmike Crossroads 16
Dalton: Carmike 9
Douglasville: Regal Arbor Place Mall 18
Fort Benning: Carmike Wynnsong 10
Fort Oglethorpe: Carmike Battlefield 10
Kennesaw: AMC Barrett Commons 24
Lawrenceville: AMC Discover Mills 18
Morrow: AMC Southlake Pavilion 24
Newnan: Carmike 10
Savannah: Carmike 10
Savannah: Carmike Wynnsong 11
Snellville: Carmike 12
Statesboro: Carmike 12

HAWAII
Honolulu: Regal Dole Cannery Stadium 18

IDAHO
Boise: Regal Edwards Boise Stadium 21
Chubbuck: Carmike Pine Ridge 10
Coeur d'Alene: Regal Riverstone 14
Nampa: Regal Edwards Nampa Stadium 14

ILLINOIS
Bloomington: Carmike Palace 10
Champaign: Carmike Beverly 18
Chicago: AMC River East 21
Lincolnshire: Regal Lincolnshire Stadium 20
Lombard: AMC Yorktown 17
O'Fallon: Wehrenberg O'Fallon 15
Oak Park: Classic Lake
Peoria: Rave Grand Prairie 18
Schaumburg: AMC Loews Streets of Woodfield 20
Skokie: Kerasotes Village Crossing 18
South Barrington: AMC South Barrington 30
St. Charles: Classic Charlestowne 18
Warrenville: AMC Cantera 30

INDIANA
Evansville: Kerasotes Stadium 16
Fort Wayne: Carmike 20
Fort Wayne: Rave Jefferson Pointe 18
Indianapolis: Kerasotes ShowPlace 16
Indianapolis: Regal UA Galaxy Stadium 14
Plainfield: Rave Metropolis 18
Schererville: Kerasotes ShowPlace 12

IOWA
Cedar Rapids: Carmike Wynnsong 12
Cedar Rapids: Wehrenberg Galaxy 16
Davenport: National Amusements Showcase Cinemas 53
Des Moines: Carmike Southridge 12
Johnston: Carmike Wynnsong 16
Sioux City: Carmike Southern Hills 12
Urbandale: Carmike Cobblestone 9
West Des Moines: Cinemark Century 20 Jordan Creek

KANSAS
Leawood: AMC Town Center 20
Manhattan: Carmike Seth Childs 12

KENTUCKY
Erlanger: National Amusements Showcase Cinemas Erlanger
Lexington: Cinemark Fayette Mall
Lexington: Regal Hamburg Stadium 16
Louisville: Cinemark Tinseltown USA
Louisville: National Amusements Cinema de Lux 20: Stonybrook
Newport: AMC Newport on the Levee 20
Okolona: National Amusements Cinema de Lux 16

LOUISIANA
Baton Rouge: Rave Baton Rouge 16
Baton Rouge: Rave Mall of Louisiana 15
Bossier City: Regal Louisiana Boardwalk Stadium 14
Lafayette: Carmike 10
Shreveport: Cinemark Tinseltown 17

MARYLAND
Abingdon: Regal Bel Air Stadium 14
Annapolis: Bow Tie Annapolis Mall 11
Baltimore: AMC Loews White Marsh 16
Columbia: AMC Columbia 14
Frederick: Regal Westview Stadium 16
Gaithersburg: AMC Loews Rio 18
Hagerstown: Regal Valley Mall Stadium 16
Hanover: Muvico Egyptian 24
Rockville: Regal Stadium 13

MASSACHUSETTS
Bellingham: Regal Bellingham Stadium 14
Boston: AMC Loews Boston Common 19
Boston: Regal Fenway Stadium 13
Danvers: AMC Loews Liberty Tree Mall 20
Framingham: AMC Framingham 15
Lowell: National Amusements Showcase Cinemas Lowell
Methuen: AMC Loews Methuen 20
Milbury: National Amusements Blackstone Valley 14: Cinema de Lux
Randolph: National Amusements Showcase Cinemas Randolph
Revere: National Amusements Showcase Cinemas Revere
Seekonk: National Amusements Showcase Cinemas Seekonk Route 6
West Springfield: National Amusements Showcase Cinemas West Springfield 1-15
Woburn: National Amusements Showcase Cinemas Woburn
Worcester: National Amusements Showcase Cinemas Worcester North

MICHIGAN
Auburn Hills: AMC Star Great Lakes 25
Battle Creek: Carmike Lakeview Square 10
Brighton: MJR Brighton Towne Square Cinema 20
Canton: Emagine Canton 18
Clinton: AMC Star Gratiot 21
Flint: National Amusements Showcase Cinemas Flint West
Fort Gratiot: Carmike Birchwood 10
Grandville: Cinemark 20
Jackson: Carmike Plaza 8
Kalamazoo: Goodrich Kalamazoo 10
Kalamazoo: Rave Cityplace 14
Kentwood: Loeks Celebration! Cinema Grand Rapids South
Livonia: AMC Livonia 20
Novi: Emagine Novi 18
Saginaw: Carmike Fashion Square 10
Southgate: MJR Southgate Cinema 20
Sterling Heights: AMC Forum 30
Sterling Heights: MJR Marketplace Cinema 20
Traverse City: Carmike Grand Traverse 9
Waterford: MJR Waterford Cinema 16
Ypsilanti: National Amusements Showcase Cinemas Ann Arbor

MINNESOTA
Apple Valley: Carmike 15
Coon Rapids: Kerasotes ShowPlace 16
Edina: AMC Southdale 16
Mankato: Carmike Stadium 6
Maple Grove: AMC Arbor Lakes 16
Mounds View: Carmike Wynnsong 15
Oakdale: Carmike Oakdale Stadium 20
Roseville: AMC Rosedale 14

MISSISSIPPI
Madison: Malco Grandview

MISSOURI
Chesterfield: AMC Chesterfield 14
Chesterfield: Wehrenberg Galaxy 14
Hazelwood: Regal St. Louis Mills Stadium 18
Kansas City: AMC BarryWoods 24
Lee's Summit: Dickinson EastGlen 16
Sappington: Wehrenberg Ronnies 20
St. Charles: Wehrenberg St. Charles 18

NEVADA
Las Vegas: Cinemark Century Santa Fe Station
Las Vegas: Regal Colonnade Stadium 14
Las Vegas: Regal Red Rock Stadium 16
North Las Vegas: Galaxy Cannery

NEW JERSEY
Cherry Hill: AMC Loews Cherry Hill 24
Clifton: AMC Clifton Commons 16
Edgewater: National Amusements Edgewater Multiplex
Elizabeth: AMC Loews Jersey Gardens 20
Freehold: AMC Loews Freehold Metroplex 14
Hamilton: AMC Hamilton 24
Hazlet: National Amusements Hazlet Multiplex Cinemas Route 35
Ocean: Clearview Middlebrook Galleria Cinema 10
Parsippany: Clearview Parsippany Cinema 12
Succasunna: Clearview Succasunna Cinema 10

NEW MEXICO
Albuquerque: Cinemark Century Rio 24
Albuquerque: Regal UA Cottonwood Mall Stadium 16

NEW YORK
Albany: Regal Crossgates Stadium 18
Commack: National Amusements Commack Multiplex Cinemas
Farmingdale: Regal UA Farmingdale Stadium 10
Gates: Cinemark Tinseltown USA
Hawthorne: National Amusements All Westchester Saw Mill Multiplex Cinemas
Hicksville: National Amusements Broadway Multiplex Cinemas
Holtsville: National Amusements Island 16: Cinema de Lux
New Rochelle: Regal New Roc City Stadium 18
New York (Bronx): National Amusements Concourse Plaza Multiplex Cinemas
New York (Brooklyn): AccessIT Pavilion
New York (Brooklyn): National Amusements Linden Boulevard Multiplex Cinemas
New York (Brooklyn): Regal UA Sheepshead Bay 14
New York (Manhattan): AMC Loews 84th Street 6
New York (Manhattan): Clearview Ziegfeld
New York (Manhattan): Regal E-Walk Stadium 13
New York (Manhattan): Regal UA Union Square Stadium 14
New York (Queens): National Amusements College Point Multiplex Cinemas
New York (Queens): National Amusements Jamaica Multiplex Cinemas
New York (Queens): Regal UA Kaufman Astoria Stadium 14
New York (Staten Island): Regal UA Staten Island Stadium 16
Port Chester: AMC Loews Port Chester 14
Rochester: Regal Henrietta Stadium 18
Stony Brook: AMC Loews Stony Brook 17
Syracuse: Regal Carousel Mall Stadium 17
West Nyack: AMC Loews Palisades Center 21
Westbury: AMC Loews Raceway 10
Westbury: Regal UA Westbury Stadium 12
White Plains: National Amusements City Center 15: Cinema de Lux
Williamsville: Regal Transit Center Stadium 18
Yonkers: Clearview Central Plaza
Yonkers: National Amusements Cross Country Multiplex Cinemas

NORTH CAROLINA
Asheville: Carmike 10
Charlotte: AMC Northlake 14
Charlotte: Regal Stonecrest 22
Durham: Carmike Wynnsong 15
Fayetteville: Carmike Market Fair 15
Greensboro: Carmike 18
Greenville: Carmike 12
Hickory: Carmike 14
Jacksonville: Carmike 16
Morrisville: Carmike Park Place 16
Raleigh: Carmike 15
Raleigh: Regal North Hills Stadium 14
Shelby: Carmike 10
Wilmington: Carmike 16
Wilson: Carmike 10
Winston-Salem: Carmike 10
Winston-Salem: Carmike Wynnsong 12

NORTH DAKOTA
Bismarck: Carmike 8
Minot: Carmike Stadium 9

OHIO
Beavercreek: National Amusements Cinema de Lux 14: The Greene
Beavercreek: Regal Hollywood Stadium 20 @ Fairfield Commons
Cincinnati: National Amusements Showcase Cinemas Western Hills
Columbus: AMC Easton Town Center 30
Columbus: AMC Lennox Town Center 24
Columbus: Rave Polaris 18
Findlay: Carmike 12
Maumee: National Amusements Maumee 18: Cinema de Lux
Milford: National Amusements Showcase Cinemas Milford 16
Sandusky: Carmike Plaza 8
Sheffield: Regal Cobblestone Square Stadium 20
Springdale: National Amusements Springdale 18: Cinema de Lux
St. Clairsville: Carmike Ohio Valley Mall 11
Steubenville: Carmike 6
Toledo: National Amusements Franklin Park 16: Cinema de Lux
Valley View: Cinemark at Valley View
West Carrollton: National Amusements Showcase Cinemas Dayton South
West Chester: Rave West Chester 18

OKLAHOMA
Lawton: Carmike 8
Muskogee: Carmike 6
Oklahoma City: Harkins Bricktown 16
Shawnee: Carmike Cinema Centre 8
Stillwater: Carmike 10
Tulsa: AMC Southroads 20

OREGON
Bend: Regal Old Mill 16
Corvallis: Carmike 12
Eugene: Regal Valley River Center Stadium 15
Portland: Regal Lloyd Center 10
Salem: Regal Lancaster Mall Stadium 11
Springfield: Cinemark 17
Tigard: Regal Bridgeport Village Stadium 18

PENNSYLVANIA
Allentown: Carmike 16
Bensalem: AMC Neshaminy 24
Bethel Park: Carmike 10
Center Valley: Rave Promenade 16
Cranberry: Carmike Cranberry Mall 8
Delmont: Carmike Wynnsong 12
Downingtown: Regal Downingtown Stadium 16
Greensburg: Carmike 15
Hermitage: Carmike Hermitage Plaza 8
King of Prussia: Regal UA King of Prussia Stadium 16
Lancaster: Regal Manor Stadium 16
Langhorne: Regal UA Oxford Valley Stadium 14
Moosic: Cinemark Tinseltown 20
Oaks: Regal Marketplace @ Oaks Stadium 24
Pleasant Hills: Carmike Southland 9
Plymouth Meeting: AMC Plymouth Meeting 12
Robinson: National Amusements Showcase Cinemas Pittsburgh West
State College: Carmike 6
Warrington: Regal Warrington Crossing 22
Wyomissing: Carmike Wyomissing 8

RHODE ISLAND
Providence: National Amusements Providence Place Cinemas 16
Warwick: National Amusements Showcase Cinemas Warwick

SOUTH CAROLINA
Columbia: Carmike 14
Columbia: Carmike Wynnsong 10
Columbia: Regal Sandhill Stadium 16
Greenville: Regal Hollywood 20
Myrtle Beach: Carmike Broadway 16
Myrtle Beach: Carmike Colonial 12
Summerville: Regal Azalea Square Stadium 16

SOUTH DAKOTA
Rapid City: Carmike Rushmore 7
Sioux Falls: Carmike 7

TENNESSEE
Antioch: Carmike Bell Forge 10
Chattanooga: Carmike Bijou 7
Chattanooga: Carmike Wynnsong 10
Clarksville: Carmike Governor's Square 10
East Ridge: Rave East Ridge 18
Franklin: Carmike Thoroughbred 20
Goodlettsville: Carmike Rivergate 8
Hixson: Carmike Northgate 14
Johnson City: Carmike 14
Knoxville: Carmike 10
Knoxville: Carmike Wynnsong 16
Knoxville: Regal Pinnacle Stadium 18
Maryville: Carmike Foothills 12
Memphis: Malco Paradiso
Murfreesboro: Carmike Wynnsong 16
Nashville: Carmike Bellevue 8
Nashville: Regal Opry Mills Stadium 20

TEXAS
Abilene: Carmike Park Central 6
Amarillo: Regal UA Amarillo Star Stadium 14
Arlington: AMC Parks at Arlington 18
Austin: Galaxy Highland 10
Austin: Regal Gateway Stadium 16
College Station: Cinemark Movies 18
Edinburg: Carmike 20
El Paso: Carmike 16
El Paso: Cinemark Tinseltown USA
Fort Worth: Rave Ridgmar 13
Frisco: AMC Stonebriar Mall 24
Grapevine: AMC Grapevine Mills 30
Hickory Creek: Rave Hickory Creek 16
Houston: AMC Gulf Pointe 30
Houston: AMC Studio 30
Houston: AMC Willowbrook 24
Houston: Rave Yorktown 15
Houston: Regal Edwards Greenway Palace 24
Houston: Regal Grand Palace Stadium 24
Humble: AMC Deerbrook 24
Hurst: Rave North East Mall 18
Katy: Cinemark 19
Lewisville: Cinemark 15 Vista Ridge Mall
Longview: Carmike 10
Lufkin: Carmike Lufkin Mall 9
McAllen: Cinemark Movies 17
Mesquite: AMC Mesquite 30
Nacogdoches: Carmike 6
Pflugerville: Cinemark Tinseltown 20
Plano: Cinemark Legacy 24
Plano: Cinemark Tinseltown 20
San Antonio: AMC Huebner Oaks 24
San Antonio: Regal Cielo Vista Stadium 18
San Antonio: Regal Northwoods Stadium 14
San Antonio: Santikos Silverado 16
Southlake: Harkins Southlake Town Square 14
Sugar Land: AMC First Colony 24
Tyler: Carmike 14
Webster: Cinemark 18
Wichita Falls: Carmike Sikes 10
The Woodlands: Cinemark Tinseltown 17

UTAH
Provo: Carmike Wynnsong 12
Provo: Cinemark 16
Sandy: Larry H. Miller Megaplex 17 at Jordan Commons
West Jordan: Carmike 12
West Jordan: Cinemark 24 Jordan Landing
West Valley City: Carmike Ritz 15

VIRGINIA
Alexandria: AMC Hoffman 22
Alexandria: Regal Potomac Yard Stadium 16
Centreville: National Amusements Centreville Multiplex Cinemas
Fairfax: National Amusements Fairfax Corner 14: Cinema de Lux
Fairfax: Regal Fairfax Town Center 10
Glen Allen: Regal Virginia Center 20
Hampton: AMC Hampton 24
Manassas: Regal Manassas Stadium 14
McLean: AMC Tysons Corner 16
Midlothian: Carmike 10
Roanoke: Carmike 10
Sterling: Regal Countryside 20
Virginia Beach: AMC Lynnhaven 18
Virginia Beach: Regal Columbus Stadium 12
Woodbridge: AMC Potomac Mills 18

WASHINGTON
Auburn: Regal Auburn Stadium 17
Everett: Regal Everett Mall Stadium 16
Kennewick: Carmike 12
Lacey: Regal Martin Village Stadium 16
Monroe: Galaxy Monroe 12
Puyallup: Regal Longston Place Stadium 14
Seattle: AMC Pacific Place 11
Spokane: Regal Northtown Mall 12
Vancouver: Regal Cascade Stadium 16

WEST VIRGINIA
Morgantown: Carmike Morgantown Mall 12

WISCONSIN
Eau Claire: Carmike Oakwood Mall 12

WYOMING
Cheyenne: Carmike Frontier 9


CANADA

ONTARIO
Mississauga: Cineplex SilverCity Mississauga
Scarborough: Cineplex Coliseum Scarborough
Vaughan: Cineplex Colossus Woodbridge
Whitby: AMC Whitby 24

QUEBEC
Montreal: Cineplex Paramount Montreal

---
Official "Meet The Robinsons" website: http://disney.go.com/disneypictures/meettherobinsons/
Images & logos: Copyright 2007 Disney, Real D, Texas Instruments Inc. All rights reserved.
< /p>