"Journey to the Center of the Earth: 3-D" is coming to theaters this summer. The all digital movie, meaning it was shot digitally and will be shown in select theaters digitally, was directed by visual effects veteran, Eric Brevig. The producer is Charlotte Huggins, whom I've been familiar with since her days in the large format film industry. At WonderCon 2008 in San Francisco, New Line Cinema invited journalists to sit down with Huggins to discuss the film.

The concept of 3-D movies is as old as cinema itself. In the last few years, filmmakers have brought it back with newer digital cameras and digital projection. The results are images that are incredibly steady, and the picture is sharp. Though not my cup-o-tea, 3-D can be especially fun for kids, and that's where "Journey" can succeed. According to Huggins, the family friendly movie (produced with Walden Media) was conceived as a three-dimensional experience from the beginning. After the success with "Hannah Montana 3-D" (2008), it looks at though kids could be lining up with their parents to see Brendan Fraser battle dinosaurs and man-eating plants.

Huggins is no stranger to 3-D. She worked at nWave Pictures, which has produced a number of 3-D short films in the IMAX format for many years, including "Encounter in the Third Dimension" (1999), "Haunted Castle" (2001), and most recently, "Fly Me to the Moon" (2008). She's also an experienced visual effects producer and producer of other large format films.

Making the jump to feature films was actually pretty easy, says Huggins. The luxury of a bigger budget and more time made "Journey" a pleasant experience for her. In large format, budgets are much, much lower than a standard Hollywood feature film. Crews are a lot smaller and financing is often a very time consuming factor in getting large format films made. Huggins has experienced working in large format, but was looking for something new to tackle. She found it in producing "Journey."

"I wanted to focus on kid friendly features," says Huggins. Despite large looming dinosaurs and gooey plant life, the film should be kid friendly.

What was another plus in producing "Journey?"

"We had Brendan," says Huggins with a grin.

"Journey" stars Brendan Fraser as a scientist whose theories make him the laughing stock of the scientific community. On an expedition to Iceland, he and his nephew Sean (Josh Hutcherson, along with Hannah (Anita Briem), stumble upon an entrance which leads them (after a very long fall) to the center of the earth. Once there, they find a wondrous world filled with beauty and danger. It's scheduled to open in theaters on July 11, 2008.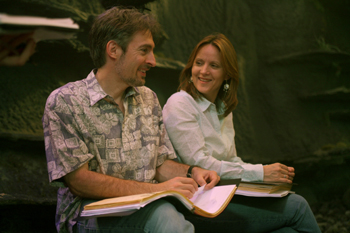 Director Eric Brevig and producer Charlotte Huggins
Bill Kallay