THE SCREENING ROOM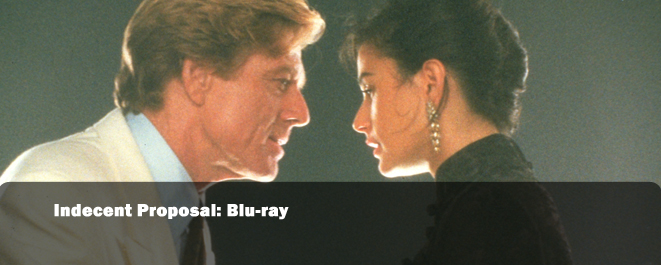 BLU-RAY REVIEW
By Bill Kallay
Imagine if a Donald Trump character walked up to you in a casino and proposed having sex with your wife. He's loaded and will pay you a million bucks. Would you do it?

"Indecent Proposal" is now available on Blu-ray.

As silly as the premise is, Paramount got Adrian Lyne to direct, and no less than an aging Robert Redford to star. Woody Harrelson, trying to break free of his good boy role as Woody Boyd on "Cheers," would star with Demi Moore and they'd have wild sex scenes with Lyne's voyeristic camera panning all over the place. The concept had couples around America asking themselves the same thing; "Would I let my wife/girlfriend sleep with a millionaire?" What would be the consequences?

Of course, most rational couples probably wouldn't take Redford's indecent proposal. But Harrelson and Moore are desperate and it seems like a good idea. Besides, if they don't take the Redford bait, there's no movie. The script becomes extremely predictable and the acting is overdramatic. There are scenes of Harrelson going nuts over the loss of his wife, and others where Demi lies around in thousands of bills. Lyne's direction returns to his "Flashdance" days where the camera is set a mile away from the action. The film, made released in 1993, feels as though it was made during Lyne's '80s period.

Despite the star power involved with this movie, it didn't capture any feeling for the characters or its story. Harrelson and Moore are bland and I found it hard to believe that their first house would be built on the beach. They're lovey-dovey, but I found their love hard to buy. Redford is the credible one in the cast, lending his usual charm to the film.

The Blu-ray is a rare disappointment in the Paramount catalog. Except for a few minor spot during the film presentation, the picture is murky and shows digital noise. I thought it looked just like a DVD copy rather than a Blu-ray high definition disc.

The Dolby TrueHD soundtrack is lackluster. The soundtrack isn't very dynamic as it is, but if you're looking for a rocking Blu-ray soundtrack, this film won't do it.

I kind of hoped that Redford would simply steel Moore away for good. I was never a fan of hers and the less I had to see her, the better. Perhaps if Harrelson's character had the million (half after a California divorce), he could run off with one of the Vegas showgirls. I'm just sayin...'

Special thanks to Click Communications

Photos:

© Paramount. All rights reserved.
QUICK GLIMPSE
MOVIE
Tantilzing concept marred by overdramatic script and acting

TALENT
Director: Adrian Lyne

Cast: Robert Redford, Woody Harrelson, Demi Moore

FEATURES
Director commentary

RATING
R

BLU-RAY
Picture: So-so
Sound: Good

TECH SPECS
Aspect Ratio (1.85:1)





BLU-RAY RELEASE DATE
June 9, 2009
About | Site Index | Contact | Terms & Conditions | Links
Custom Search