THE SCREENING ROOM

By William Kallay
The Hollywood Show is annual convention for movie fans to meet some of their favorite stars. Fans can also purchase film merchandise. The show is held in Burbank, Chicago and Las Vegas. The Burbank show took place February 10-12, 2012, at the Marriot Burbank Airport Hotel and Convention Center.

Stars such as Billy Dee Williams, Mark Ryan, Don Stark, Nalini Krishan, Richard LeParmentier, Jeremy Bulloch, Martin Landau, Paul Michael Glaser, David Soul, Antonio Fargas, Shannon Elizabeth, Sybil Danning, Davy Jones, Van Williams, Natasha Hendstridge, Helena Mattson, Laffit Pincay, Jr., Traci Lords, Ron Jeremy, Piper Laurie, Edie McClurg, Nancy Allen, and many more were on-hand to meet fans.

Yours truly was there to sign copies of his book, "The Making of Tron." Joining me was my daughter, Alexandria. Readers might be familiar with Alexandria since she has been my "cub reporter" on the site since the beginning. She was thrilled to meet many stars. She helped me promote my book and she also took a number of the pictures you see here.

I have to say that it was a thrill selling the book and signing autographs. People were extremely nice and complimented the work done on the book. It's fun being on the other side of the autograph table.

It isn't every day that I get to mingle among actors who I have admired for years. Signing autographs from across from me were Billy Dee Williams, Richard LeParmentier, Don Stark, and Nalini Krishan. Not too far way was Jeremy Bulloch. Even though I'm a grown up, it is still truly wonderful to meet them. I guess one never outgrows being star struck. Special thanks goes to Derek Maki who represents us through Coolwaters Productions.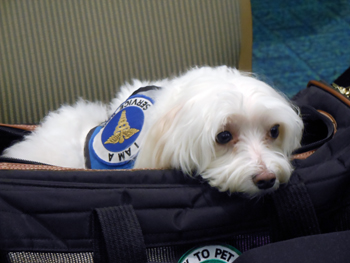 Coolwaters Productions' mascot,
London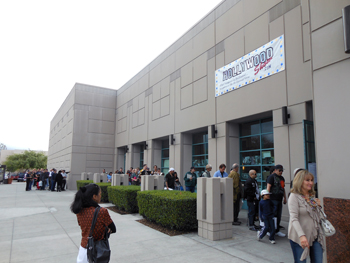 The line went around the convention center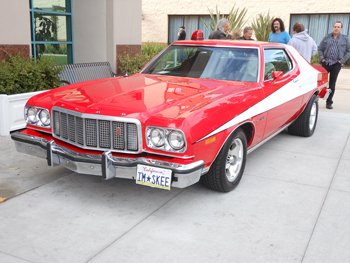 Iconic "Starsky and Hutch" car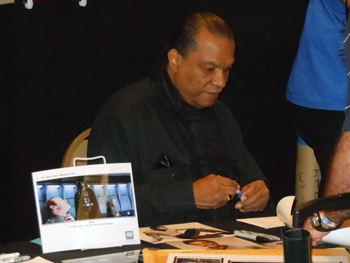 Billy Dee Williams signs autographs for hundreds of fans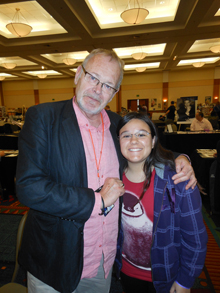 Actor Richard LeParmentier (Admiral Motti in "Star Wars") and Alexandria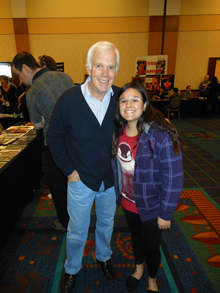 Actor Jeremy Bulloch (Boba Fett in "The Empire Strikes Back" and "Return of the Jedi) and Alexandria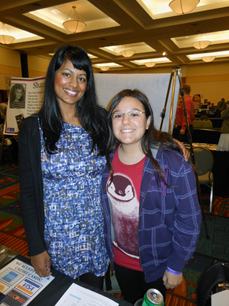 Actress Nalini Krishan (Barriss Offee in "Star Wars: Episode III-Attack of the Clones") and Alexandria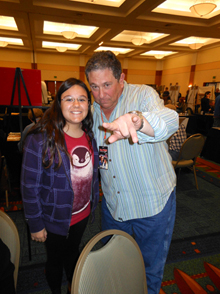 Alexandria and Don Stark ("That '70s Show")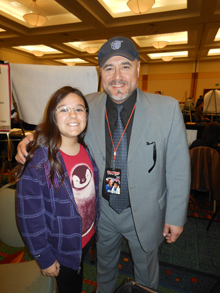 Alexandria and Mark Ryan (Bumblebee in "Transformers")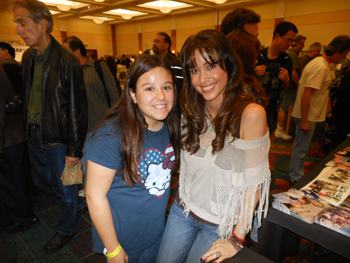 Alexandria and Shannon Elizabeth ("Dancing with the Stars")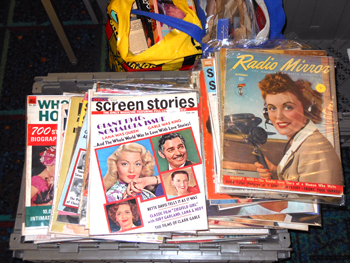 Old fashioned magazine collection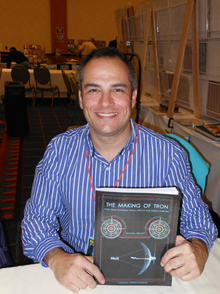 Author William Kallay (yours truly) with his new book, "The Making of Tron"
"Audrey Hepburn" the dog (Martin Landau's canine)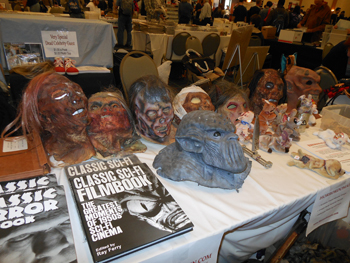 Scary masks!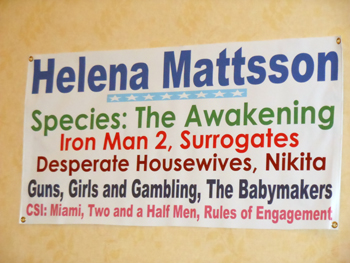 Actress Helena Mattson's banner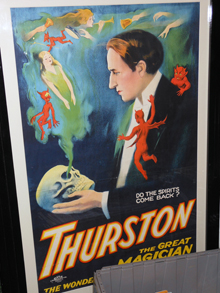 Thurston the Great Magician poster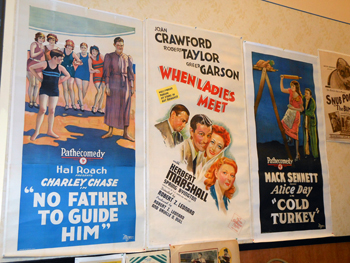 Special thanks to Derek Maki, Coolwaters Productions, Billy Dee Williams, Mark Ryan, Don Stark, Nalini Krishan, Richard LeParmentier, Jeremy Bulloch , Ethan Dettenmaier, and Alexandria (especially for being there with me)
---
Photo Credits

William Kallay (© 2012 From Script To DVD)
Alexandria Kallay (© 2012 From Script To DVD)