THE SCREENING ROOM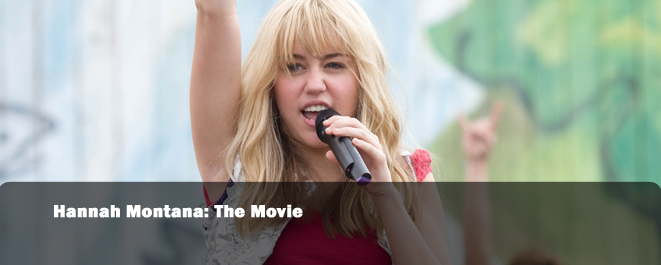 BLU-RAY REVIEW
By Bill Kallay
Hannah Montana has managed to outlast "Lizzie McGuire." The Disney Channel mini star has built an empire on a cheap blonde wig and some catchy pop tunes. This has made it not only a long-running series (the average Disney Channel series lasts three seasons; Hannah has one more year to go), but the concept has spawned two theatrical movies. The problem is that the movie doesn't capture the charms of its television sister. If there was never a "Hannah Montana" before this, I don't think that audiences would like this movie.

"Hannah Montana: The Movie" is now available on Blu-ray with a DVD copy enclosed.

Even if "Hannah Montana" existed when I was younger, I'm not sure if the show would've appealed to me. Being grown up makes it harder to see what's so special about Miley Cyrus' pop star qualities. I don't think I would've enjoyed her music nor the "girl" aspects of the show including a love for shoes and fashionable clothes. And even now, my daughter and her friends don't quite enjoy the show as much as they once did.

The show has managed to be watchable at times, providing for light weight television comedy that would've felt right at home in the 1970s. Think "What's Happening" or "Welcome Back Kotter." This is simple entertainment meant for easy digestion for the eyes and head. After a rough start in the first few episodes, it managed to improve upon its acting and writing quality. Still, there's not much deepness to "Montana." Its message of being who you are, yet faking who you are, is a bit confusing and hypocritcal. But the show still manages to earn high ratings.

It used to take a number of years for a television show to spawn a feature movie. Those days are over, and now television shows like "Hannah Montana" are turning up on the big screen quickly. The script for the feature feels predictable. Miley has become too involved in her pop star career that she forgets what's really important; her country roots. So her daddy, Robbie Ray (Billy Ray Cyrus), whisks her away on a private jet to cow country. She of course finds a studly cowpoke with a chisled jawline, played by Lucas Till. She finds herself and what it really means to be Miley and not Hannah. Be true to yourself is her message. Predictable like a TV Guide listing.

The movie is well enough made, but it jettisons most of the qualities that make the show tolerable. Miley's television brother, Jackson (Jason Earles), is given very little screen time to bumble. He's usually reliable as the slapstick character. Miley's sidekick pals, Lily (Emily Osment) and Oliver (Mitchell Musso) are barely seen. The screentime is mostly shared by the Cyrus duo, Billy Ray and Miley.

What also drags the movie down is its tone. The movie forgoes the show's sense of child friendly humor for a dull drama. The romance plays it by the numbers. Considering that Hannah has had a long time crush on Jake Ryan (Cody Linley) on the show, it's odd to see her falling for Till. The whole subplot with Montana's grandmother and Billy Ray's romance with Lorelai are simply throwaways.

Part of the charm of the show were its lightweight plots and goofy music. Not my cup of tea, but it was passable enough for 30-minutes. At 102 minutes, the feature drags along. Compared to Disney's other spin-off to the big screen, "The Lizzie McGuire Movie" (2003), "Hannah" pales. That movie, which catapulted and stopped Hilary Duff's budding career at the same time, kept that show's foundation vitually intact.

The Blu-ray picture is excellent, showing good detail and color. There's nothing slick and polished about the cinematography. The movie was shot with a pretty standard teen flick appearence, which is fine for a movie like this. Compared to the DVD version, the Blu-ray picture quality (played through a Sony Playstation 3) is considerably stronger.

The DTS-HD Master Audio 7.1 is excellent. Most of the big time sound comes from the concert scenes and Miley & Billy Ray's musical numbers. Audio is clear and you can hear some of the processing that goes into the mix. I won't go as far as to say that this soundtrack quality is as good as "Coraline" (also released in early 2009) but it's good.

Little Hannah Montana, or Miley, is growing up quickly. It'll be interesting to see if her young fans will continue to follow her far beyond her show and "Montana" movie.

Special thanks to Click Communications

Photos: © Disney. All rights reserved.

QUICK GLIMPSE
MOVIE
Even die hard Hannah fans might not recognize this Montana

TALENT
Director: Pete Chelsom

Cast: Miley Cyrus, Billy Ray Cyrus, Vanessa Williams

FEATURES
More Hannah than you can handle

RATING
G

BLU-RAY
Picture: Excellent
Sound: Excellent

TECH SPECS
Aspect Ratio (1.85:1)





BLU-RAY RELEASE DATE
August 18, 2009
About | Site Index | Contact | Terms & Conditions | Links
Custom Search