Related Articles:
"Hannah Montana: Pop Star Profile" On DVD
By
Bill & Alexandria Kallay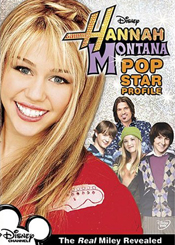 "Sweet nibblets! Hannah Montana?"

I can hear the screams from fellow grown ups out there on the Internet.

"What the heck does a 'tween' show have to do with scripts and DVDs?"

Consider that most shows, like "Hannah Montana," start with a script and sometimes end up on DVD. So, technically, a review of this new disc fits right in with From Script To DVD.

This site runs the gamut of movies, television shows, and occasional straight-to-DVD releases. There is serious, scholarly research done here, but we also cover major movie premieres with our photo galleries. In other words, we cover a lot, and hopefully appeal to many demographics and different movie and television fans. Since our junior reporter, Alexandria, fits right into the "Hannah Montana" demographic, why not do a review?
"Hannah Montana: Pop Star Profile" is a compilation of episodes from the extremely popular Disney Channel show. How popular is this fictional character who doubles as a normal teenager by day and a pop star by night? When Miley Cyrus's album "Hannah Montana 2/Meet Miley Cyrus" recently debuted on the Billboard 200 at #1, there were obviously a lot of tweens and teens who bought it. The Los Angeles Times recently featured two articles about Cyrus's booming success for Disney. One was a profile on Miley, and another was on how Disney is doing well with the series and album. Yep, Miley, rather, "Hannah," is loved by many.

"Pop Star Profile" is a single disc presentation. It's presented in full screen (1.33:1) and in Dolby Digital 5.1 sound.

The episodes included on the disc are "New Kid In School," "More Than A Zombie To Me," "Good Golly Miss Dolly," and "People Who Use People." Bonus features include "The Real Miley Cyrus" and a live concert performance by Miley (Hannah Montana) with the song "Nobody's Perfect."

The show originates on video tape and goes through a process called Filmlook, which gives it a pseudo-film appearance. The visual presentation is good, but nothing spectacular. The show is shot and lit like a standard sitcom one might see from the 1990s. I'm sure a lot kids watch this show online via Disney Channel.com, or in the comfort of their bedroom, or on their mom's built-in DVD player in the ol' minivan. I don't think fans of the show judge it on the merit of whether or not it looks like an episode of "CSI." It is what it is: kids' entertainment.

The show is about the trials and pratfalls of a junior high school girl named Hannah Montana. At school, Hannah hangs with her close friends Lilly (Emily Osment) and Oliver (Mitchell Musso). Neither of them really fits in with their classmates, but they have each other. She has a crush on a television star named Jake Ryan (Cody Linley). At home, she usually sees her brother Jackson (Jason Earles) get into various messes with their dad, played by Billy Ray Cyrus. She's also daddy's little girl. Billy Ray is also her manager when she goes into the guise, via a blonde wig, of Hannah Montana.
The show debuted in 2006 on Disney Channel. Some kids like Nickelodeon, with its harder and more sarcastic edge. Other kids, like my daughter, have been glued to Disney Channel since she was about 3-years-old. When the commercials came on for this new show, I rolled my eyes. "This show doesn't look very good," I said. "It's got the 'Achy Breaky Heart guy!'" My daughter ignored me. She said it looked funny.

"She's a beautiful girl and I just like her acting," says Alexandria. "Miley and Jackson are the two funniest people, and so is her dad,"

She wasn't around in 1992 when country music was dominated by Garth Brooks and other pop-country artists. (I grew up with my parents and some close friends who loved real twangy country/western music and I never caught onto it.) I remember when Billy Ray Cyrus broke onto the scene with "Achy Breaky Heart" and with his mullet. Suddenly, people who didn't like country music were lining up at clubs around the country to do the line dance. I also remember reading (or hearing) "true country" pundits ridiculing Cyrus for not being real country. Cyrus and "Achy Breaky" disappeared just as quickly as the "Macarena."

Time has passed and it looks like Cyrus is having the last laugh. He's developed as a respectable television actor, and his daughter Miley is a pop and television sensation.

After watching a few of the episodes with my daughter in the beginning, I didn't think the show was very good. Stiff acting and silly plots reminded me of those boneheaded sitcoms like "Blossom" or "Saved By The Bell." The only character who seemed to have life was Montana's brother, Jackson, as the comic relief. If not for the fact that my daughter watches the shows repeatedly, I wouldn't have noticed how the show has improved and gained a large audience.

After watching the episodes on the new DVD, I can see why kids are attracted to watching "Hannah." She lives the fantasy lifestyle of a pop star in a house on the beach in Malibu. Her closet has a revolving shoe and clothes rack, and she travels to her concerts in a limo. Her songs are pure pop confections with easy hooks and easy-to-remember lyrics. The plots, though silly, relate well to kids and how they grow up. The episodes on this DVD center around Miley's infatuation with Jake Ryan.
Miley Cyrus, as Hannah Montana, has grown as a comedic actress. She reminds me of actress Amanda Bynes ("The Amanda Show"). Both are actresses who act their age and act silly. Montana's friend on the show, played by Osment, has developed from being simply her flaky sidekick, to a character in which Cyrus can play off of.

The real spotlight on the show seems to be the character of Jackson, played by Earles. He's always getting into trouble either with his dad, or trying to outsmart junior businessman Rico (Moises Arias). He's got a goofy personality that's appealing to kids. It's hard to believe that Earles is in his thirties! Billy Ray Cyrus pretty much, it seems, plays himself. He's low key and occasionally has some fun with his former "Achy Breaky Heart" persona, including poking fun at the mullet he once sported.

"Hannah Montana" isn't the type of program that rams lessons of peer pressure or family/school issues down your throat, thankfully. It's "tween" friendly and rightly so. The show is pretty much light entertainment where the actors seem to have fun. It's not like the shows that I used to watch in my youth, like "Happy Days" and the original "Battlestar Galactica," were great pieces of entertainment. It's kind of hard for me to criticize the Cyrus show too harshly. We all have our vices, no matter how light and simple they may seem. Sometimes, while watching "Hannah Montana" with my daughter, I have to remember that this show isn't for me, but for her and her friends.

Says Alexandria, "The show is a great show! A lot of people like 'Hannah Montana' because they like her music and how she looks!"

Hannah Montana: Pop Star Profile
Walt Disney Home Entertainment
Catalog Number 54088
Region 1
1.33:1
Dolby Digital 5.1
DVD Release Date: June 26, 2007
$19.99
TV-G
DVD-9 Disc
2007
91 minutes
Color
Directors: Kenneth Shapiro, Roger S. Christiansen, Shannon Flynn
Cast: Miley Cyrus, Emily Osment, Jason Earles, Mitchell Musso & Billy Ray Cyrus
---
Special thanks to Mac & Dinah McLean
IMAGES: © Disney. All rights reserved. Concert image courtesy Tiffany Koury. © Berliner Studio/BEImages. All rights reserved.