THE SCREENING ROOM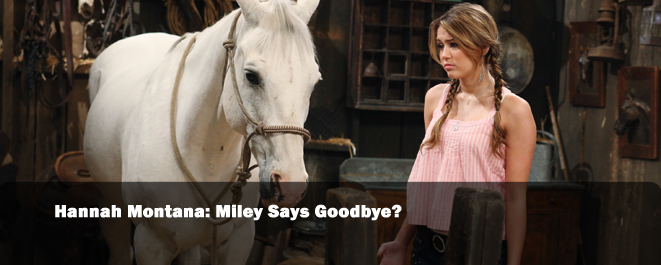 DVD REVIEW
By Bill Kallay
I never thought I'd say this, but "Hannah Montana" has gone "Happy Days." Hannah has jumped the shark.

"Hannah Montana: Miley Says Goodbye?" is now available on DVD.

It's almost always risky to broadcast a children's show with child actors. The kids are cute at first, but then they grow up and much of the charm they had disappears. "Hannah Montana" was never charming or cute, but it did have some qualities that grew on you as you watched it. I've seen far worse children's shows over the years. After a rocky first few shows, "Montana" developed its own style and confidence to where it became watchable.

As with most of Disney Channel's programs in the last ten years, "Hannah Montana" has nearly run its course. Miley Cyrus and crew managed to dodge the ball for a fourth season. Most Disney Channel shows are retired after three. It's the "Logan's Run" dilemma. Once you hit age 18, your hand crystal changes color and the Disney Channel sandmen are chasing you down for early retirement. After watching this latest DVD with my daughter, I wondered why the show hadn't been retired.

It's always a bad sign for a long running show (at least for Disney Channel) when two characters who were friends (Lilly, played by Emily Osment and Oliver, played by Mitchel Musso) fall in love; when Jackson moves out (Jason Earles); when Miley/Hannah looks at moving back to her home in Tennessee; and when the Stewarts move into a new home. This reminded me of how "Laverne & Shirley" moved from Milwaukee to California. The show wasn't "Masterpiece Theater," but the change put the show into a whole new dynamic. Or how the cast of "Happy Days" grew up and the show lost its goofy childlike tone, then morphed into "Joanie Loves Chachi." What I'm saying is that once the kids grow up, and the show changes the foundation that made it work, the show is good as done.

"Hannah Montana" is supposedly in its last season anyway. Miley Cyrus has had a career that's gone beyond the trappings of a kid's show. With multi-selling albums, hit songs, sold-out concerts and royalties from DVDs sales and Disney Channel repeats, I'm sure the kid has a few palatial homes around the country by now. In about four years time, she's become a cultural icon of sorts. As readers know by now (yawn), I've never been a fan of Cyrus' music. It'll remain to be seen how her career thrives into adulthood. Or will we see her about 20 years from now playing the sassy waitress, Flo, in a feature length movie of the '70s show, "Alice?" Actually, she might be fun to watch in that kind of role.

Watching this DVD, it felt like the cast was phoning it all in. Nearly everyone seems tired and eager to move onto bigger roles. It's hard to keep playing young teenagers when you're ready for college and the voting booth.

The show still does incredibly well in the ratings. No matter what my opinion is, it really doesn't matter much. It still has a wide fanbase, even if my own daughter doesn't care for it much anymore. For me as a father watching it with my young kid, it's provided some laughs. But as a critic, I think it's time for Miley and the gang to turn off the stage lights and call it a run.

Special thanks to Click Communications

Photos:

© Disney. All rights reserved.
QUICK GLIMPSE
MOVIE
Hannah's running out of steam

TALENT
Director: Various

Cast: Miley Cyrus, Billy Ray Cyrus, Emily Osment, Mitchel Musso

FEATURES
"Hannah Highlights"

RATING
G

BLU-RAY
Picture: Good
Sound: Good

TECH SPECS
Aspect Ratio (1.33:1)





DVD RELEASE DATE
March 9, 2010
About | Site Index | Contact | Terms & Conditions | Links
Custom Search