THE SCREENING ROOM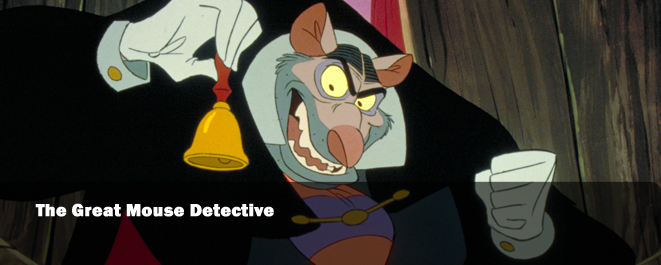 DVD REVIEW
By Bill Kallay
Not every Disney animated feature is a classic, but even the occasional misfires can spawn wonderful things.

"The Great Mouse Detective (Mystery in the Mist Edition)" is now on DVD.

The film came out when the Disney studio was in major transition. New management, lead by Michael Eisner, Jeffrey Katzenberg & Frank Wells, almost immediately began pumping new films into the studio's long dry pipeline. It has been said that Katzenberg was no fan of animation and threatened to shut the whole division down. But Roy E. Disney asked to keep the division. It, after all, was the reason why Disney existed in the first place.

One of the projects that had been around was "Basil of Baker Street," based on the books by Eve Titus & Paul Galdone. It had involved the story of a mouse detective who lived under Sherlock Holmes's house. Once Katzenberg heard a passionate plea from Ron Clements and John Musker to make the film version, he allegedly told them they could do it, but on a small budget and it was to be done quickly. Somewhere along the line, the title was changed to the more kid friendly "The Great Mouse Detective."

The movie was released in 1986 during Disney's comeback period. The year before, the studio released "The Black Cauldron," an ambitious yet flawed film. "Mouse" did fairly well because it was a Disney animated feature and seemed brighter and more family friendly than "Cauldron." The semi-return to "classic" Disney animation worked and the movie was a modest success. It was a stepping stone for the animation unit, the studio and Clements/Musker. There was still life in Disney animation.

Seen today, "Mouse" doesn't hold up as well as "The Little Mermaid," "Beauty and the Beast" or even "Aladdin." The look of the film is dark (much like "An American Tail," released that same year) and depressing. This dark look and fairly limited animation would carry over to "Oliver and Company." The animation is limited and flat (no fault of the filmmakers, in my opinion). The characters, with the exception of Ratigan (Vincent Price), aren't memorable or interesting or funny.

It's not that "Mouse" is a bad movie, because it isn't. If anything, it clearly let the studio's younger animators use their skills, even with Katzenberg tying their hands with a low budget and quick schedule turnaround. Out of it came came Glen Keane, Andreas Deja, Rob Minkoff, and Kirk Wise. That's a tremendous talent pool. Musker & Clements would, of course, go onto directed "The Little Mermaid," "Aladdin," and the underrated "Treasure Planet." Despite my qualms about their latest directorial effort, "The Princess and the Frog," I'm sure we'll be seeing more great animation from these guys. And to think, it all kind of started with a "Mouse."

Special thanks to Click Communications

Photos:

© Disney. All rights reserved.
QUICK GLIMPSE
MOVIE
Typical of '80s feature animation from Disney

TALENT
Director: Ron Clements, Burny Mattinson, David Michener, John Musker

Cast: Vincent Price, Barrie Ingham, Val Bettin, Susan Pollatschek

FEATURES
Minor extras

RATING
G

DVD
Picture: Very Good
Sound: Very Good

TECH SPECS
Aspect Ratio (1.78:1)

Dolby Digital 5.1

DVD RELEASE DATE
April 13, 2010
About | Site Index | Contact | Terms & Conditions | Links
Custom Search