The Screening Room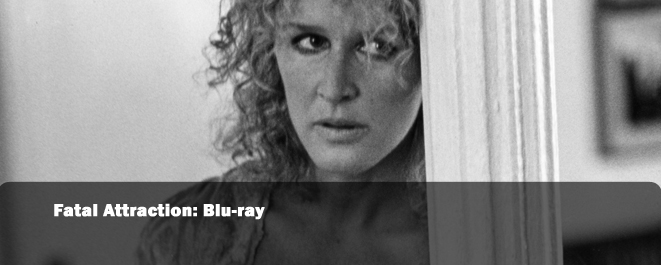 BLU-RAY REVIEW
By Bill Kallay
Glenn Close scared the crap out of me in 1987. Oddly seductive with her 1980s permed hair and high heels, I think most guys were shocked to see the normally plain Close sexed up. A black widow, if you will.

"Fatal Attraction" is now available on Blu-ray.

The film came out at a perfect time. Audiences, still pumped up over a great summer of films, crowded theaters to see this thriller when it was released in the fall. I know I did, taking a date with me to a packed house at the old Orange Cinedome. Since it was opening weekend, not a lot of people were aware of this film's twisted plot. The film would become quite a surprise for everyone.

Adrian Lyne starts the film with a slow pace, introducing Michael Douglas as a successful family man. We meet his beautiful wife (Anne Archer) and his daughter with the boyish haircut (Ellen Hamilton Latzen). Douglas would go on to become the epitome of 1980s businessmen after this.

The film begins to pick up its pace once Glenn Close starts flirting with Douglas. I remember the audience giggling in embarassment and glee as they started getting busy. Most of the film is done in Lyne's style. Lyne was no stranger to dark interior shots and the use of zoom lenses. The film felt very much like other Lyne films like "Flashdance" and "9 1/2 Weeks," and honestly, this wasn't a good sign. Those two films, though popular, felt distance and trendy, even for the time. Yet after the steamy one night stand scene, Lyne guides the cast through an intricate plot that thickens.

Close is the heart of the film. She begins as a seductive bystander, then we learn that all is not right in her head. She's so compelling and so dynamic that it's easy to look past her darkness. The audience, despite being creeped out by her, then totally shocked by her in the end, feels empathy. As twisted as she is inside, there's a bit a sadness for her just wanting to be loved and wanted. In one of her confrontations, she actually makes a good point to Douglas about not wanting to be ignored. She places some of the blame back on him.

The audience likes Douglas, despite his infidelity. I remember the audience clapping when he confronts her later in the film. This is one of those rare films, despite it having been made years ago, that continues to weigh the rights and wrongs of the lead characters. Douglas' character is set up as a good husband and good father. He's later set up as a man trying to make up for his mistake.

Lyne directs with precision, slowly guiding the audience into hell. He forces us to pick sides on who's right or wrong. He lets the us decide, though he makes it clear in the ending who's redeemed. We leave the theater (or our living room) shaking our head. How the hell did it get this far?

The Blu-ray shows the film well. When it was released, it wasn't a very bright and sharp film. Most of it is shot darkly, so viewers shouldn't expect this title to pop out on their HD screens. Paramount has once again done an admirable and faithful job on this older title.

The Dolby TrueHD soundtrack is very good. I've seen this film in a theater twice and it never sounded this good. Dialogue and music are presented nice and full with clarity. Some of the "jump" sound effects really pack a whallop this time around.

Sure the film is dated now in its appearence, but Close still commands the screen. And she still scares me.

Special thanks to Click Communications

Photos:

© Paramount. All rights reserved.



QUICK GLIMPSE
MOVIE
The film that scared the living daylights out of guys and left girls giddy

TALENT
Director: Adrian Lyne

Cast: Michael Douglas, Glenn Close, Anne Archer

FEATURES
Featurettes, original ending, and more

RATING
R

BLU-RAY
Picture: Very good
Sound: Excellent

TECH SPECS
Aspect Ratio (1.85:1)





BLU-RAY RELEASE DATE
June 9, 2009
About | Site Index | Contact | Terms & Conditions | Links
Custom Search