THE SCREENING ROOM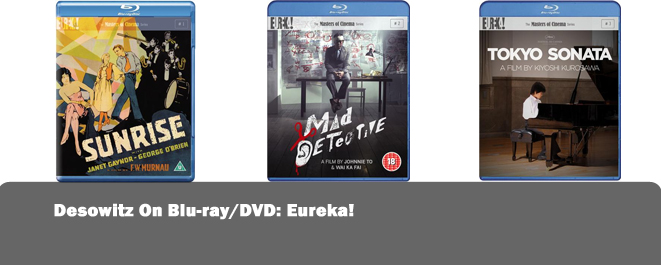 DESOWITZ ON BLU-RAY/DVD
By Bill Desowitz
Several years ago, I discovered the wonders of the London-based based Eureka, which I call the Criterion of Region 2. The Masters of Cinema series is renowned for international classics (Alain Resnais' mesmerizing "Muriel" and Douglas Sirk's underrated "A Time to Love and a Time to Die" are two recent entries that I highly recommend). And now they have embraced Blu-ray, too (http://eurekavideo.co.uk/moc/bluray/).

Speaking of which, the new Blu-ray of F.W. Murnau's 1927 silent masterpiece, "Sunrise" -- the only version in 1080p HD anywhere -- is one of the Blu highlights of the year. The new master contains two versions of the film: the now familiar Movietone version and the recently discovered Czech version, which is shorter but superior looking. The negative was destroyed in a fire but they utilize the best surviving film elements.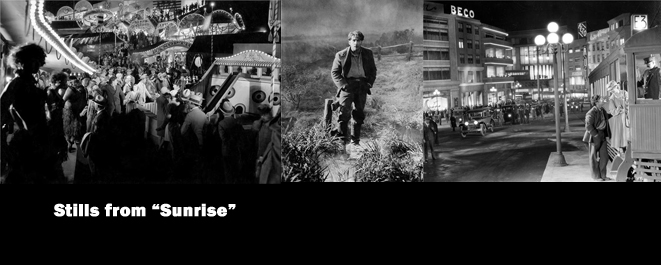 Made at Fox during the twilight of the era by the German filmmaking pioneer Murnau, "Sunrise" is, arguably, the greatest silent film ever made. Winner of three Oscars for Best Actress (Janet Gaynor), Cinematography, and a never-repeated award for "Unique and Artistic Picture," the movie is a very simple one: a farmer (George O' Brien) has an affair with a city vamp (Margaret Livingston), who convinces him to drown his wife (Gaynor). Unable to go through with it, she runs away to the city and he follows her in the trolley car and, slowly, agonizingly, joyously, they rediscover their love during a second honeymoon in the city. The cinematography by Charles Rosher and Karl Struss has never looked more luminous; the lovely tracking shots appear even more poetic. Make no mistake: "Sunrise" represents the apex of silent filmmaking and its visual and emotional impact are immersive. I find myself using that word over and over again when writing about Blu-ray, but it's true: the format has raised the bar for home entertainment viewing. You will also note that Murnau had a great influence on Alfred Hitchcock (check out the opening title sequence and you'll see where Hitch and Saul Bass got the idea for their "North by Northwest" title sequence, which is also coming to Blu-ray).

And speaking of Murnau, Eureka has also released Murnau's "Phantom" (1922) on DVD, a precursor to "Sunrise" boasting the director's trademark naturalism along with a dreamy romanticism. An aspiring poet has a chance encounter with a beautiful woman in the street and experiences a wild romantic adventure that anticipates "Vertigo" in its descent into obsession and desperation.

Meanwhile, Eureka has released two recent films on Blu: Johnnie To's "Mad Detective" (2007) and Kiyoshi Kurosawa's "Tokyo Sonata" (2008) (2007). Mad Detective" is a brilliant psychological crime thriller from Hong Kong about a genius cop, Detective Bun (Lau Ching Wan) who can see inner personalities (a kindred spirit to "Manhunter's" Will Graham), but is forced into retirement after slicing off his right ear and presenting it as a gift to his retiring boss. However, Bun soon comes out of retirement to track a bizarre serial killer, who is a seven-spirit collective inspired by "The Seven Deadly Sins." "Dr. Mabuse" meets "Seven"? No, this is highly original, funky and unnerving -- and not to be missed. Of course, it looks crisp and creepy in HD. "Tokyo Sonata" may be the best and most solemn movie about the impact of the current recession, in which Ryuhei Sasaki (Teruyuki Kagawa) is unceremoniously dumped from his job and tries to hide his shame from his family by pretending to go to work each day. In a departure from his usual horror fare, Kurosawa manages to impart a chilly existentialism to this very relevant social drama. The city is both a nightmare and a haven, reinforced by the sharp HD image.


Special thanks to Steve Hills of Eureka

Photos:

© Eureka
QUICK GLIMPSE
MOVIES
"Sunrise," "Phantom," "Tokyo Sonata," "Mad Detective"

DISTRIBUTOR
Eureka

TALENT
Director: F.W. Murnau ("Sunrise," "Phantom"), Johnnie To ("Mad Detective"), Kiyoshi Kurosawa ("Tokyo Sonata")

Cast: George O'Brien and Janet Gaynor ("Sunrise"), Alfred Abel ("Phantom"), Lau Ching Wan ("Mad Detective"),Teruyuki Kagawa ("Tokyo Sonata")

FEATURES
"Sunrise" offers restored HD transfers of two different versions: the American Movietone version and silent Czech version.

The two-disc "Phantom" set also offers another Murnau film, "Die Finanzen des Großherzogs," a more comedic, Mediterranean turn on the high-seas about a rakish duke on a mission to find a valuable treasure of sorts.

Q&A with Johnnie To at the Cinémathèque Française Johnnie To retrospective (Paris, France, March 2008) -- 35 minutes

"Tokyo Sonata" making of documentary--61 minutes

RATING
"Sunrise," Phantom": Unrated
"Mad Detective": Unrated
"Tokyo Sonata": PG-13

BLU-RAY
Picture: Excellent
Sound: Excellent

TECH SPECS
"Sunrise": 1.20:1 OAR black & white monaural

"Phantom": 1.37:1 OAR, black & white, monaural, PAL, Region 2 (will only play on Region 2 or region free DVD/Blu-ray players)

"Mad Detective": 1080p, 24fps, state of the art AVC encode, 2.35:1 original aspect ratio, region free DD2.0, DD5.1, DTS-HD Master Audio, and Dolby TrueHD

"Tokyo Sonata": 1080p / 24fps AVC feature encode (all extras 480p SD), region free, DTS-HD Master Audio / Dolby TrueHD

BLU-RAY RELEASE DATE
"Sunrise": Sept. 21, 2009
"Phantom": Oct. 19, 2009
"Mad Detective": Nov. 3, 2008
"Tokyo Sonata": June 22, 2009
About | Site Index | Contact | Terms & Conditions | Links
Custom Search