The Dullest Story Ever Told
By
William Kallay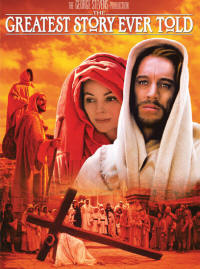 Back in November of 2004, the Academy (the folks who give out Oscars every year) held a special once-in-a-lifetime screening of "The Greatest Story Ever Told" at the Samuel Goldwyn Theatre in Beverly Hills. Why did it take me so long to write this article? You could say I'm still in shock at how this film has an effect on an audience.

I'm not one to pass up the opportunity to see one of those widescreen spectacles from the 1960s. You know what I'm talking about. Mix epic pomp and circumstance, with well-crafted monologues, legions of extras dressed in costume, and a stirring score, and you've got yourself classics like the oft mentioned "Lawrence Of Arabia" and "Ben-Hur." I love this stuff.

With "The Greatest Story Ever Told," however, I must admit that I had some trepidation about seeing a recent, and I might add, very rare screening of George Stevens' 1965 epic. I had read in various books about film that it was a major critical and financial flop for not only Stevens, but for United Artists, the company that financed and distributed the film. I read and heard it was slow—very slow.

I hymned and hawed: should I pay $5.00 to see it? It might be the only time in my life to see this film. Perhaps almost 40 years of the passage of time might be kind to it. Perhaps it could find a new, modern and appreciative audience today. Perhaps I could learn to love this film.

The Academy is known for excellence in presentation at the Samuel Goldwyn. Their staff, put together an exceptional show, which no doubt took a great deal of time and preparation. Their attention to detail certainly showed on screen. The staff went through great pains to find the correct lenses to show the 70mm print in its original, and v-e-r-y w-i-d-e, Ultra Panavision aspect ratio. So I feel rather guilty to criticize this film. After all, some of the cast was there, including Martin Landau. George Stevens' wife was in attendance, too. The evening's screening was an event in itself.

To say I enjoyed moments in this film would be stretching the truth. To say I liked it just a little bit would be a lie. But to say I loved this film would be heresy. "The Greatest Story Ever Told," despite the good intentions of George Stevens and his cast & crew of putting out a good film, clearly missed the mark with this film. Even if this film was shot on 130mm film and was cut down to a half-hour time limit, it would still be "The Dullest Story Ever Told."

Sitting in my comfy Academy chair, I tried to give this epic a chance. The music by Alfred Newman is utterly wonderful and well-recorded. It's one of those rare soundtracks that can stand out on its own (it's been recently released on CD by Varese Sarabande.) And the cinematography by Loyal Griggs & William C. Mellor is exceptional. But the movie waddled along. And it continued to waddle along, and then some.

There are long passages of Jesus Christ (played by Max Von Sydow) walking with his disciples through the Utah desert (where it was filmed). He performs a lot of sermons in this film. And then, He performs more. To add another sermon to injury is Charlton Heston's portrayal of John the Baptist. He bellows out that the Son Of God is here on Earth. At one point, I was expecting a pulpit to rise from the water where Heston was standing. His acting is so over-the-top in this film, that it's pretty comical in such a "serious" epic as this. "Get your stinking hands off me, you damned dirty Roman!"

Before the film was even near the intermission, I looked around the audience. A lady next to me was completely out, snoring. Looking to my right, at least a dozen more people were in the Land of Snooze. I have never in my lifetime seen this happen to an audience during a film. Never. I've seen bombs before, and I've walked out on movies that weren't good, but this film had an effect so profound on the audience, I chuckled. Indeed, George Stevens had noble intentions with this film, but his direction was so heavy, it crushed anyone watching it that night.

I've heard that this film affected audiences the same way back in 1965. I thought that maybe time would be kind to the film. But it wasn't. The film is simply a bore. I didn't love it, as it turned out. I walked out before the intermission and never came back. I figured security might have gone down each row of seats to shake awake any sleepy heads left in the auditorium.