Related Articles:
The "Dreamgirls" Tour Makes A Stop On DVD
By
William Kallay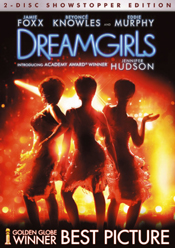 Which is worse? Hype, or being disappointed in the hype?

"Dreamgirls," is now available on DVD in a single DVD package or in the "2-Disc Showstopper Edition." For this review, FSTD has the "Showstopper Edition."

Disc 1 contains the feature film in widescreen (2.39:1) with a 5.1 sound mix, a Dolby Digital 2.0 mix, a Dolby Digital 5.1 mix in French, a Beyoncé music video for the song "Listen," and 12 extended musical numbers. Disc 2 includes a documentary called "Building The Dream," audition footage and screen tests, previsualization scenes, image gallery and a number of separate documentary shorts on the making of the film.
As a home theatre demonstration DVD, this is a winner. The story of the rise and fall of a fictional Detroit trio called The Dreams is ripe for the filmmakers to take artistic license with production design, cinematography, and sound design. From director Bill Condon, down to John Myhre's production design, "Dreamgirls" captures the decades (from the 1960s on) very well. The film's excellent picture quality and dynamic soundtrack make for toe tapping bliss. The widescreen picture, featuring Tobias Schliessler's outstanding camerawork, looks great. The Oscar-winning mix by Michael Minkler, Bob Beemer and Willie Burton fills your speakers with rich and full sound. Nice bass, without being overbearing, can cause even the most jaded critic to snap his or her fingers in tune. The Dolby Digital 5.1 (in English or French) mix plays at 448kbps, while the Dolby Digital 2.0 mix plays at 192kbps.
As a film, "Dreamgirls" has a lot going for it. Bill Condon's direction is first rate. By taking a very intricate story that spans the decades, he's done a commendable job in keeping the story moving along at a brisk pace. The cast of actors is any casting director's dream, excuse the pun. Jamie Foxx and Danny Glover provide understated, yet engaging performances. Eddie Murphy does a Dame Judi Dench and shows up on-screen for a short time and earns an Oscar nomination (he lost; she won for "Shakespeare In Love" in 1998). He plays James "Thunder" Early, a hybrid of James Brown and serious Eddie Murphy. He's good, but I felt I've seen him do this same type of role a thousand times before. Kudos to the limited role of Keith Robinson as C.C. White. He has the most passion of any of the actors on screen.
The movie is called "Dreamgirls," and the three leading ladies certainly fill the screen with pretty good singing and pretty winks of the eye. Much has been made of Jennifer Hudson's Oscar-winning performance. To go from obscurity, to "American Idol" (this century's "Star Search"), to starring in a feature film that has an incredible cast, is the stuff of dreams. She literally overpowers the cast with her personality and pipes as Effie. But I'm not sure if that helped the film. One scene in the movie, where The Dreams are recording a song under tense circumstances, illustrates Effie's personality. Instead of sharing the singing duties, she purposely sings louder than everyone else in the booth. Her character is abrasive or overacts. She didn't make me feel like I wanted to root for her. I didn't feel empathy for her character when she burst into "And I Am Telling You I'm Not Going." That was supposedly the showstopping tune everyone raved about when the film came out. But unlike the ovations I've heard during film versions of "Summer Nights" in "Grease" (1978) or "Be Our Guest" in "Beauty And The Beast" (1991), I couldn't understand why people went crazy over Hudson's number. I understand that Jennifer Holliday knocked 'em out with the stage version, but I found that Effie just wasn't someone to care about. Or was it Hudson that bothered me with her over-the-top performance?

Beyoncé plays lead singer of The Dreams, Deena Jones. She's beautiful and stunning to look at on-screen. I think she's adorable. As a singer, I find her voice okay, but nothing like Aretha Franklin or Tina Turner, who can make you feel their music. Beyoncé's music and singing is pure pop, and her limited range shows here in this film. Her sassy, yet fun personality is hampered by the presence of Jennifer Hudson. In every film I've seen Beyoncé in, she is essentially Beyoncé. I don't see her becoming her character. For something like her Foxy Cleopatra role in "Goldmember" (2002), she was perfectly suited. Her spirited personality was right for that role. In "Dreamgirls," she's more like eye candy and there for marquee value. As Deena, she disappears into the background and we don't get a commanding presence from her. As for Anika Noni Rose (Lorrell), she's mainly there as the third singer, and that's it. I haven't seen the stage show, so I don't know how vast her character's role was. In the film version, it's nearly non-existent, and that's a shame because in the few times she's on the screen, she's good.
Once one gets past the glitzy visuals, showstopping tunes (which there seem to be about 5 of them), and the stagy choreography of The Dreams striking poses, there's not much beneath this film's surface. Most of the characters don't really encourage the audience to care for them. This is not to say that "Dreamgirls" is a bad film, or even mediocre. The film is simply not all that it's been hyped up to be. There's a lot there to see and hear, but once the end credits fade out, I felt like I had been fed a lot of food, but was hungry for something more satisfying a short time later.
This may seem like harsh criticism of a beloved musical, but the songs aren't all that memorable.
The "Dreamgirls" songs, though faithful to the Motown sound, didn't stay with me. For a much praised Broadway score, I don't recall hearing any of the songs, including "And I Am Telling You I'm Not Going," being remade by contemporary pop artists, or being in the American Broadway musical songbook. Almost anyone can hum "It's A Hardknock Life" from "Annie," or belt out certain Rodgers & Hammerstein songs. Of course, every popular Broadway musical doesn't have to be memorable, or even good, to be successful. Just look at Andrew Lloyd Webber's track record. Yet with the hype this film generated, you'd think everybody would be humming "Cadillac Car" by now. The only song I found a bit memorable was the theme, "Dreamgirls," which comes closest to the Motown sound. It has a nice beat, nice vocals, but nothing to shout about.

The film's use of music is a bit unusual at times. I thought, after spending the first half hour or so with it, that the musical sections were done on a stage. Then the characters break into song outside of the stage with musical accompaniment, and it feels like the songs come out of left field. The musical has a split personality. For instance, I would've preferred seeing a scene where The Dreams sing their own signature tune as they're getting ready for their first big show. You know the basic storytelling rule: establish who the characters are immediately. The film now drives me crazy after seeing it so many times, but "The Sound Of Music" is a great example of introducing story, music and character in one scene and one song! "The Hills Are Alive With The Sound Of Music" introduces Julie Andrews' Maria, we get her dilemma almost right away (we know she's late for something important as she races down the hill towards the abbey), and we're off to the races. Yes, I know I sound like one of those college teachers or scriptwriting "gurus," but in the case of "Dreamgirls," their logic would sound correct.
The "Dreamgirls" story itself is loosely based on the early years of Motown, Barry Gordy, and The Supremes. Motown had a distinct sound. Gordy's insistence on blurring racial lines and creating music that was instantly recognizable was genius. Over 40 years later, you can turn on any radio in the United States and probably hear The Supremes or The Temptations. Even though, at least in my opinion, those songs have been played to death, they certainly earned their spot in music history. Perhaps a musical done on the real Supremes would've been better and more engaging than "Dreamgirls." With a leading and powerful singer like Diana Ross, and the tragic death of singer Florence Ballard, the real life story had more potential.
I really wanted to like "Dreamgirls." I was impressed by its potential. The giant billboards plastered all over town, with their bright and colorful images and the neon "Dreamgirls" logo, were impressive. But the film tries to do too much all at once. By cramming the span of decades, tons of songs, a lot of characters and a fairly traditional rags-to-riches story into 130 minutes, "Dreamgirls" feels like it tries too hard to please. It tries too hard to be the big, impressive, "you gotta see it to believe it" movie.
"Dreamgirls" was touted as an Oscar winning Best Picture, hands down. No other film of 2006 had a chance of beating this movie. That was even before it was shown on theatre screens. DreamWorks spent a lot of money on billboards, television ads, print ads, and even made seeing the film an "event" by "roadshowing" it in New York City, San Francisco and Los Angeles. Audiences paid good money to see the film, and by the way people were talking about it, "Dreamgirls" was this century's "The Sound Of Music." Critics, for the most part, loved it. And there wasn't a single soul who didn't rave about Jennifer Hudson's film debut.
When the Oscar nominations were announced, "Dreamgirls" certainly cleaned up in many categories. Yet, it missed the Best Picture boat. There were howls of how the Academy did "Dreamgirls" wrong. After choosing some questionable Best Picture winners like "Gladiator" (2000) and "Chicago" (2002), maybe the Academy wised up and chose not to nominate "Dreamgirls" for Best Picture. Audiences at first raced to spend $25 per ticket to see the "roadshow" engagement, but tapered off and the film barely broke the $100-million box office barrier.

A lot of people bought the hype,...hook, line and singer.
Dreamgirls
DreamWorks Home Entertainment
Catalog Number 12355
Region 1
2.39:1
Dolby Digital 5.1
Dolby Digital 5.1 (French)
Dolby Digital 2.0
DVD Release Date: May 1, 2007
$29.99
PG-13
Two DVD-9 Discs
2006
130 minutes
Color
Director: Bill Condon
Cast: Jamie Foxx, Beyonce Knowles, Eddie Murphy, Danny Glover, Anika Noni Rose, Keith Robinson, Jennifer Hudson

---
Special thanks to Mac McLean
IMAGES: © DreamWorks And Paramount Pictures. All rights reserved.