breakone
breaktwo
The Screening Room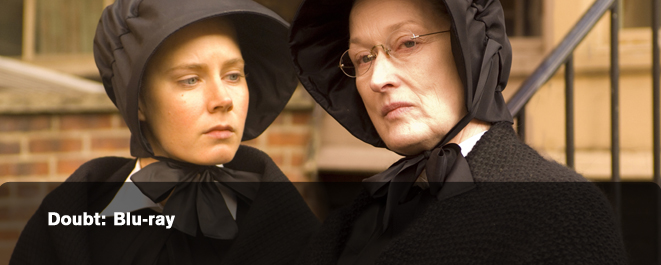 THE STUDIO GATE
Fine acting. Check. Excellent dialogue. Check. Fine, moody cinematography. Check again. What does this all add up to? A fine movie with fine acting that can lull a viewer into a slumber.

"Doubt" is now on Blu-ray.

This is a an actor's film that shows off their immense acting chops. How could you go wrong with Streep, Adams & Seymour Hoffman working with a famous stage play as their guide? It's not that the film adaption of John Patrick Shanley's play doesn't try to aim high. The plot sets up these actors in a case of whether or not there has been improper conduct in a Catholic school. They act cold (Streep), too innocent until she gets some fire in her gut (Adams), and eventually yell for an Oscar-worthy performance clip (Hoffman). All of this adds up to a shrug on the part of viewer. That was it?

Streep is quite good as Sister Aloysius and gave me the creeps as the head of the school. She's a bit over the top at times, but she's a joy to watch. Hoffman hasn't really ever hit the right buttons with me as an actor. Perhaps it's from his performance in "Boogie Nights" that firmly planted in my mind as sort of a creepy character actor. Yet he's good in his role as Father Flynn. He's not so creepy. Adams continues to suprise me with her range. She wasn't really even on the Hollywood radar until "Enchanted," in which she gave a wonderful performance. Her meek character of Sister James is often funny because of her innocent outlook on the world.

The movie sets up an intriguing "did he do it or didn't he" premise, yet falters. Underneath this rough dog's exterior is meager puppy. I found the movie plodding in its pace. I kept checking the remaining running time on my Playstation 3 to see how much longer I had to go.

The Blu-ray picture quality on this film is excellent. The picture maintains Roger Deakins' fine cinematography. This is not a slick looking film by any means, so Blu-ray viewers shouldn't expect to see ultrasharp imagery. The film has an overcast pall over it, dulling the colors and keeping the sharp detail down.

The DTS-HD Master Audio is perfectly fine for a mostly dialogue driven film. I don't think most home theatre buffs will crank up the volume on Streep. The production sounds like it was well recorded and mixed.

If you went to Catholic school during the days of sisters ruling their classes with an iron fist, you might enjoy some of the jokes in the film. This is really a production that probably worked wonders on stage. Here on film, it's a slow journey.

Bill Kallay

Special thanks to Click Communications

Photo: © BVHE. All rights reserved.

Blu-ray Quick Glimpse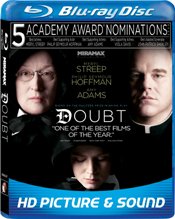 MOVIE

Fine acting can't overcome snore inducement


TALENT

Director:

John Patrick Shanley



Cast:

Meryl Streep, Amy Adams, Philip Seymour Hoffman




FEATURES

"From Stage to Screen" audio commentary, and more


RATING

PG-13


BLU-RAY
Picture: Excellent
Sound: Good


GEEK OUT

Experience Meryl Streep's latest accent!


TECH SPECS

Aspect Ratio (1.85:1)

DTS-HD MA 5.1

BLU-RAY
RELEASE DATE

April 7, 2009
break