breakone
breaktwo
The Screening Room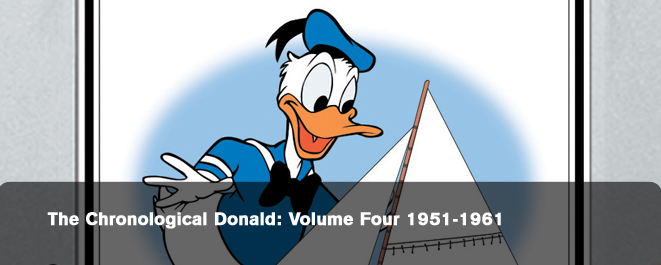 THE STUDIO GATE
Some of my favorite short cartoons come from Donald Duck. Out of all the Disney cartoon characters, with the exception of Goofy, Donald could easily get laughs from me.

"The Chronological Donald: Volume Four 1951-1961" is now available on DVD.

The shorts contained in this 2-disc set are some of the funniest to come out of the Disney Studio. The studio is usually associated with its exceptional animation and re-working of fairy tales. But there were several very humorous shorts that were on par with the best of the Warner Bros. "Looney Tunes." All the slapstick gags and chases that Donald endures are plenty funny.

Back in the 1980s, Disney released a series of videotapes featuring its collection of cartoon shorts. Mickey Mouse, Goofy and Donald were prominently featured on their own tapes. Among my favorites were the Donald shorts, and this new DVD set has them in glorious condition. I'd been waiting for a long time to see these cartoons again.

I got the most laughs out of "The New Neighbor," a fast paced cartoon that features Donald trying to outwit his new neighbor. Another funny one is "Donald's Diary," which tells a hilarious tale of Donald falling in love with Daisy. What's fascinating is how the shorts poke fun at society and human behavior, and most of these gags hold up today. Nearly everyone has had an obnoxious neighbor, and married couples have had those situations when the in-laws take over the house. Both of these shorts keep the gags coming fast and furious.

Donald goes far beyond the slapstick comedy, though his character is perfect for it. His temper and occasional kindness was excellent territory for possibilities. He was the only major Disney character, other than Humphrey Bear, to receive treatment in the widescreen format of CinemaScope. Much to the credit of the animators, "Grand CanyonScope" utilizes the widescreen format with hilarious results. Donald also appeared in the 3-D short, "Working for Peanuts" and it's featured on this set, but not in 2-D. Don't let that discourage you from watching. Chip & Dale were great foils for Donald and they're hilarious here.

The discs also have a number of other classic Donald shorts including a personal Halloween favorite, "Trick Or Treat," featuring the wonderful June Foray. And I was overjoyed (really) to see that Disney has included "Donald in Mathmagic Land," a classic that I and many kids enjoyed watching in school. What a kick to see this again, and this time, not on a scratched 16mm print! Donald finds himself in Mathmagic Land, lost in a land of numbers and geometric shapes. The great Paul Frees voices the longer than usual short. Leonard Maltin introduces the DVD and mentions that math wasn't one of his best subjects. I hated the subject in school. This Disney short showed how fascinating math could be if explained in laymen's terms.

Walt received some criticism over the years of supposedly dumbing down history or education. I think his approach was perfectly acceptable. In the case of "Mathmagic Land," the education didn't pander to its audience. It treated the audience as if it knew something about math. By using Donald, Walt and his animated crew found the perfect guide.

Disney has once again done a superb job on their "Walt Disney Treasures" series. I've been somewhat critical of their "restorations" of some of their classic animated features. But on this series, which I hope continues, they've really nailed the quality. The picture on most of the shorts is natural and not overly digitized to look brand-new to today's audiences. The grain that is present is film grain, and it's nothing to be scared about! The CinemaScope shorts are presented in two-channel stereo here and sound excellent.

Donald Duck usually didn't get a lot of respect in cartoons, but he's been given the royal treatment on this new DVD set. Bravo and well-done, Disney!

Bill Kallay

Special thanks to Click Communications

Photos: © BVHE. All rights reserved.

DVD Quick Glimpse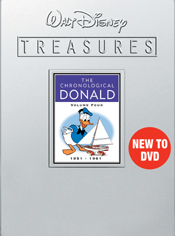 MOVIE
Great to see Donald again!

TALENT
Directors: Various

Cast: Clarence "Ducky" Nash, Thurl Ravenscroft

FEATURES
Leonard Maltin and Jerry Beck commentary, TV episodes from "Mouse Works," and more

RATING
Not rated

DVD
Picture: Excellent
Sound: Very Good

GEEK OUT
Some of the funniest Donald Duck cartoons came from this era

TECH SPECS
Aspect Ratio (1.33:1)
Aspect Ratio (2.55:1)

Dolby Digital 2.0

DVD RELEASE DATE
November 11, 2008

break